There's nothing more satisfying than working to change lives through our IT training programs! Take a look at Kemal's story – he's a recent Clarusway graduate who switched his career to IT when he realized he needed a dramatic change in his life. After establishing a successful math teacher career, he decided it was time to switch gears and immerse himself in Clarusway's comprehensive boot camp for cloud engineering. Kemal was drawn to this new career path as a way to challenge himself intellectually and enjoy a higher-paying job with greater advancement opportunities.
The world of technology is constantly evolving and presents many career choices for passionate individuals learning and becoming a part of a growing field.
Clarusway is a leading coding bootcamp providing students with the critical tools and training necessary to embark on successful IT careers. From complete beginners to those with some prior IT experience, our Learning Management System paves the way for a successful education.
The best part – you can achieve this goal without spending 4 years in college and going tens of thousands of dollars in debt (or wiping out your life savings)!
Kemal's Journey
Kemal chose Clarusway's AWS & DevOps program to start his journey in the tech industry. This program offered a comprehensive education in just nine months.
The first three months – Kemal learned the fundamentals of IT, providing him with a solid foundation in the field. This was essential for someone with no prior experience in the tech industry.
Over the next six months, he delved deep into AWS and DevOps tools, acquiring the skills needed to become a successful cloud engineer.
Kemal's testimonial highlights the program's ability to provide a well-rounded education quickly, making it the perfect choice for individuals looking to make a career change.
The Clarusway Experience – a comprehensive and engaging journey:
Cutting edge LMS (Learning Management System) – Acquiring knowledge and technical skills designed by IT professionals in the field.
Being part of a supportive community – Each student is supported by an IT mentor during their time at Clarusway, and graduates benefit from our vast alumni network.
Experienced instructors – Our instructors are working in the field; they're knowledgeable, professional, and always willing to go above and beyond to help students.
The cohort team – Students enjoy a close-knit learning group to enrich the experience.
Kemal enjoyed working with his cohort team on weekly projects – it provided a sense of camaraderie and motivation.
"I was impressed with the hands-on learning approach of the program. The course materials and the instructors' teachings were tailored to what I needed to learn in the field of cloud engineering. The real-world applications and simulations helped me see the practical applications of what I was learning to understand the subject material better. I was impressed by the care and dedication of our instructors. The quality of the program and career management system made it possible for all of our team members to find jobs. Celebrating that success as a group was a highlight of my Clarusway experience!"
Kemal's 3 key takeaways:
In addition to the technical knowledge gained, I elevated my problem-solving skills. As a cloud engineer, this is critical. This industry is constantly evolving, and we all need to stay on top of emerging technologies. I graduated job ready and confident!
Clarusway's CMS (Career Management System) helped me secure an internship which was critical to landing my dream job as a cloud engineer.
Clarusway's job placement support was key – I appreciated the interviewing workshops, LinkedIn profile makeover, and resume design help!
Why AWS & DevOps?
AWS & DevOps are two of the most sought-after fields in the tech industry! As the largest cloud provider, AWS offers a comprehensive suite of services, including computing, storage, databases, analytics, and machine learning.
AWS is the go-to choice for businesses looking to move their operations to the cloud.
DevOps is a rapidly growing set of practices that automate the processes between software development and IT teams.
DevOps improves the speed and efficiency of software delivery and ensures that applications are delivered with the highest quality.
The demand for individuals with DevOps skills is increasing as organizations are looking to adopt a more Agile approach to software development.
With AWS & DevOps, individuals can choose from various roles:
Cloud Engineer
DevOps Engineer
AWS Solutions Architect & many others.
High demand = high salaries!
The average salary for AWS & DevOps professionals is among the highest in the tech industry, making it an attractive career option for individuals looking for a rewarding and challenging career in technology.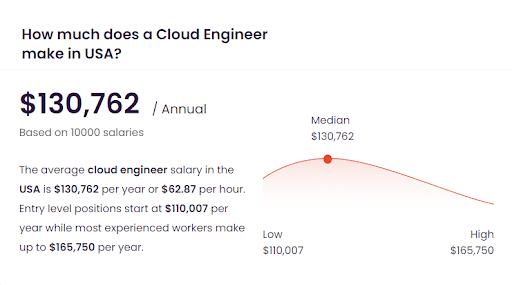 "The average cloud engineer salary in the USA is $130,762 per year or $62.87 per hour. Entry level positions start at $110,007 per year while most experienced workers make up to $165,750 per year." ~ Talent.com article
If you're interested in transitioning into a tech career, enrolling in Clarusway's AWS & DevOps program may be an ideal choice for you!
With a comprehensive curriculum, dedicated support from experienced instructors, and a career management system, Clarusway sets the stage for a promising future in cloud engineering.
Start your journey today and discover the potential of a career in AWS & DevOps with Clarusway!
Last Updated on July 19, 2023