The tech industry is becoming increasingly diverse and inclusive, and individuals from all backgrounds are finding success in the field. Mine's journey with Clarusway's AWS & DevOps course serves as an inspiration to women and moms in tech, showing that it's never too late to start a new career and that motherhood need not be a barrier to success.
With no prior experience in IT, Mine was able to successfully transition into the tech industry and land a DevOps role just a few days after completing the bootcamp at Clarusway. In this success story, we will explore Mine's experience at Clarusway, including the curriculum, mentoring system, friendships, and job search process, and encourage more women and moms to consider a career in tech.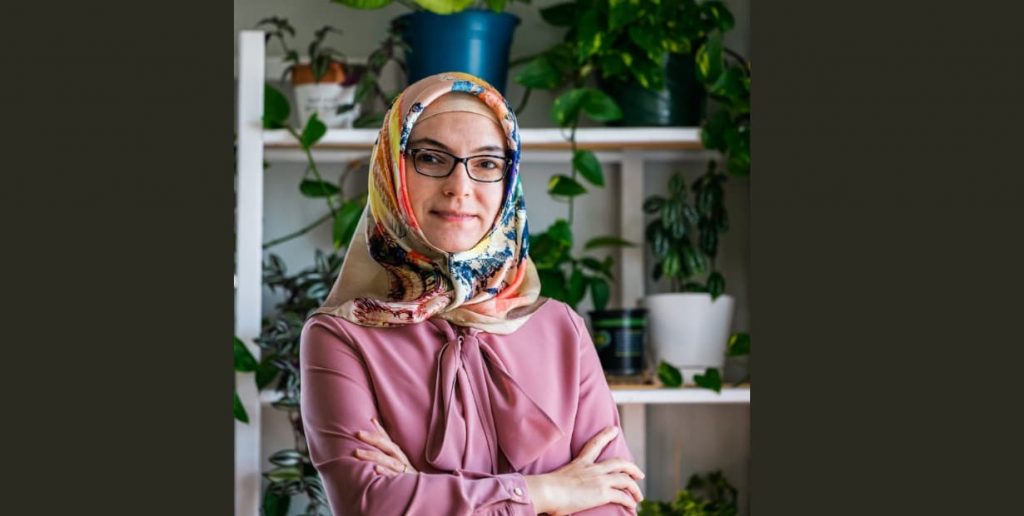 Can you please tell us a little bit about your background and what led you to make a career change from education to IT?
I'm Mine, and I started my work life as a teacher, working for more than 15 years in various positions in the education field. I decided to shift my direction to IT because I felt like I had reached the top of my career in education and wanted to try something new. One of the reasons for this change was my family – my husband is a Java developer, and my two kids are into programming and robotics. I wanted to be able to understand and join their conversations, so I decided to step out of my comfort zone and explore the world of IT.
With no prior experience in IT, how did you decide to pursue a career in this field and choose Clarusway as your bootcamp?
Initially, I didn't have any IT experience, and the only time I used a laptop was for basic tasks like using Word or Excel. I asked people around me for IT bootcamp recommendations and searched online to find the best one. After researching, I found Clarusway to be one of the top 10 bootcamps in my area. My husband also supported my decision, and we both agreed that Clarusway's syllabus looked great. I didn't hesitate to join Clarusway, and I'm still happy with my choice.
How did your husband's experience as a developer help you during the bootcamp and learning period at Clarusway?
My husband was a great support throughout the bootcamp and learning period. In the beginning, he helped me decide which bootcamp to choose, as I was considering several options. Even though we are in different fields now, he still supports me in my career journey.
Can you share some insights about your experience at Clarusway, including the mentoring system, friendships, and the curriculum?
One of the standout features of Clarusway for me was the mentoring system. I had great mentors during my ITF, AWS, and DevOps courses, who were knowledgeable and supportive. They helped me a lot throughout the nine months of education I received. Another important aspect of Clarusway is the study groups and the friendships I made. We supported each other, and I'm still connected with many of my peers. The workshop days were fantastic, and the syllabus was well-designed to reflect what we would face in real work situations.
Although the tools I use in my current job may be different from what I learned at Clarusway, the most important thing the bootcamp taught me was how to find the information and knowledge I need. This skill has been invaluable in my new career, allowing me to complete tasks and remain employed in my role.
How long did it take for you to find a DevOps role after completing the bootcamp at Clarusway?
After graduating from Clarusway on the 21st of July, I received my first job offer on the following Tuesday. It took me just a few days to land a DevOps role, which I believe was quite impressive and speaks to the effectiveness of the bootcamp.
How much time did you dedicate to studying at Clarusway, both during and outside of the live sessions?
Giving a specific time is not easy, as it depended on the stage of the course and the complexity of the material. Each step became more intense, with ITF being less demanding than AWS, and AWS being less demanding than DevOps. I would study the pre-class materials from the LMS before our nightly sessions, and I liked to take notes, which I still have in various notebooks.
For me, teamwork was crucial. I had a team, and we would meet together to practice the Hands-On exercises before the class. Working with a team allowed us to learn from each other's mistakes and troubleshoot issues together, which helped me learn more effectively. The amount of time one should dedicate to studying depends on the individual; for me, as an older learner, it took more time than it might have for younger students.
How were you able to secure a job so quickly after graduation, and were there others who started their jobs while still taking classes?
It's true that I was able to secure my first job in a very short amount of time after graduation, but the job search timeline can vary from person to person. Some of my friends actually started their jobs while they were still taking classes at Clarusway. How quickly one finds a job depends on factors such as how early they begin job applications and interviews, as well as their individual skill levels and job market conditions.
Can you share how you found your job so quickly after the bootcamp, and what role the CMS team and LinkedIn played in your job search?
I highly recommend attending the CMS sessions provided by Clarusway, as they offer valuable guidance on job searching. I followed their advice, which included creating a strong LinkedIn profile. Even though I didn't actively apply for jobs, I received numerous job opportunities from recruiters while still in the DevOps module. I decided to wait until I completed the classes before responding to recruiters.
During the certification week, I replied to a recruiter from my state, which led to a series of interviews. I also received help from the CMS team to prepare my resume. After four interview stages, I landed my first job without applying to any positions myself.
It's important to note that my situation was different from many others who may apply to 400-500 jobs before finding one. I was not in a hurry to find a high-paying job, as my husband was already working. My priority was to gain real-life experience in the IT field, so I accepted the job offer without negotiation, which might have contributed to the quick process.
When interviewing, what examples did you use when explaining your knowledge, and did you use the Capstone project to showcase your skills?
During the interviews, I focused on answering soft-skill questions since the interviewers knew my experience was limited as a beginner. They were more interested in whether I could be trained, adapt to the company culture, and be a part of the team. The technical questions weren't too difficult, and I did mention the Capstone project but didn't go into great depth.
I limited my resume to the skills and experiences I could confidently explain. For example, in the Capstone project, we had five pipelines, but I only felt comfortable discussing the first one. So, when asked about the projects I was involved in, I mentioned that I worked on the first pipeline of a five-pipeline project and described my responsibilities. By being honest about my involvement, the interviewers didn't probe further into the other pipelines.
Did you ever experience a lack of motivation or feel like quitting during your time at Clarusway, and how did you overcome that?
Yes, I definitely experienced moments of feeling down, stressed out, or burnt out, especially when my friends started getting job offers and I hadn't yet. At one point, I even took down my study materials and cleaned up my desk, thinking I couldn't do it. However, my teammates noticed my low motivation and decided to hold a Zoom call to talk with me for an hour and a half, which helped to lift my spirits. Their support and encouragement played a huge role in motivating me, and that same day, I started my interview journey and eventually received a job offer. For me, teamwork truly made a difference in overcoming those challenges.
How do you advise people to stay motivated and find job opportunities?
It's important to have a supportive team, so I suggest reaching out to people and forming groups. Stay in contact with your mentors, instructors, and the career management team, as they can provide guidance and motivation. Reflect on your progress and how far you've come, and focus on reaching the finish line. It's also helpful to be active on LinkedIn, as this can lead to job opportunities. Connect with others, repost relevant content, and engage with messages to maintain a strong presence on the platform.
Can you share your experience during the first month of your current job?
My experience may be unique, but I had a two-week onboarding process before starting to receive tasks. Although the tasks were easier than those given to more experienced colleagues, I was expected to complete them and improve my skills over time. My manager and teammates have been supportive, and they guide me by asking questions rather than directly giving answers, encouraging me to find solutions on my own. This has helped me grow in my role as an associate with one year of experience.
Did you find that DevOps engineering supports better work-life balance than teaching did?
In my experience, DevOps engineering provides a better work-life balance than teaching. With DevOps, once the workday ends, there is generally enough time to complete tasks, and work does not consume your thoughts outside of work hours. Teaching, on the other hand, often involves a significant amount of paperwork, communication with parents and students, and preparation of materials outside of teaching hours. In addition, DevOps engineering typically offers higher earnings than teaching.
The tech industry is open to individuals from all backgrounds, and Clarusway's AWS & DevOps course is a great way to jumpstart a career in this exciting field. Mine's experience at Clarusway serves as an inspiration to women and moms in tech, showing that it's never too late to pursue your dreams and that motherhood need not be a barrier to success. With supportive mentors, a well-designed curriculum, and a strong emphasis on hands-on learning, Clarusway provides students with the skills and knowledge they need to succeed in the tech industry. So if you're considering a career in tech, don't hesitate to enroll in Clarusway's AWS & DevOps course and take the first step towards a fulfilling career in this rapidly growing field.
Last Updated on May 24, 2023