Do you have any idea about when you need data migration? Let's say. You may need data migration for security, backup, or to upgrade your operating system to the latest version. Do you have any knowledge of the migration software? As you think, we will give information about data migration software in this article. Let's continue reading.
Best Data Migration Software List
The integrity of your data depends critically on the software you use for data transfer. The correct data transfer software can assist you in achieving business objectives, from reducing disruptions to increasing on-time delivery rates. Let's introduce the list of software.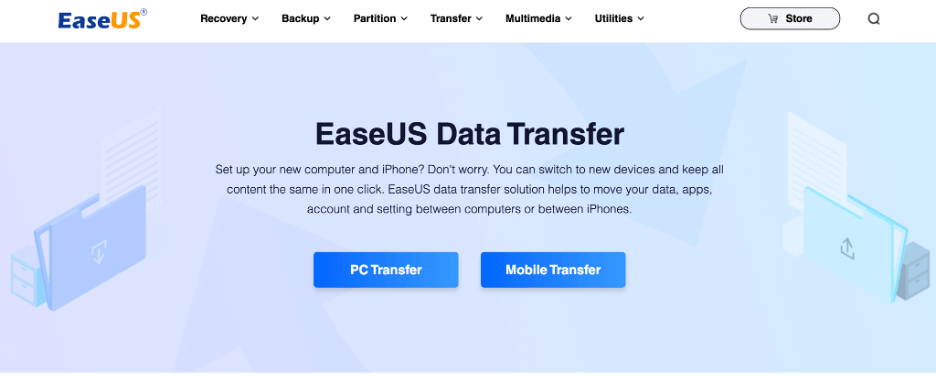 1- EaseUS Todo PCTrans
Data, apps, and accounts can be transferred between PCs using EaseUS Todo PCTrans, a data migration utility. Old PC files may be transferred across Windows PCs using the program. You may move outdated PC data between Windows machines thanks to the program. After utilizing the program, all your apps will be pre-installed and available for use when you boot up your new machine.
The application works perfectly the first time, so you don't need to reload it. Features like automatic file transfers and free, round-the-clock transfer guidance are helpful while moving your files. Additionally, you get access to a number of extra capabilities thanks to its interaction with programs like Microsoft Office, Adobe Software, Dropbox, and AutoCAD. Three methods of file transfer are available with EaseUS Todo PCTrans, including:
Transfer your data and apps across the network by joining the two systems to the same LAN.
Transfer all of your data using your computer's local drives.
You may transfer your data and applications from your old PC to your new PC with ease by creating pictures of them.
Data Rescue-Recover is an additional choice that might help you transfer all of your data and software from an outdated machine to a new one. It is useful if you transfer files from a damaged or unbootable PC. In general migration, it is optimal.
Primary Functions/Key Features
Simple transfer
Automatically move applications, data, and settings to your new smartphone with just one click. There is nothing more to be done.
App transfer
Your software and programs should be transferred from one PC to another. Applications that are widely used are supported.
Content Coordinator
A data backup is a substitute for the transfer. Manage the data information on all of your devices quickly.
Pricing
You may transfer an infinite number of programs with the Pro edition, which costs $59.95 yearly (or $69.95 for lifetime updates). The program runs on Windows 10, 8.1, 8, 7, Vista, and XP. For $999 for lifetime upgrades, they also provide a more sophisticated Technician Edition, which costs $399 a year. This offers a technical license that works with Windows 10, 8.1, 8, 7, and Vista in addition to Server 2019, 2016, 2012, and 2003.  It can also transfer data across different servers.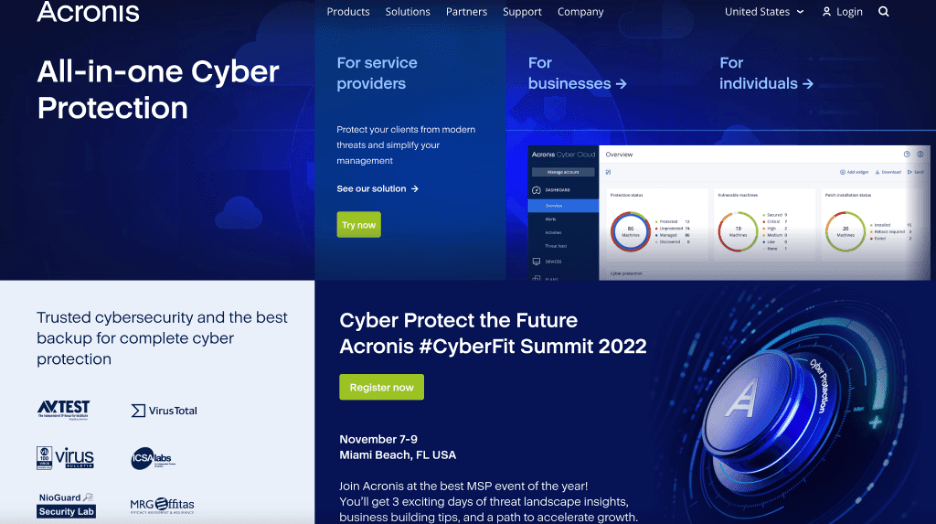 2- Acronis True Image
Acronis True Image is a fantastic choice if you are searching for a trustworthy data backup solution. You can back up, clone, and move all kinds of data, including your operating system, programs, applications, pictures, data, files, and settings. Additionally, if something goes wrong, you can quickly and rapidly recover your data. The program keeps your files and data in the cloud for security and convenience and is accessible on Windows, macOS, Android, and iOS. With the complete version, you also receive integrated anti-malware capabilities. Active Disk Learning is one of its major benefits. Even while your system is in use, you are still able to create a replica of it. This avoids the need to restart the system when moving data.
Acronis True Image also provides easy recovery options for backup chores and keeps up to 20 versions of information for up to six months.
Additionally, it enables you to duplicate, format, partition, and even wipe a hard drive image in addition to backing up a whole disk image. Additionally, it has features like Active Protection, which keeps track of suspicious activity in all of your files—not just backup files—and monitors it. The most recent version now protects against crypto mining risks. Additionally, it enables you to duplicate, format, partition, and even wipe a hard drive image in addition to backing up a whole disk image.
Primary Functions/Key Features
It transforms the hard drive in your computer into an SSD.
You can move data between HDDs and SSDs, or between HDDs and one another.
Data exchange between iOS and Android and vice versa replication of data to a new disk.
Cloning and resizing of partitions.
Make use of end-to-end encryption to safeguard your files and data.
Pricing:
Each year, $49.99 is needed. The annual fee of advanced membership is $89.99. The annual fee of a premium membership is $124.99.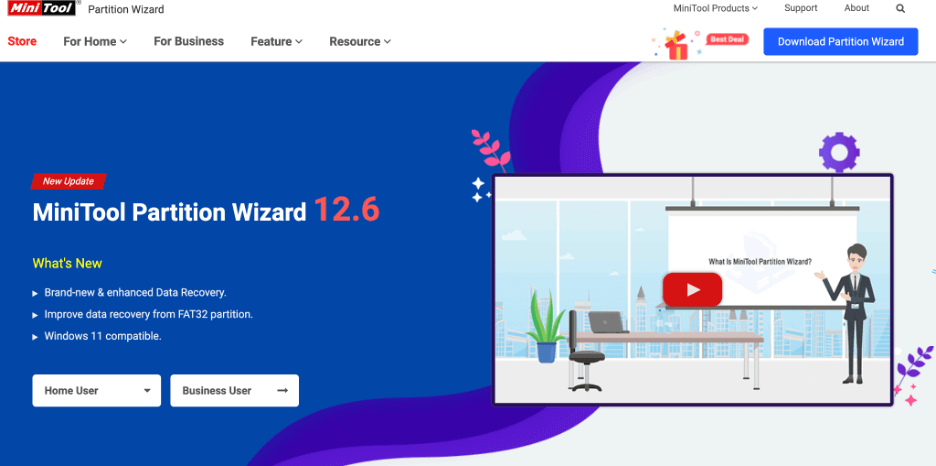 3- MiniTool Partition Wizard
With the help of MiniTool Partition Wizard, you may migrate operating systems from HD to SSD and vice versa as well as partition hard drives. Data migration and backup are made simple by copying the disk and partitioning the data. Additionally, it enables the replacement or backup of hard drives without the need to reinstall operating systems or other applications.
MiniTool works with all versions of Windows, beginning with Windows XP and on through Windows 10. The file systems FAT 12/16/32, exFAT, NTFS, and Ext2/3/4 are all supported. MiniTool Partition Wizard also does disk diagnostics and data recovery in addition to disk cloning. It consists of two programs for recovering lost data: Data Recovery and Partition Recovery Wizard. Unlike the latter, the former may recover deleted or lost files from corrupted, inaccessible, or formatted directories. You may use the data movement application to diagnose each drive component as well. You may check disk read/write performance, disk consumption on the computer, file system verification, and error detection.
Primary Functions/Key Features
Cloning a disk.
It is in charge of disks and partitions.
Recover data from the desktop, the recycle bin, or a specific folder.
Conversion of disks between MBR and GPT.
Dynamic drives may be converted to basic disks without losing data.
Partition conversion between FAT32 and NTFS.
Drives may be moved, added, removed, deleted, resized, and formatted, among other things.
Pricing
The MiniTool Partition Wizard is available in both free and pro editions, making it suited for both personal and corporate use. The Pro plan begins at $159 per license.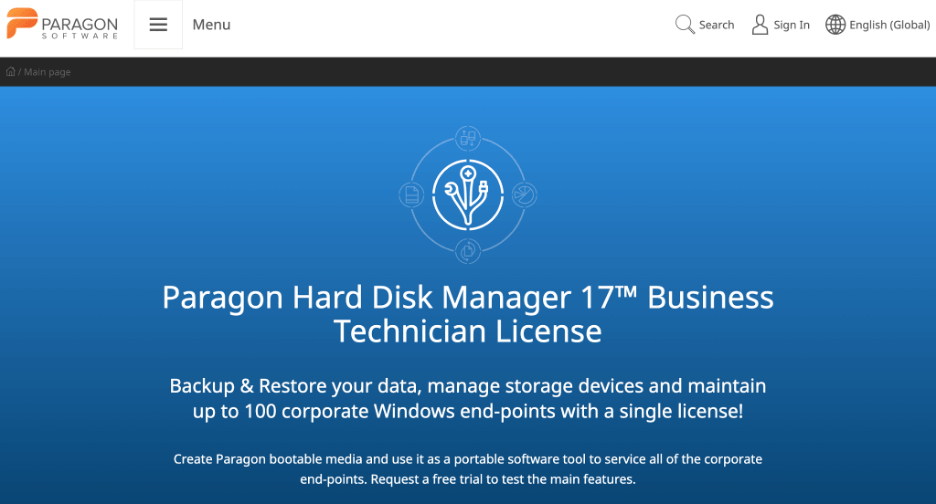 4- Paragon Drive Copy Professional
You may transfer your data or operating system from any source to any destination disk with Paragon Drive Copy Professional, a trusted data migration application. Additionally, it helps you organize your drive so that data can be moved quickly. Additionally, it provides services for cloning your operating system on a USB flash drive, managing partitions, moving data, and generating backups.
You may quickly copy a partition or a whole hard disk using the program's many copy processes. You can quickly duplicate or recover data from a 512-byte hard drive and save it on a 4K hard disk. Additionally, it enables you to switch between any Windows operating system on Windows 7 and HHD to SSD. A program for structured disk imaging is called Paragon Drive Copy Professional.
Primary Functions/Key Features
It enables you to transfer your laptop to a new hard disk and clone your existing hard drive.
Partitioning capabilities like divide and merge partitions can help you keep your disk clean and organized.
The tool may be used to disperse extra space.
It is possible to copy or restore a hard disk with a variety of sector sizes.
Any backup image may be restored with only a few clicks.
Additionally, if your operating system won't boot, it can help you solve booting problems, preserve data, or access an existing backup.
Pricing
Each licensed copy of Paragon Drive Copy Professional costs $79.95. There are three machines covered by each license.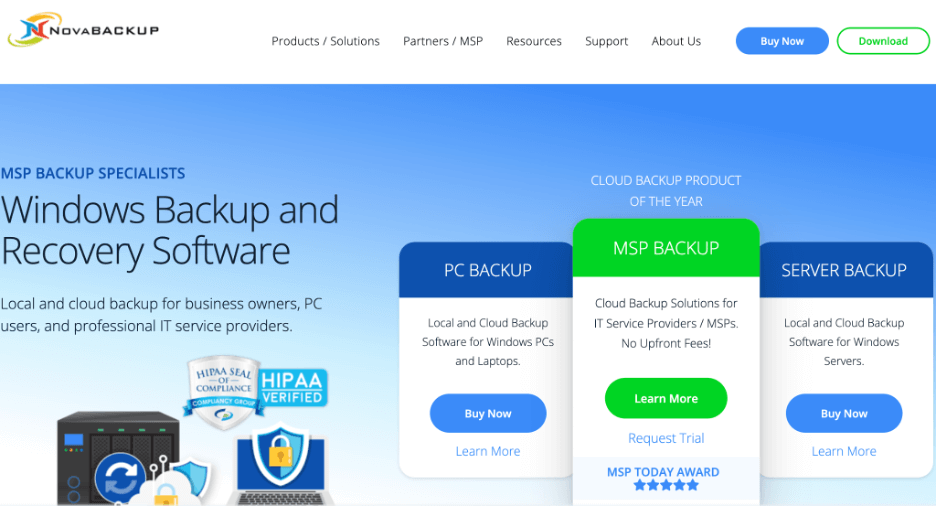 5- NovaBACKUP PC
You may back up and move drives, operating systems, and specific data using NovaBACKUP PC, a backup tool for Windows PCs. Both local and internet backup storage are provided by the program. It is perfect for small enterprises and IT specialists that don't want to worry about backups but yet need to safeguard their data. The Backup and Disaster Recovery Plan is among its most crucial components. It offers automatic backup and recovery of data while safeguarding your machine from losing data. It also helps you adhere to industry data protection laws, including GLBA, HIPAA, and FERPA.
Primary Functions/Key Features
A variety of backup choices
You may back up individual files or your whole PC hard disk using a file or picture backup. You may also back up and move your photographs, movies, and data to local devices or online storage services like Dropbox.
User-friendly for the blind
The NovaBACKUP PC interface is screen reader compatible for blind users.
Options for encryption
There are four different encryption options available, such as AES 256 bit encryption and Blowfish encryption. Encryption levels must be varied since encrypting a file at the highest security level reduces backup performance.
Fast Disaster Recovery
You may generate image backups of your entire PC using the Disaster Recovery feature, including the operating system and all of your mail setup and choices. Whole or differentiated backups, centralized backup monitoring, and data restoration from any place are all noteworthy additional features.
Pricing
It costs $49.95 per year for one Windows PC, $79.95/per year for three Windows PCs, and $99.95/per year for five Windows PCs. All programs have a money-back guarantee and free upgrades for 30 days. Server alternatives are also available.

6- DriveImage XML
A data transfer tool called DriveImage XML helps with imaging and backup of pictures, partitions, and logical drives. Data cloning, restoring, transferring, and backing are supported, and it is available for Windows XP and beyond. You may produce safe backups using the program, which produces images utilizing Microsoft's Volume Shadow Services (VSS). The backup documents are kept as XML documents, and it allows you to restore photos without having to restart your computer.
You may then use another third-party program to work with those files. More crucially, DriveImage XML enables direct cloning from one disk to another. Private and Commercial Editions are the two editions of DriveImage XML that are offered. The Private Edition is free and appropriate for personal and private usage. The free version of DriveImage XML can be installed on your personal computer, but it cannot be used for business reasons. In contrast, the Commercial edition comes with licensing for 5, 10, 20, 50, and 100 consumers and is designed for commercial use.
You can download the specified number of copies with the premium edition.
Primary Functions/Key Features
image file backup of logical disks and partitions.
Browse photos, examine files, and extract them.
Make plans for an automatic backup.
Clones are created directly from.
Images might be recovered onto the same disk or a different one.
The program backs up and recovers NTFS and FAT12, 16, and 32-bit disks.
DriveImage XML cannot partition drives; it can only create and restore backups in XML files.
Pricing
The following are the price options for the commercial edition of DriveImage XML:
It costs $100 for five users, $150 for ten users, $200 for twenty users, $400 for 50 users, and $500 for 100. A year's worth of free upgrades and customer service are offered with each commercial edition choice.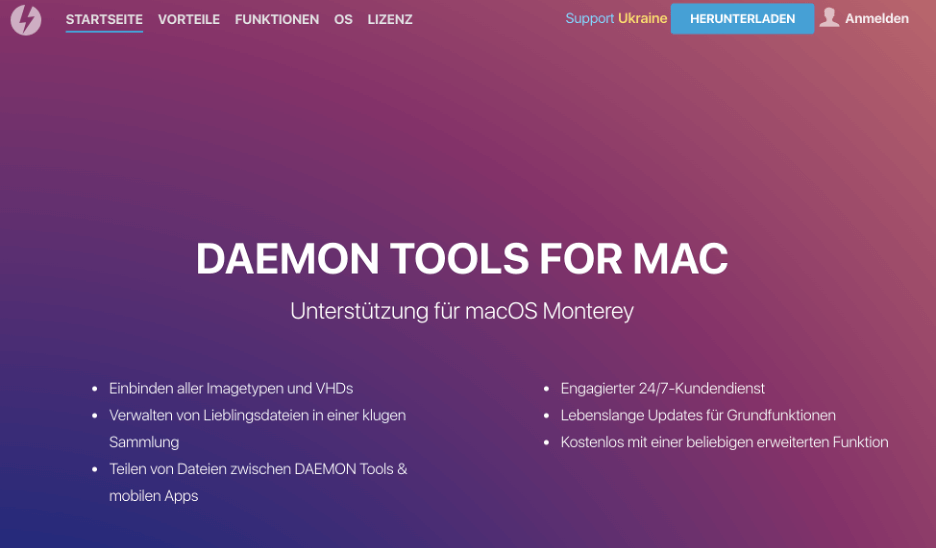 7- DAEMON Tools Pro 8
The imaging and emulation program DAEMON Tools Pro 8 supports disc pictures and virtualized drives. Additionally, the application has the ability to copy and move security systems like StarForce, Securom, Safedisc, Protect CD, and others. For the game or program to correctly migrate and imitate, it preserves the media in the correct order.
Mount any image format from the application or Explorer, including.mds,.mdf,.ape, and others, using the program. You can also capture pictures from drives, construct dynamic and fixed virtual hard disks, and securely store important data. Another advantage is the traditional, user-friendly UI. All of its capabilities are accessible through Windows Explorer, and the primary window and imaging editor may be adjusted to your preferences.
Primary Functions/Key Features
Editing and creating data images and music CDs are also possible.
Your data may be moved, compressed, and password-protected.
Restore a USB stick's factory settings.
RMPS can copy discs, produce audio CDs, and burn data.
You may create a raw disk image using the information on a USB device.
Manually alter the copying technique, or double-click to mount.
The burning of discs is simulated by the Virtual Burner.
Up to 32 DT, SCSI, and HD disks can be copied using four IDE devices.
You also gain access to a full media data panel where you can learn more about the game photos you store and mount. The information panel also keeps you up to speed on gaming industry news and game reviews.
Pricing
The DAEMON Tools Pro 8 subscription menu offers four choices:
It costs $6 for one month, $30 for Six-month plan, $48 for a year, and $34.99 for a lifetime subscription (no time limit). All options have a 14-day free trial period.

8- Clonezilla
In addition to being a free data transfer program, Clonezilla is an open-source disk imaging/cloning tool. It aids in data transfer and recovery. It's also useful for system deployment and bare metal backup, and it works with Windows, Linux, and macOS.
The three editions of Clonezilla are Clonezilla SE, Clonezilla Live, and Clonezilla Lite Server. Clonezilla Lite Server and Clonezilla SE are superior choices than Clonezilla Live for small-scale deployment when it comes to backing up and recovering individual systems. Up to 40 PCs can be cloned simultaneously by both Clonezilla Lite Server and Clonezilla SE.
Primary Functions/Key Features
Only saves and restores utilized hard drive blocks.
It supports every important file system, including ext2, f2fs, FAT32, NTFS, HFS+, and others.
You can reinstall Syslinux and the boot loader.
Both the MBR and GPT hard drive partitioning formats are supported.
A cryptography packed file system called encrypts is used by Clonezilla to encrypt images.
Under Linux, LVM2 version 2 is supported.
For huge cloning, use multicast.
Furthermore, Clonezilla has significant limits. It does not support differential backup, online cloning, or image backup. The target partition also has to be bigger than or equal to the origin partition. A CD/DVD drive, hard disk, PXE, USB connector, and an X86 or X86-64 CPU are needed for Clonezilla. It also needs 196 MB of RAM.
Pricing
It is an open-source, free program.
What is Data Migration Software?
Software for moving data across locations is called "data migration software". Database, application, server and data center migration can all benefit from data migration technologies. Data migration software enables easy data transfer across platforms. Simple tasks like moving files from one hard drive to another can be included, as well as more complex tasks like migrating an entire database from one server to a cloud or another on-premises server. The integrity of your data depends critically on the software you use for data transfer. The right data transfer software can assist you in achieving business objectives, from reducing disruptions to increasing on-time delivery rates.
How Do You Use Data Migration Software?
One of two data migration tools is available for usage in your company. Pre-implementation and post-implementation are a few of these. Your data migration to a new system starts with pre-implementation software. It will take a substantial amount of time and money to move all of your current data from the old systems to the new ones. After the migration is finished, post-implementation software is utilized to enable you to modify the new system in tiny doses as necessary without doing another extensive migration.
What Features Do You Need in Data Migration Software?
It could be challenging to select the finest data migration software. Various elements must be considered, including pricing, budget, migration procedure, etc. While there are brand-specific data conversion tools (for example, Samsung data migration software and Intel data migration software), data migration solutions generally have the same standard functionality. Here are some typical characteristics to think about:
Usefulness
Select a migrating data tool with plenty of features at all times. Many unexpected difficulties may develop throughout the procedure, so it is prudent to select software that can provide something additional. Watch out for the following characteristics:
Planning and scheduling
Before transfer, data profiling and analysis are performed
Loading, Extraction, and Transformation (ETL)
Designing migrations
Testing
Quality control and validation
Flexibility
The cost of data migration software might be pretty high. In order to satisfy the expectations of a growing company, it is wise to use a scalable data transmission technology.
Data Security
Cyberattacks are always aimed at digital data. Choose products that provide top-tier anti-malware features, such as web filtering, on-demand antivirus scans, and AI-enhanced behavioral detection.
Usability
Data migration technologies should be simple to use for your IT team. Adoption at the corporate level leads to tremendous success. Make sure your data migration software makes the data translation procedure simple.
Customer Support
Perhaps the most crucial quality to consider is customer service. Employees of the company may not always be knowledgeable about software difficulties. These difficulties may create a delay in job completion and project completion. Unexpected hurdles might appear at any time. That is why it is critical to select a data migration platform that provides timely and customer-focused assistance. Additionally, remember elements such as data sources and destinations, speed, debugging, etc.
Conclusion
Data may be transferred between computers, and disk clones can be created using these tools. Your needs, resources, size, and migration objectives should all be taken into account when selecting the best data transfer technology. For many reasons, including updating the company's digital infrastructure or security concerns, data migration may be necessary.
You might want to use DAEMON Tools Pro 8 if security concerns you. You should use MiniTool Partition Wizard if you own a small business or require a tool for personal use. Acronis True Image offers all the tools you might require for data migration, so overall, I'd recommend it. Data migration between HDDs, SSDs, or HDDs and SSDs is made more accessible by this. You can transfer data from iOS and Android using the data migration software, and vice versa.
Which data migration tools do you plan to use, and why? Join the Clarusway AWS bootcamp if you want to learn more about data migration software. See you soon with another article.
Last Updated on August 5, 2023