Cyber attacks have become more sophisticated every day. Therefore, cyber security training is of utmost importance to mitigate cyber threats.
Cybersecurity is promising, and the demand for a cybersecurity workforce, compared to the overall rate across the U.S., grew 2.4 times faster in the last year. It is also estimated that there is a gap for more than 3.4 million professionals globally.
Moving into cybersecurity is easy; cybersecurity bootcamps require no degree or prior experience to start cybersecurity courses. In this context, cybersecurity certification paves the way for gaining a competitive advantage.
For employers, certification is a validation of your skills, and you assure them you will be an ideal candidate to prevent possible cyber threats. In the market, 88 % of employers consider certification a critical factor in hiring.
For candidates, certification helps you develop soft skills to land a job quickly. Also, having a credential makes you more confident and paves the way for a successful career. According to a study by cybersecurity professionals, 94% of participants think certification positively affects their job.
Whether you're an experienced professional or just starting out in the field, this guide will provide you with the information you need to advance your career and stay ahead of the ever-evolving threat landscape.
What is Cybersecurity Certification?
Cybersecurity certifications describe getting an official document to verify your skills. It is a good way of establishing professional credibility. Cyber security certifications for beginners get your foot in the door to a professional career. As an applicant, you can grab the desired job in your future career. For an employee, it is a good chance for promotion or raise.
Additionally, cybersecurity certifications are valuable since they indicate that you committed time and investment to obtain the credential.
First impressions are significant, and a cybersecurity certification will contribute positively to a job application. It is a credible indicator that you have expertise in the relevant area and are a good candidate for the role.

Why do You Need a Cybersecurity Certification?
Cybersecurity Certifications are highly sought after by recruiters for several reasons. In some cases, certain job roles may require specific qualifications, which are essential for employers. Thus, being certified can significantly increase your chances of being hired for such positions.
There are many ways to get a cybersecurity education. Cybersecurity schools offer well-qualified training. Also, bootcamps are experts at robust cybersecurity programs. Moreover, free cybersecurity training is another option to land a job or strengthen your knowledge.
Adding certification to your LinkedIn account or other platforms will make you more visible and competitive in job applications.
Certification also polishes your career. Talent scouts filter out desired profiles matching hiring criteria. Even if you are not actively looking for a new job, you can still get a job offer for having a distinctive certificate.
Similarly, certificates help you advance in your career or get a promotion. Certification proves that you are dedicated and open to learning new things.
What are the Types of Cybersecurity Certifications?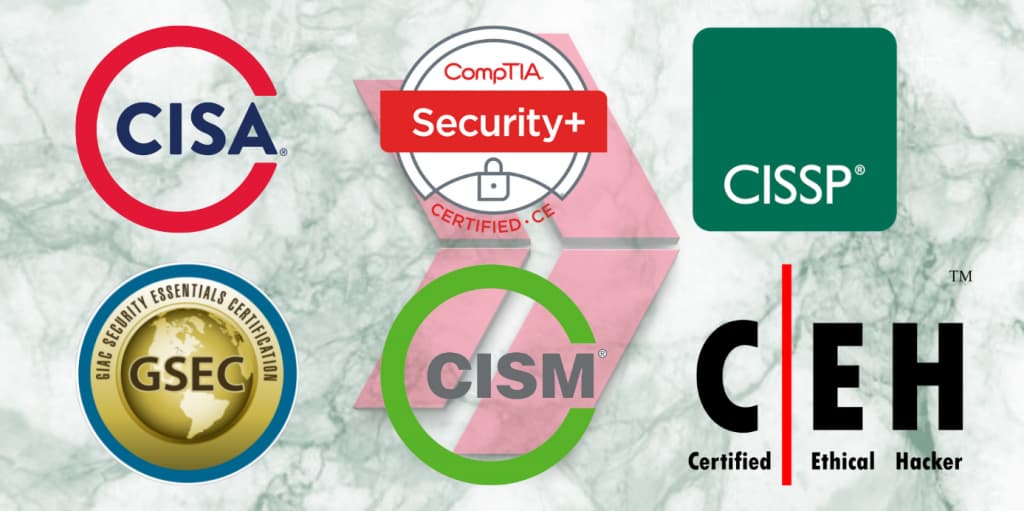 Cybersecurity Certifications require a significant level of commitment from those seeking to obtain them. To become certified, it is necessary to invest both time and effort. However, the benefits of obtaining a well-chosen certification can enhance your competitiveness in the market. Here are some of the most valid cybersecurity certifications in the industry.
Certified Information Systems Security Professional (CISSP)
The leading cybersecurity professional organization (ISC)² offers a highly popular intermediate-level certification. The CISSP credential indicates that you are competent in designing, implementing, and managing cybersecurity issues.

This certification is recognized globally by tech giants and other organizations. Cybersecurity professionals can gain higher positions with the help of CISSP. The exam takes four hours, and the cost is $749, a minimal fee compared to the money you will earn in the future. The wage of a CISSP holder is $120,552 annually. Five years of cumulative experience is recommended before the exam. This work experience should be in two of the eight domains mentioned on the web page.
Some cybersecurity practitioners who may earn CISSP certifications are security managers, security analysts, security architects, network architects, and chief information security officers.
Certified Information Systems Auditor (CISA)
ISACA offers one of the most robust certifications in the industry. CISA selects beginner and intermediate-level professionals who want to advance in their careers as the target audience. They claim a 70% improvement in job performance.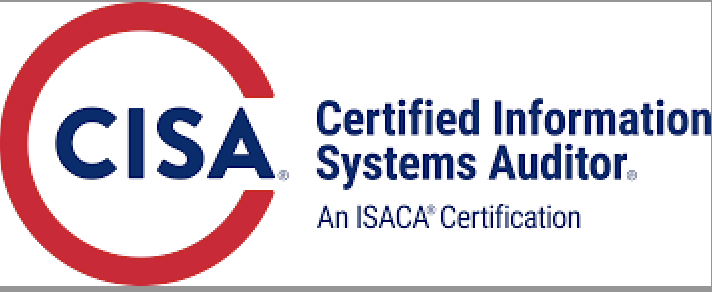 The exam fee is $760, but a considerable discount is available for ISACA members. CISA holders earn $109.054 annually. The exam consists of 150 multiple-choice questions, and five years of work experience is advised.
You may land some of the following job roles with CISA certification:
Data protection manager
Cybersecurity analyst
Internal audit director
Internal audit manager
Information security (IS) auditor.
Certified Information Security Manager (CISM)
Certified Information Security Manager (CISM) credential allows one to get a management role. Mid-level security professionals may benefit from advancing in manager roles with the help of CISM certification.

This certification will verify your capabilities in many branches of management. The exam takes four hours, and the fee is $760, but the price is $575 for ISACA members. The annual wage of a CISM holder is $162,347 annually.
You may be a data governance manager, information systems security officer, director of information security, or IT manager. This credential is an excellent opportunity to develop managerial abilities if you have technical skills.
Security+
CompTIA Security+ certification is generally considered the first certificate for beginners. This certificate makes you recognized globally and validates you have the necessary knowledge about security fundamentals to perform entry-level job requirements.
Moreover, Security+ provides an opportunity to advance to mid-level cybersecurity jobs.
The fee is $392, but using a coupon supplied by authorized partners will get you a discount.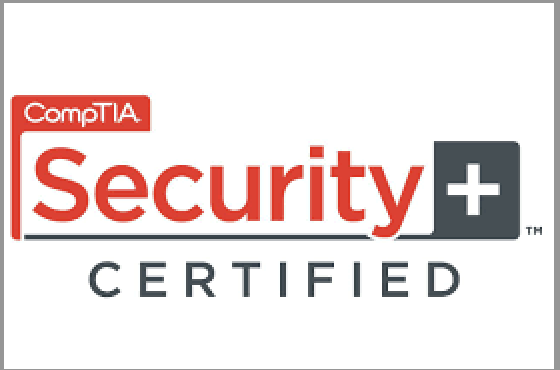 The average salary of a Security+ holder is $80,600 annually. The exam has multiple choice and a performance-based maximum of 90 questions in 90 minutes.
Earning Security+ will help you with some job titles you may acquire as a systems administrator, network administrator, cybersecurity analyst, security engineer, cloud engineer, or penetration tester.
Certified Ethical Hacker (CEH)
EC-Council offers a Certified Ethical Hacker (CEH) certification that helps detect vulnerabilities before cyber criminals do. This certification validates that you are familiar with the methods of how hackers think.
The exam fee is $1199, and the average salary of a CEH holder is $103,866 annually.
CEH v12 exam consists of 4 hours and 125 multiple-choice questions, which measure your knowledge level. CEH practical exam lasts six hours and has 20 practical challenges to test your abilities.
There is no strict regulation before applying. However, experience in IT is highly recommended.
Cybersecurity engineers, cloud security architects, threat intelligence analysts, or penetration testers may benefit from this certificate.
GIAC Security Essentials Certification (GSEC)
Global Information Assurance Certification provides a prevalent and recognized certificate suitable for entry-level professionals with IT backgrounds.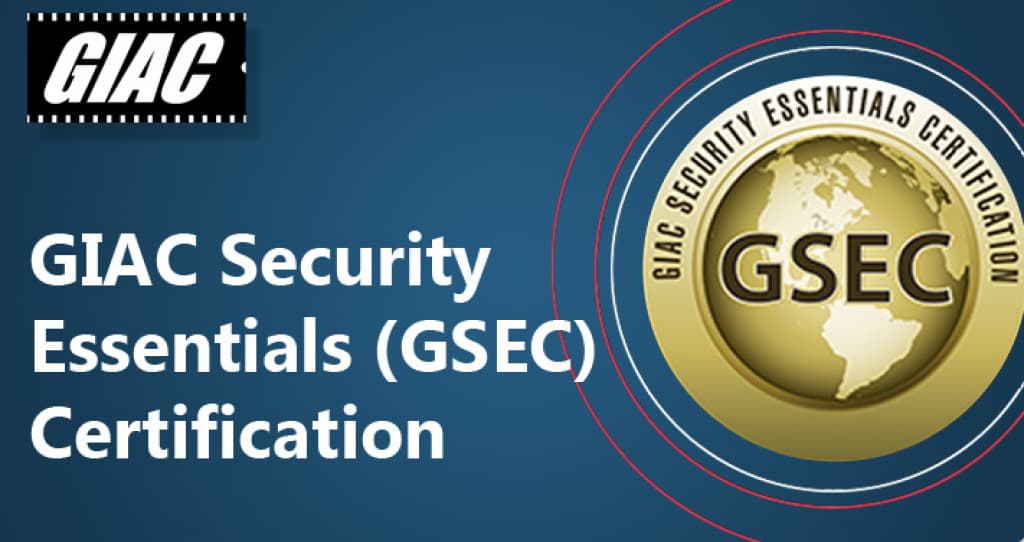 GSEC certification verifies your SIEM, incident response, network security, cloud, and cryptography skills. This credential is a springboard to intermediate-level positions.
The GSEC exam has 106-180 questions that take four to five hours and cost $949. Before attempting the exam, there is no distinctive requirement.
The average salary of a GSEC holder is $93,550 annually.
Auditors, penetration testers, security administrators, security professionals, or beginner security personnel can have this certificate to advance their careers.
Systems Security Certified Practitioner (SSCP)
(SSCP) certification offered by (ISC)² is an intermediate-level credential that validates your hands-on operational security skills and knowledge to overcome cybersecurity issues.
The exam fee is $249, and the average salary of an SSCP holder is $78,000.
Some positions that benefit from SSCP certificates are security specialists, security analysts, systems administrators, and network security engineers.
CompTIA Advanced Security Practitioner (CASP+)
CASP+ certification corroborates your technical qualifications. This advanced-level cybersecurity credential covers security engineering and architecture.
The exam fee is $494, and the average salary of a CASP+ holder is $112,736.
The test lasts 165 minutes, and you will face a multiple-choice and performance-based maximum of 90 questions.
CompTIA recommends having ten years of experience.
Some titles using CASP+ certification are application security engineer, technical lead analyst, security engineer, and security architect.
GIAC Certified Incident Handler (GCIH)
GCIH certification verifies the ability to manage security incidents. Holders of this credential learn about tactics, techniques, and knowledge of common attacks and respond accordingly. The defensive nature of this certificate focuses on responses to incidents.
You will have 106 questions and 4 hours. The exam fee is $949. The GCIH-certified professionals earn $54,537 annually. Some job description benefits from GCIH certifications are incident response analyst, digital forensic analyst, cyber threat analyst, cybersecurity analyst, and security engineer.
Offensive Security Certified Professional (OSCP)
OSCP certification is for professionals with a background who want to advance in their careers. This certificate validates your hands-on skills in ethical hacking or penetration testing. You should be familiar with OS, especially Kali Linux, and other hacking tools and techniques.
The exam simulates a live network that covers a few vulnerable machines. The exam takes 23 hours and 45 minutes to finish. The fee is $1599.
The average salary of an OSCP holder is $113,325.
How to Get Cybersecurity Certifications?
A certificate requires passing the related exam. You must determine the right certification based on your goals. Checking for eligibility and subject coverage is also very essential. You should read the instructions properly before applying for the exam you are interested in.
The cybersecurity certification cost varies according to many factors. The prices can influence the decision-making process. In addition to paid certificates, free cybersecurity certifications can also support your career.
What Cybersecurity Certification Should You Get First?
CompTIA Security+ is acknowledged to be the first cybersecurity certification to start a professional career. This certificate gives you basic knowledge of security fundamentals and prepares you for cybersecurity.
What are the Prerequisites for Cybersecurity Certifications?
For an entry-level certification, no background is required. Passing the exam validates that you are sufficient to satisfy the needs of the job. However, some service providers can require a degree or prior experience for high-level certifications. Also, some certificates measure your hands-on technical skills in addition to your general level of knowledge.
We strongly advise getting professional help to succeed in the targeted exam.
How to Choose a Cybersecurity Certification?
Choosing a suitable certificate could save time and money. You have many options in the cybersecurity certification path. So, it would help if you considered some criteria in the decision-making process.
The Working Area
It is an essential factor in deciding on proper certification. You should start and continue with certificates that match your career goals.
Certification Costs
Certification costs could be restrictive and force you to set priorities. Remember that most Companies cover employee exam fees for job promotion certificates.
Level of Knowledge
You should consider your level of knowledge to choose for certification. Your knowledge and hands-on skill should be compatible with the exam requirement.
Can You Get a Job with a Cybersecurity Certificate?
The short answer is YES. During a cybersecurity education, you are exposed to compressed and excessive information. But what matters is how much knowledge you internalize.
Of course, finishing a cybersecurity-related course is a great success. But how can an employer test your suitability for the vacant position? Although you have a proper education, more is needed.
Having a cybersecurity certificate gets your foot in the door of the cyber industry and increases the chance of being employed. In terms of hiring, 82% of employers prefer certificated personnel.
What Jobs Can You Get with a Cyber Security Certificate?
With a cybersecurity certificate, you may start or advance in the following job roles:
Cybersecurity analyst
Cybersecurity manager
Security Architect
Security Engineer
Penetration tester
Security systems administrator
IT auditor
Information security specialist
Digital forensic examiner
Cybersecurity manager
Which is the Highest-paying Cybersecurity Certification?
CISM is the most sought-after and highest-paying certification in the market. The average salary of a professional that has a Certified Information Security Manager (CISM) certification is $162,347 annually.
How Much Can You Make with a Cybersecurity Certificate?
Many factors like experience, education, and performance may affect your pay in the cybersecurity industry. Additionally, cybersecurity certifications online positively contribute to salaries of up to $18,000 annually.
Get Certified with Clarusway Cybersecurity Course
Clarusway offers a cybersecurity bootcamp focusing on the CompTIA sec+ certificate. We are an authorized partner of CompTIA. Earning this certificate will validate your skills and get recognized globally. We are assertive to lead your success path to start a professional career or boost it.
Certification is an essential indicator in the cybersecurity industry. Clarusway may help you to get the best education with our dedicated and field-experienced instructors by offering. So, be a part of the cyber future with our cybersecurity course and boost your career.
Last Updated on May 24, 2023