Cybersecurity is the combined efforts to prevent and preempt cyber attacks. It refers to the practice of protecting sensitive assets from digital threats. Cybersecurity focuses on protecting confidentiality, integrity, and availability of valuable information.
Sometimes cybersecurity is underestimated and seen as an additional cost. However, when faced with the devastating economic effects of security breaches, managers cannot decide how much cybersecurity funding is enough. That is why cybersecurity professionals are needed to get the right balance and protect the overall security with minimum cost.
According to Cyber Security Market Size, Share & Trends Report, 2030, the estimated global cybersecurity market value is $222.66 billion in 2023 and is forecasted to reach $500.7 billion in 2030. Due to its dynamic nature, the cybersecurity career path is in high demand, and the future of this profession is really promising.
According to Statistica's Estimated cost of cybercrime globally 2016-2027 report, published in 2022, the estimated cost of cybercrime was about $8.4 trillion in 2022. However, according to the Gartner Research about Information Security and Risk Management – Worldwide report, published in 2022, the money spent on cybersecurity was predicted to be $172.5 billion in the same year.
Organizations and individuals spend money to save money. Nevertheless, cybersecurity spending is minimal compared to the cost of cybersecurity breaches. That is why employers badly need cyber professionals.
In this article, we'll provide you with a brief overview of the steps you can take to start a rewarding career in cybersecurity from scratch. We will cover examples of cybersecurity career paths, how to start a career in cybersecurity, foundational skills, education, and certifications you need to succeed in the industry. Our guide is based on the insights of experienced cybersecurity professionals who have achieved success in the field.
So, are you ready to take the first step toward a rewarding career in cybersecurity? Let's dive in and explore the exciting world of cybersecurity together!
What is Cybersecurity Career?
Cybersecurity career describes a broader term that appeals to everyone with different perspectives. A career in this dynamic field offers unlimited growth opportunities and flexibility. Cybersecurity jobs have a real impact on daily life and make a difference.
Cybersecurity is not just restricted to IT; various job opportunities exist in different public or private industries like finance, health care, and many others.
You may find many job roles at different levels. You can get a job that fits your interests, skills, or experience.
Technical skills and qualifications are fundamental to landing a job quickly. Certifications validate the level of knowledge and ability. Bootcamps offer preparation training for these credentials and help you start your cyber security career path without a degree.
Examples of Cybersecurity Career Paths
Choosing the right career path promotes a healthier work environment and a happier life. There are various options to start a cyber security career roadmap.
It is possible to find a job from entry-level to senior positions. You can choose a career path in accordance with your characteristics and what you are passionate about. We will describe different categories in more detail.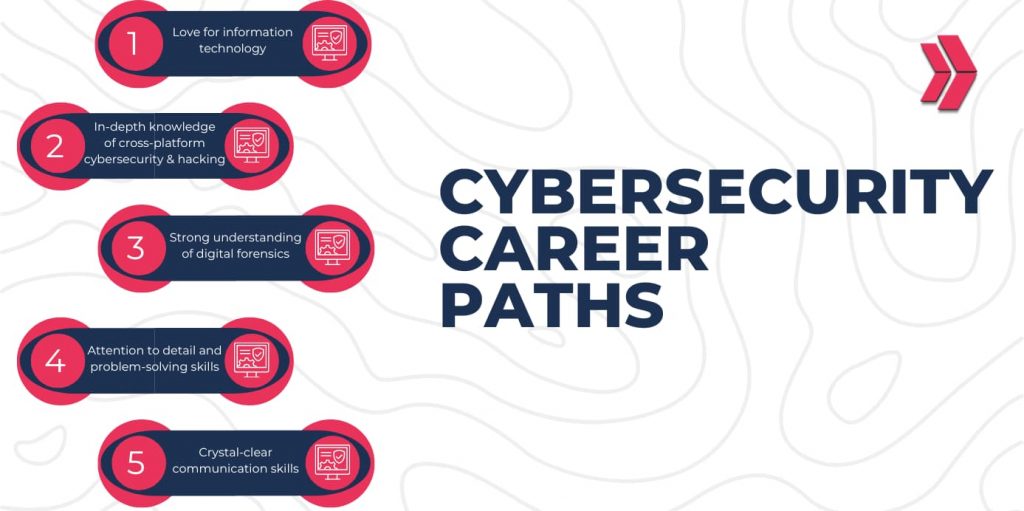 Analysis and Forensics
Organizations use multi-layered security measures to protect sensitive assets. However, security breaches still occur. This role is the cornerstone of security and covers incident response processes. An analyst is mainly responsible for continuous monitoring, analyzing, and responding to cyber threats.
Tier 1 is the first role responsible for triaging data and escalating the events through ticketing systems. The following roles are tier 2 and tier 3.
Moreover, digital forensics analysts recover data from various sources. Also, they analyze digital evidence and incidents for a detailed understanding of cyber attacks.
Testing and Consultation
Penetration testing, or ethical hacking, intends to detect exploitable vulnerabilities and report accordingly. In addition, this proactive and offensive testing enables testers to identify emerging threats.
Although used interchangeably, ethical hacking and penetration testing have slight differences. Ethical hacking expresses a broader definition and covers penetration testing. Ethical hackers should have extensive knowledge and devotion compared to pen testers.
Additionally, cybersecurity consultants have an advisory role for organizations. They analyze the security posture for potential threats. They can work as part of a team or as an independent contractor.
Management Roles
Managers develop detailed plans to protect the overall security of an organization. They are responsible for updating and maintaining security protocols and procedures.
Management roles generally require at least ten years of experience.
Managers should have both technical and soft skills. They put all their efforts into creating the most suitable environment for people to work harmoniously. In cybersecurity, the top executive role a professional can reach is chief information security officer (CISO).
Chief information officer CIO and CISO are two definitions that are often confused. Both of them are senior-level positions. However, CIO is responsible for all IT operations, while the scope of CISO is restricted to an organization's security.
Architecture and Engineering
This career path includes advanced-level roles responsible for designing and maintaining cybersecurity infrastructures.
A security architect is a senior position that protects the entire organization. Architects benefit from security software, tailor them for security needs, and improve overall security. In addition, they assess the system for possible vulnerabilities and provide solutions.
On the other hand, cybersecurity engineers evaluate the security needs and upgrade to defend against cyber attacks. They have a proactive role by scanning and testing the environment to detect vulnerabilities. Also, they have reactive functions like mitigating and responding to security breaches.
What are the Cybersecurity Career Options?
Cybersecurity offers many career opportunities in different job roles. As a result, you can find a position that matches your experience and skills in various industries.
Cybersecurity Analyst
A cybersecurity analyst is the first line of defense against cyber threats. This entry-level job role protects digital assets and mitigates cyber attacks. In addition, an analyst monitors, analyzes, and responds to emerging dangers continuously.
There is a considerable need for a skilled workforce of cybersecurity analysts. This area is a good choice for beginners and is open to development and promotion.
Cybersecurity Forensics
Cybersecurity forensics is the deep investigation of digital data. Forensics professionals gather evidence by law and then analyze it according to the chain of custody.
Cybersecurity forensics is different from cybersecurity in general. The primary purpose of cybersecurity is preempting cyber attacks. However, cyber forensics is a responsive field and investigates an incident after it occurs.
Penetration Tester
Penetration testers simulate the attacks of cyber offenders. In addition, they test and evaluate the security posture of an organization.
There are three types of pen testing. The white box provides all the necessary information beforehand. The black box provides no information other than the target company name. Finally, the grey box is the mixture of these two tests.
Cybersecurity Engineer
A cybersecurity engineer is a senior-level professional that ensures the creation of a safe environment from cyber threats. This executive role is responsible for designing, assessing, and implementing security needs.
They evaluate possible vulnerabilities and offer solutions to improve security measures. Finally, engineers report what is detected as a result of continuous tests.
Cybersecurity Architect
Architects take all safety-related measures in an organization. However, they mainly develop plans and design well-founded architectures to cope with emerging threats.
Although having similar job descriptions, there are some differences between a security engineer and an architect. Security architects have higher roles than engineers and create a strategy to defend against security breaches. Engineers implement plans in line with the security vision designed by an architect.
Chief Information Security Officer (CISO)
CISO is responsible for auditing an organization's overall security. In addition, CISO manages all issues in the establishment. This is the top cybersecurity position that an employee can be promoted to.
CISOs should have extensive technical knowledge in various areas and have at least ten years of work experience.
CISO coordinates and communicates with other departments as the nature of the job role. Therefore, they should also have soft skills for better collaboration.
To learn more, please visit the article ¨Top 10 Cyber Security Jobs That You Can Apply Without Degree¨
How to Start a Career in Cybersecurity?
First of all, you should calculate the pros and cons of a career in cybersecurity and be sure that it is the right choice for you. Later, choose a path you want to pursue a career in. In this stage, you may decide which industry fits your goals best.
The next step is to lay the foundations for your future job. Again, there are different options, like having a degree or certification to gain the necessary skills to land a job.
Generally, you can get into cybersecurity without a degree. However, having a degree in computer science, information security, or other cyber-related topics will be plus for your career. A college degree does not guarantee a job but makes you stand out among peers.
Employers take your level of knowledge and experience into account rather than a degree. You can study by yourself or get professional help from a boot camp. Bootcamps offer intense and focused education in a relatively short time. The education program covers theoretical knowledge and hands-on labs simulating real-world scenarios. Also, career support prepares you for job interviews.
Cybersecurity career path certification is an important indicator that validates your proficiency and skills to meet required job needs. In addition, having a credential will make you more competitive in job-hunting efforts.
Is Cybersecurity a Good Career?
Yes. Cybersecurity offers satisfying and rewarding careers in various industries and job roles. Now, we will mention some reasons:
Job Projection
Cybersecurity jobs are in high demand, and there is still a massive gap in the workforce. According to the (ISC)² Cybersecurity Workforce Study, published in 2022, It is estimated that 3.4 million more professionals are needed to fill positions. According to Statistica's Cybersecurity-Worldwide report, published in 2022, It is anticipated that the compound annual growth rate will reach 10.90% by the year 2027.
Job Opportunities
Cybersecurity has a wide variety of career options in various sectors. Finance, health care, and entertainment are some industries that hire cybersecurity professionals. In addition, you may find a job at different levels, from beginner to expert positions.
High Income
According to ZipRecruiter, the annual cyber security salary is $110,823. This is above the average. There is a high demand for cybersecurity professionals, and the income increases with this demand.
No Prerequisites
Cybersecurity requires no degree to start a professional career. Also, it is OK if you do not have prior knowledge about IT. You still can get your foot in the door in the cybersecurity field.
Flexible Schedules
Having flexible working hours enable you to improve your work and time balance. So, you take your time for yourself and your family.
Remote Working
Every day, more and more companies prefer to choose remote working options. From an employer perspective, they lower the cost and increase creativity. Moreover, for employees, the risk of peer pressure in the workplace is reduced in addition to comfortable working opportunities.
Self-employment
You may work independently without being tied to an employer. As a result, you can have a comfortable work environment and working hours. Also, you will be more creative and passionate about your job.
Do you Need a Degree for a Cybersecurity Career?
No. Cybersecurity jobs require no degree for entry-level positions. Of course, a degree is a plus, but employers are looking for skills and experience; therefore, they place value on certifications.
Cybersecurity bootcamps also offer a cybersecurity career guide and give the basics of cybersecurity. They help you gain the necessary skills with their intense education programs. You will be job-ready in a relatively short time.
What Skills are Needed for a Cybersecurity Career?
You should have technical and soft skills to succeed in cybersecurity. In terms of technical skills, you should have sufficient knowledge about the following:
Risk analysis and reporting
Incident response
Virtual machines
Operating systems
Network security control
System Administration
Artificial intelligence (AI)
Cloud Security
Scripting languages
The internet of things (IoT)
What Interpersonal Skills Can Help You on the Job?
Although not limited to the following items, some soft skills that may assist in your job:
Creativity
Critical thinking
Leadership
Collaboration
Communication
Confidence
Empathy
Stress management
Risk management.
Positiveness
Adaptability
What will be Your Job Responsibilities?
You will mainly be responsible for protecting your organization from cyber-attacks. Moreover:
Continuous monitoring, detecting, analyzing, and responding to emerging threats.
Performing root-cause analysis.
Offering solutions to mitigate cyber-attacks.
Preparing detailed reports.
Testing the system regularly to detect possible vulnerabilities.
Threat hunting.
Designing and implementing necessary measures.
System hardening.
Ensuring compliance with security framework.
All in all, Clarusway offers a beginner-friendly cybersecurity analyst course designed to provide necessary technical knowledge and the most sought-after tools in the market.
Our field-expert instructors and career management service support will assist you in building a successful career.
You can start your rewarding cybersecurity journey with us with no experience. So, take your chance to be a part of the cyber future.
Last Updated on March 19, 2023