With technological advancement, cybersecurity has gained more importance in protecting systems and networks from possible attacks. Criminals exploit vulnerabilities in cyberspace and cause irreparable damage to individuals and organizations. In response, companies mobilize all their efforts and resources to protect sensitive data.
Accordingly, cybersecurity analyst jobs are high-paid, and the annual median wage is $ 102,600. Moreover, the demand is projected to grow 35 percent until 2031.
Cybersecurity courses offer a focused curriculum and prepare you for real-world cyber events. These courses equip you or your personnel with demanded skills in the market, and the students can graduate in just 6 months or less.
Cybersecurity boot camps are the future of modern job-oriented education. Their robust programs offer flexibility and the opportunity to follow the trends in the security industry. Bootcamps presents a well-conceived curriculum that includes only necessary information and helps you land a job in a relatively shorter time at affordable prices.
What is Cybersecurity Bootcamp?
A cybersecurity boot camp is a specialized educational course covering cybersecurity fundamentals and using tools to land a job quickly. These IT bootcamps have beginner, intermediate, or advanced options. Additionally, they offer an intense program in a short time. Part-time or full-time options are available, but a part-time schedule is preferred for many reasons.
Most bootcamps require no IT background to start a course, while others expect to have some level of familiarity. Similarly, some schools are conditioned to pass exams to test the candidate's knowledge level or to have a degree in related fields.
Cybersecurity bootcamps offer online or on-site education. Their interactive environment may focus on core skills like cyber forensics, threat hunting, ethical hacking, penetration testing, or cybersecurity analyst course.
They develop a curriculum focused on hands-on learning that simulates real-life scenarios, but the tools taught may differ from one company to another.
Some cybersecurity courses provide education for entry-level cybersecurity job roles. In contrast, others focus on more specific topics for higher-level positions.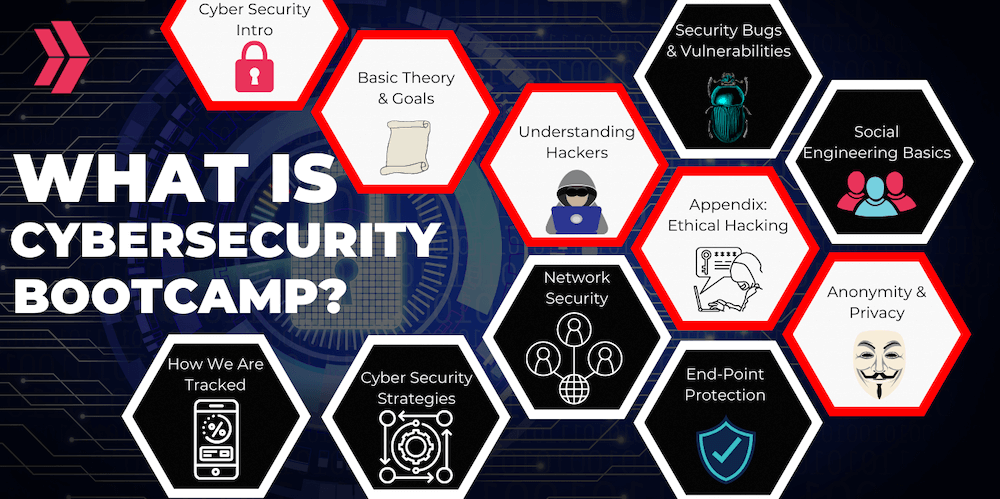 What Will You Learn in a Cybersecurity Bootcamp?
In cyber security bootcamps, first, you will be familiar with cybersecurity fundamentals to recognize threats and protect your systems and networks.
Then, practical training will take place. You will have your boots on the ground with project-based hands-on labs to prepare for real-world challenges.
The curriculum covers a wide range of tools, both free and paid. Then you will be able to analyze and prevent possible cyber attacks.
Are Cybersecurity Bootcamps Worth It?
The short answer is yes. Bootcamps offer many advantages that others cannot. As another option, you can learn cybersecurity by yourself with free materials on the internet. However, if you need help understanding a point during the lecture, there is no chance o getting the answer instantly.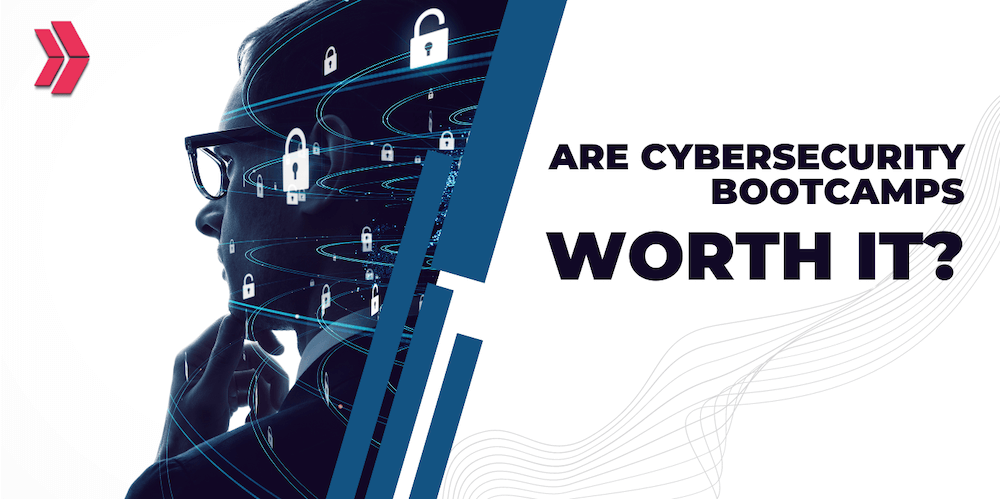 Bootcamps also provide career coaching. Otherwise, you will be deprived of the invaluable assistance of devoted instructors and mentors to boost your career.
Online bootcamps are one the best ways to land a job in a relatively short period compared to traditional education. Also, self-study may consume much longer to learn a subject independently.
Cybersecurity bootcamps are cheaper than college tuition. Also, many bootcamps offer affordable prices with flexible payment options.
Cybersecurity bootcamps have many advantages and higher returns in the long run, and they are truly worth it.
Advantages of Cybersecurity Bootcamps
Bootcamps equip you with the skills demanded in the market.
Career management services will prepare you for the field.
Compared to traditional college education, bootcamps are more affordable.
Flexibility allows you to keep your full-time job during the course.
An intense and goal-oriented curriculum provides only necessary information in a short time.
Bootcamps cover the best hands-on lab experience dealing with real-life challenges.
Disadvantages of Cybersecurity Bootcamps
The intensive nature of the bootcamps requires commitment. Otherwise, failure is likely.
Although advantageous due to cost-benefit analysis, it could be financially compelling for students or low-income workers.
You should digest all the contents successfully; incompetence could lead to unemployment after graduation.
How to Decide Cybersecurity Bootcamp?
An ideal bootcamp should provide the necessary information and tools demanded in the field.
Reviews are vital. Take student reviews into account.
Analyze hiring rates and employer companies.
Career management support is essential. Choose the bootcamp to help boost your career.
Mentoring support is significant. You could consult a specialist about anything anytime you need help.
Some essential certificates are required in job-hunting efforts. Choose the one that prepares for certifications or legal partners with issuers.
Project-based, hands-on learning will prepare you for real-world jobs.
It would be best to consider affordable bootcamps with various payment options.
What are the Admissions Requirements?
Understanding the topics discussed in sessions is enough to accomplish them. Beginner-level bootcamps require no IT background or work experience.
However, some specific bootcamps ask for degrees in system engineering, IT, or computer science and at least one year of work experience in the field.
If you are committed, there is no other requirement to start a cybersecurity course.
Are There Career Services?
Career services are the backbone of cybersecurity training. High-profile bootcamps offer career management support throughout the course.
Many bootcamps have a separate module focusing on job hunting. Experts help you polish your profile and stand out among your peers.
Moreover, they prepare you for technical questions you may encounter in an interview. Mock interview sessions are the final rehearsals to evaluate your situation from behavioral and technical perspectives. So, career service support is integral in deciding the right bootcamp.
Will You Get a Cybersecurity Certification?
At the end of the course, bootcamps issue a certificate of completion that helps you with your career. Having a certificate from a renowned bootcamp will attract the attention of recruiters.
CompTIA Security+ is the first certificate for beginners to start a professional career. CompTIA-certified bootcamps are recommended for global recognition.
You can concentrate on a more specific path, and you can select other certifications like Cloud+, Server+, Linux+, and others. Development-oriented career management experts will lead the way to get the necessary certificates to grab a job instantly.
How Much is a Cybersecurity Bootcamp?
The average cost of cybersecurity bootcamps is between $10,000 and $20,000, still way cheaper than a traditional college education. The tuition may vary based on many factors.
Clarusway's online cybersecurity degree programs offer manageable financial options to make them affordable and accessible to everyone. Options may cover income-sharing agreements, scholarships, and loans.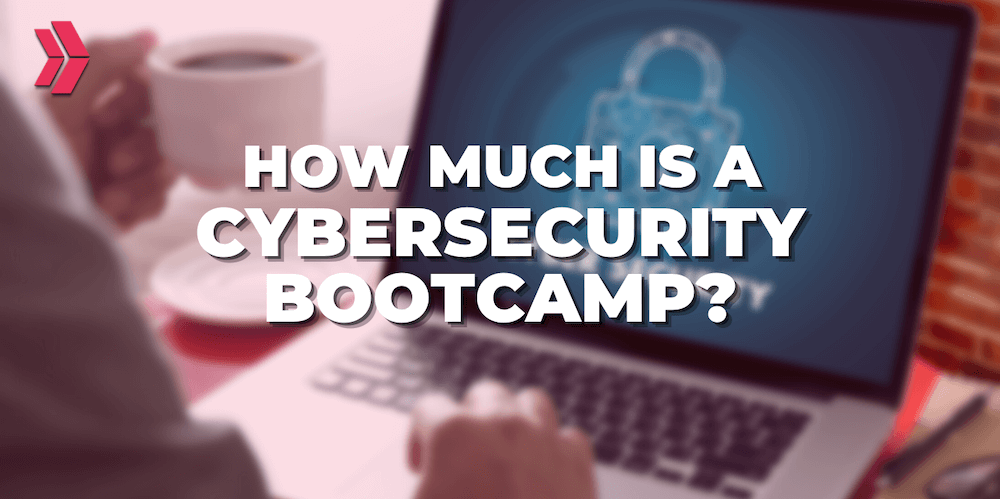 Courses accept payments in installments or a single sum in various payment methods. Some bootcamps promise a tuition refund if you cannot get a job in a specific time.
How Long Does the Cybersecurity Boot Camp Take to Complete?
What distinguishes bootcamps from a traditional college education is being completed in a shorter time with an intense curriculum. An online cyber security degree takes ten to 24 weeks to find a job.
For a higher level of education that requires prior knowledge or experience, the time needed to master may be a little longer. The time frame varies depending on the program.
What Obstacles Might Stop You From Applying for a Cybersecurity Bootcamp?
Although future financial gains outweigh the initial cost, tuition fees may be challenging in starting a cybersecurity program.
Feeling incompetent can deter candidates from starting a course. Keep in mind that no IT background is required to start a career in cybersecurity. Anyone committed, motivated, and hard-working can succeed easily.
Lack of time management can prevent you from applying for an online bootcamp. A full-time job or other problems could scare you from starting a course. However, they offer a part-time schedule.
Fear of not getting a job after graduation may stop you from starting a course. Remember that bootcamps are designed to provide focused education with detail-oriented career management support to help you land a job immediately.
Is Going from High School to a Cybersecurity Bootcamp a Viable Option?
Changing a career is a big step and sometimes worrying. But cybersecurity is rewarding, and it is the future.
A four-year or advanced degree is no longer indispensable in job advertisements. Employers are trying to hire people with grounded knowledge and experience in the field. An expert bootcamp provides an interactive environment focusing on hands-on learning to satisfy market needs.
Starting a new professional career in cybersecurity is a good option while in or after graduating from high school.
How do Employers View Cybersecurity Bootcamps?
Companies prefer to hire someone with a cybersecurity certificate, and bootcamps meet this need. Firstly, online courses equip students with the necessary technical skills. Companies directly benefit from project-based education.
Secondly, employers can save money by avoiding extra expenses for training staff. Also, bootcamps impose cybersecurity awareness training which helps protect the organization's overall security.
Thirdly, group works enable students to enhance soft skills like analysis, teamwork, and communication.
Will You Get a Job After Cybersecurity Bootcamp?
Cybersecurity bootcamps prepare you to land a job; unfortunately, they will not give you one. Do not despair! Career coaching will guide you in job-hunting efforts.
Nowadays, most companies, including tech giants like Google and Apple, do not require a college degree in the job application process. Additionally, a survey from Indeed reveals that employers evaluate 72% of bootcamp graduates as ready for the market as others with college degrees in computer science.
After completing the course, you will be eligible for many roles. Some basic positions include cybersecurity analyst, specialist, or security operations center (SOC) analyst. There are higher-level positions that you may fill in with cybersecurity certificates.
Bootcamps are confident about putting their students to work. Some even offer a money-back guarantee if you don't get a job within six months or a year of graduating.
Why Clarusway Cybersecurity Bootcamp is an Option for You?
Clarusway Cybersecurity Analyst Course is beginner-friendly and requires no IT background, college degree, or job experience. You can start your professional career in only five months with our intense and focused program.
Learning Management System (LMS) provides an interactive environment to learn theoretical knowledge and practice with advanced hands-on labs. We offer real-world training on the live network.
Industry expert instructors will teach you how to use cyber security tools and effectively conduct log and malware analysis. Clarusway is trying to teach how the attacker thinks. In this context, our curriculum covers the most-demanded tools like Kali Linux, Burp Suite, or Metasploit to understand how exploitations work and respond accordingly.
Clarusway's Career Management Service (CMS) helps you build your career on solid foundations. Our coaching activities include LinkedIn training, resume creation, and interview preparation assistance.
One-on-one mentoring is the profession we pride ourselves on. Our dedicated mentors will help you boost your career. Students have a chance to be supervised by field experts. We will always be there for you whenever you need help.
We have a separate module focusing on job preparation support. We lean on technical and behavioral interview preparation elaborately. Also, mock interview sessions allow you to see your shortcomings and mistakes.
You will build a portfolio confirming that you are an eligible candidate to protect your organization's information, assets, and systems.
A globally recognized certificate will make you one step ahead of your peers. CompTIA Security + certification is acknowledged to be the first certificate to validate your security skills in the cybersecurity career path. We are an authorized partner of CompTIA.
Project-based group studies enhance soft skills like problem-solving, attention to detail, innovative research, team leadership, strong communication, and collaboration.
Clarusway offers flexible and affordable payment options and accepts various payment methods.
Our graduates are hired by many companies, including tech giants, as you may find below:
The cybersecurity industry is rapidly growing, and cybersecurity roles have a vast vacancy. The national average supply/demand ratio is 65%.
Cybersecurity bootcamps are in rising demand. They attract more and more students every day. To compete with others, bootcamps must constantly increase the quality and offer better options.
Choosing the right bootcamp is vital since you determine your future. In this context, Clarusway offers at least as much or more than other bootcamps provide. So, take the chance to start your new journey into cybersecurity with Clarusway. Enroll Now!
Last Updated on February 24, 2023