The Salesforce Certified Education Cloud Consultant program is intended for consultants who have implemented Salesforce Education Cloud products. The Salesforce Certified Education Cloud Consultant can develop and deploy Education Cloud solutions that satisfy client business needs, are maintainable and scalable, and contribute to the customer's long-term success.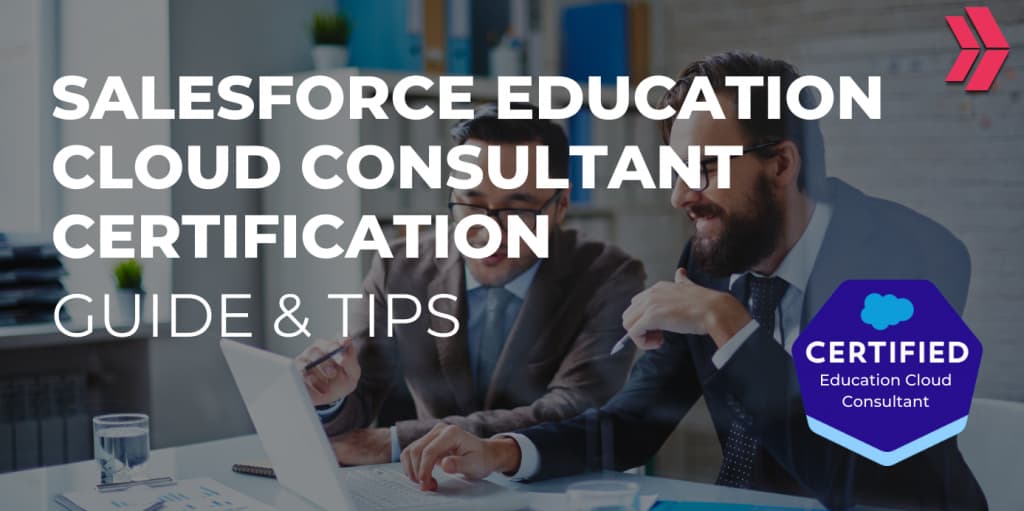 What are the Key Topics?
Candidates' ability to accomplish the following tasks is a focus of the Salesforce Education Cloud Consultant examination.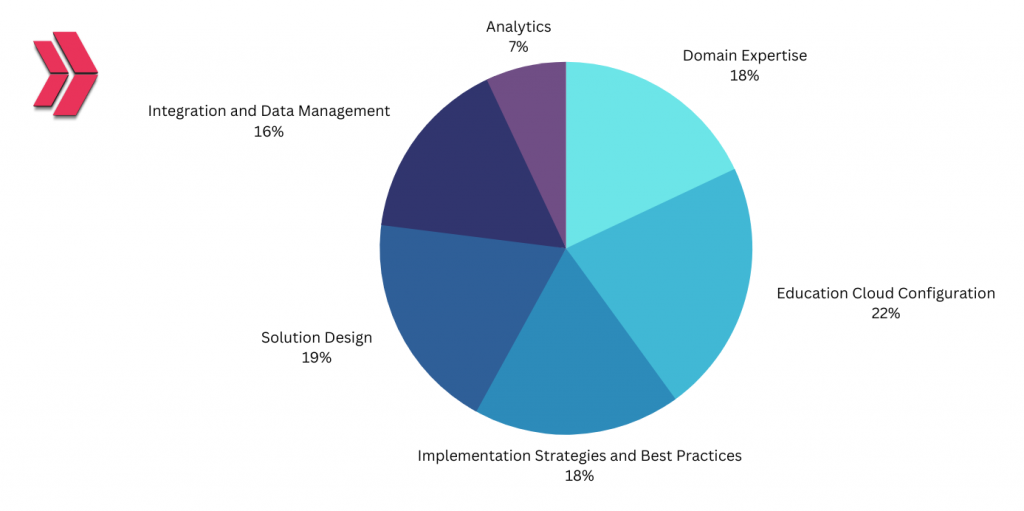 Domain Expertise: 18%
Find the group of solutions that can please the client (marketing and engagement, recruitment and admissions, student experience, and advancement and alumni relations).
Describe the features and benefits of the Education Cloud to a K-12 audience.
Education Cloud Configuration: 22%
Go over the features and benefits of Education Cloud, and how it interacts with the rest of your Salesforce infrastructure.
Install and configure Education Cloud.
Implementation Strategies and Best Practices: 18%
Promote proper implementation (plan, gather requirements, design, build, test, document, deploy, and optimize).
Demonstrate governance, change management, personnel, implementation techniques, deployment considerations, and adoption of best practices, as well as community resources, to ensure the long-term viability of the solution.
Solution Design: 19%
Assess how the Salesforce Account-Contact data model compares to the Education Cloud account model and how the two are related.
Create an appropriate and scalable solution for customers in the education sector..
Find community and open-source resources and solutions.
Determine when to utilize Education Cloud, additional Salesforce solutions, open-source community solutions, and third-party applications.
Integration and Data Management: 16%
Assess the factors to be taken into account while integrating systems for use with Education Cloud.
Define the factors to consider when managing data (data usage, forecasting, large data volumes, migrations in Education Cloud).
Analytics: 7%
Learn how Education Cloud's various reporting solutions vary.
Specify when a data analytics solution is applicable.
How to Study Education Cloud Consultant Certification?
You should probably educate yourself on the requirements for the Education Cloud Consultant certification, which were previously mentioned. These requirements include the necessary knowledge and skills. In this regard, we strongly recommend that you review the course description that can be found on the Clarusway Salesforce Course website.
You would do well to concentrate, as a first step, on the self-study materials presented as trailmix on trailhead.salesforce.com.
The Salesforce Certifications Guide and Salesforce's official Trailhead Exam Guide are two resources you should read thoroughly. These will give you a brilliant overview of the various topics you need to know for the test.
Who's the Ideal Candidate for Salesforce Education Cloud Consultant?
A Salesforce Education Cloud Consultant uses Salesforce Education Cloud to build and implement solutions that meet the needs of a client's business processes and specifications. The successful candidate will have a track record of leading the implementation of solutions within the education sector, and will have designed solutions that optimize Education Cloud functioning.
The candidate is knowledgeable in Salesforce applications and has previously worked as a consultant in the education sector. They also have experience in building several Salesforce apps in typical customer scenarios.
The ideal candidate has worked as a consultant before, so they know how to design solutions, solve problems, troubleshoot common technical and design challenges, facilitate, gather requirements, apply best practices, manage projects, and deliver results.
These are some of the skillsets possessed by the Salesforce Certified Education Cloud Consultant:
Two or more years working with the Salesforce Platform.
Experience implementing Salesforce in the academic sector for at least one year.
At least one Education Cloud project has been implemented and supported.
Experience as a partner or consultant is advised.
Salesforce Education Cloud Consultant Exam Tips
Consider the Consultant Fundamentals available through Trailhead for further assistance.
To get started, prior experience or familiarity with information technology is not required in any way. Clarusway provides intensive and accelerated training in Salesforce so that individuals can begin new careers more quickly. In this line of work, you can earn credentials such as "B2C Commerce Developer" by gaining the necessary work experience and completing a series of courses that progress from fundamental to advanced levels over time. Simply put your faith in yourself! So, check out the Clarusway Salesforce Admin and Developer Course website.
Last Updated on September 16, 2023