You are in the right place, if you are wondering 'what career is right for me in tech?'. Undoubtedly, one of the most profitable careers in the world today is tech. The average salary for tech occupations in 2021 is $97,430, according to the Bureau of Labor Statistics report. The report also shows that experienced tech workers earn over $100,000 annually.
There are different tech skills to learn apart from coding or website development. These skills are in high demand and are a good option when seeking an industry where you can grow.
Using a career quiz will help you understand the right tech role based on your skill set, personality, and interests. In addition, the right course and mentorship will make your transition into tech easy.
In this post, you will learn how to select the right tech role and match your skills to a tech career. Join us as we prepare you for a successful tech career.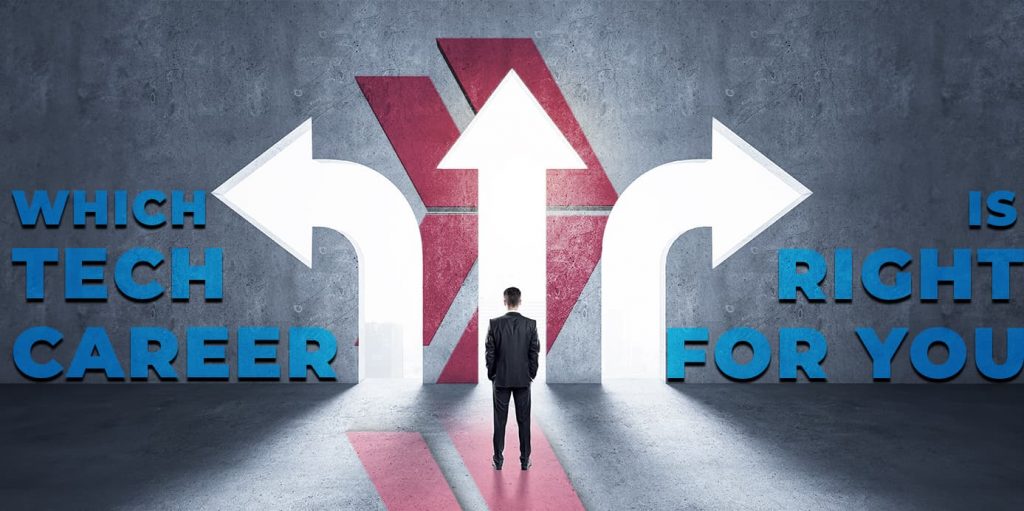 How Do You Choose the Right Tech Career?
Choosing the right tech career is a multi-step process that matches your strengths and interests for success. Many people are discouraged from transitioning into tech because they need proper guidance. Tech careers are broad with different job opportunities to suit your personality.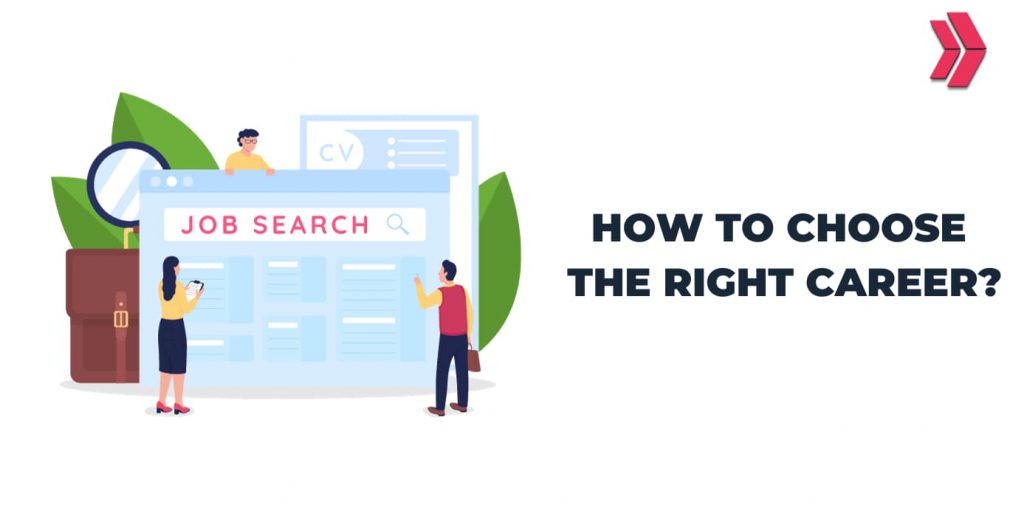 What Are the Indicators to Determine If a Tech Career Is a Good Fit?
Determining if a tech career is a good fit involves assessing both personal and professional indicators. Here are 7 good indicators to determine if tech is a good fit for you:
You like solving problems.
You like tasks that are both creative and tasking and also want to get paid to do it.
You are curious and like learning new things.
You want to switch careers, or you are trying to start one.
You will love to work remotely, set your work hours, or work in a flexible work environment.
You are excited about the field of technology and how it can impact the world.
You want a career where you can grow and also enjoy long-term stability.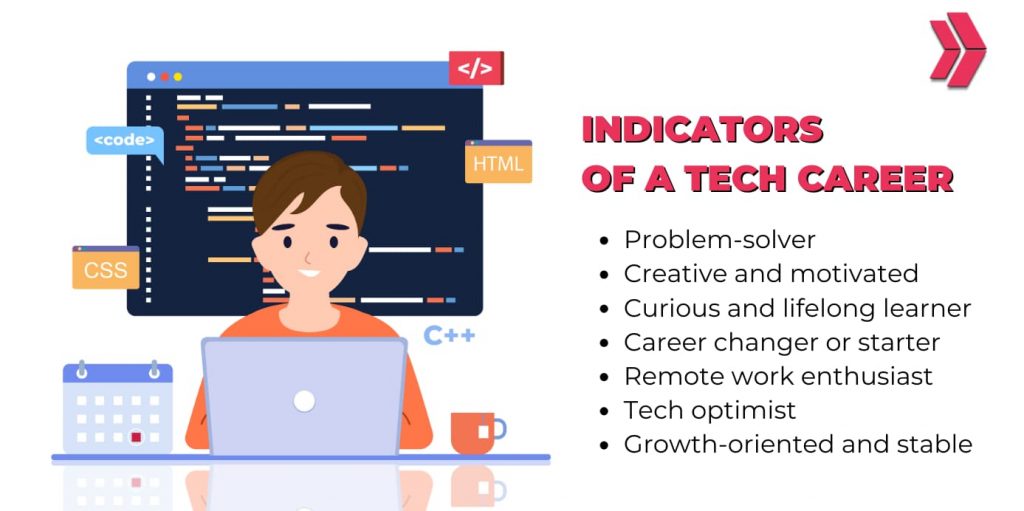 What Factors Should You Consider When Selecting a Tech Career?
Selecting a tech career involves considering a range of factors. Here are 5 vital factors you should consider before selecting a tech career:
Interest and Passion
Skills and Abilities
Education and Training
Salary Compensation
Personal Lifestyle and Preferences
Interest and Passion
Interest is a feeling of wanting to always learn about a particular subject, topic, or skill, while passion is an extraordinary enthusiasm towards something. Interest and Passion towards a career is an excellent drive to achieve great results in any field. In this context, your interest and passion are activities you enjoy and can spend your time and money on.
For example, your enthusiasm towards building apps is a good sign that you will excel as a programmer. On the other hand, you can opt for data analysis if you have a keen interest in working with data and numbers.
Skills and Abilities
Skills and abilities are the knowledge acquired that allows you to execute a task. Different tech roles require certain skills and abilities. Pursuing a tech career requires you to possess hard and soft skills. It is important to align your preferred career with your skillset.
Hard skills are technical aspects of a particular role, which include coding, data analysis, project management, etc. On the other hand, there are 10 essential soft skills in the IT world. To have a successful career in tech, you must combine the soft and hard skills required in that role.
Education and Training
Education and training are the theoretical and practical knowledge needed in a field. Every career has its education and training. Determining the level of education required in your preferred tech role is important.
To learn more about tech careers without coding, read the article "Can I become a coder without a Degree?"
Salary Compensation
Salary compensation is the payment, usually in the form of money, that an employee receives in exchange for the services they provide to their employer. On average, some tech roles pay higher than others because of the technicality, scarcity of employees, and other significant factors. For example, Web3 developers receive up to $150,000 as an annual salary, according to ZipRecruiter.
To learn more about Web3 developers, read the article "How to Become a Web3 Developer?"
Personal Lifestyle and Preferences
Personality, lifestyle, and preferences are significant factors when choosing careers. Extroverts find joy in jobs and careers that require socialization, while introverts will not. Personality also affects your preferred work environment. Regarding lifestyle, a family-oriented employee will not be happy with a tech role that comes with traveling a lot.
Can A Tech Quiz Help You Discover Your Ideal Tech Career?
Yes, a tech quiz can be a useful tool to help you understand which tech career might be a good fit for you, especially if you're early in your exploration or unsure about the vast array of tech roles available. A tech career quiz is an assessment that helps you discover the ideal tech careers that align with your interests, abilities, and education. IT career quiz helps you discover the tech role that fits your persona and interests based on the answer given in the assessment.
The Tech Career Quiz
Start your tech journey by taking a free tech career quiz. Discover the right career path that aligns with your interests and skill set.
---
Want to know which tech career is best for you?
You can have an idea about the most suitable IT path for you by spending
2 minutes on the quiz we have prepared specially for our visitors. Also, complete the quiz and get a special discount coupon for Clarusway IT courses!
---
Exploring the Wide Range of Tech Career Options:
What is the right tech job for me? It is the question that its answer leads you toward a wide range of career paths for almost everyone in IT. There are over 550,000 tech companies in the US with over 12 million employees. The tech sector is growing yearly, with roughly 200,000 IT field jobs added in 2022.
What Are the Different Types of Tech Careers Available?
Here are 10 different types of tech careers you can pursue and their average salary annually:
Software Developer/Engineer
Web developers
Data Scientist
Cybersecurity Analyst
DevOps Engineer
Web3 Developer
UI/UX Designer
Salesforce Administrator
Machine Learning Engineer
IT Support Professionals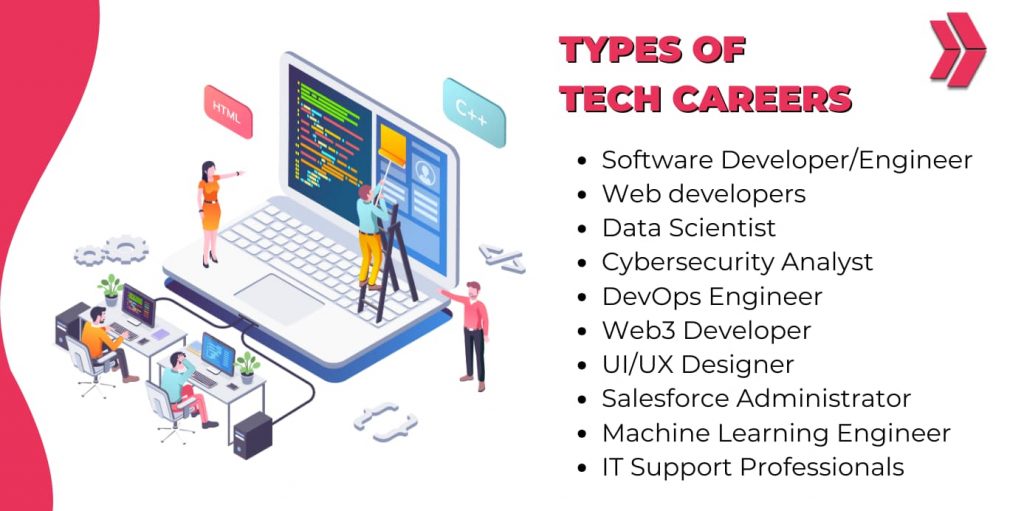 Software Developer
Software developer is the Tech Career that creates operating systems, mobile applications, web applications, and websites by writing codes. Software developers learn different programming languages such as Python, JavaScript, HTML, CSS, C++, etc. The average salary of a software engineer annually is $100,000.
Web Developers
Web developers are professionals who design, create, and maintain websites. They use a variety of programming languages, tools, and techniques to bring web designs to life, ensuring that websites are functional, user-friendly, and meet the needs of users and clients.
Web developers are also known as Full-Stack developers. They are subdivided into front-end developers and back-end developers. Common programming languages used by web developers are JavaScript, HTML, and CSS.
The front-end engineer creates the visual part of the website or applications. On the other hand, the back-end developer is in charge of building the part that you cannot see. The job of the back-end developer includes creating application servers and databases that make the website or app function. The average salary of a web developer annually is $80,000.
Data Scientist
A data scientist is a professional who uses scientific methods, algorithms, systems, and processes to extract insights and knowledge from structured and unstructured data. Data scientists improve an organization's process by collecting and interpreting information. Data scientists perform detailed analyses using data mining skills to improve organizational decision-making.
Data scientists and analysts deal with data and use programming languages like SQL, python, and XML. They interpret large volumes of data by preparing diagrams, charts, graphs, reports, etc. The average salary of a data scientist is $110,000.
Cybersecurity Analyst
A cybersecurity analyst is a professional responsible for protecting an organization's computer systems and networks from cyber threats, including hackers, viruses, and other malicious software. Cybersecurity experts are in high demand in our world owing to the increasing number of hacks in different organizations. Cybersecurity analysts earn roughly $100,000 annually.
DevOps Engineer
A DevOps engineer is an IT professional who is responsible for the smooth running of the IT infrastructure in an organization. They carry out software maintenance, test applications, and server administration. AWS DevOps engineers are trained to manage AWS infrastructure and contribute to an IT firm's development processes.
A DevOps engineer has knowledge of both development and operations. They work with software engineers, systems engineers, and other technical employees in an IT organization. On average, AWS DevOps engineers receive $120,000 every year.
Web3 Developer
A Web3 developer is a software developer specializing in creating and maintaining applications that run on the Web3 infrastructure. Web3 developers create decentralized apps (DApps) and smart contracts on blockchains. Web3 is a developing sector in tech that has enjoyed popularity due to the invention of Bitcoin and cryptocurrency.
Web3 developers are well-versed in different programming languages such as C++, Javascript, solidity, Python, and Rust. Web3 developers are in high demand, and they receive up to $150,000 annually.
UI/UX Designer
A UI/UX designer is a professional who specializes in designing user interfaces (UI) and ensuring a positive user experience (UX) for digital products, such as websites, mobile apps, and software applications.
UI/UX designer UI means user Interaction, while UX means user experience. UI designer creates the graphical interface of a website or application for the web developer to build. UI designers. They create the layout of an application by creating a visually appealing and user-friendly interface. UI designers use different design tools. They also have a working knowledge of typography, branding, color, interaction design principles, etc.
UX designer is responsible for making an application or website user-friendly. The aim of UX designers is to improve customer experience when they use an application. UX designers improve buttons, headers, links, typography, design user journeys, etc. UX designers collect data and do research to achieve an optimal experience for users. The average earning of a UI/UX designer is $90,000.
Salesforce Admin
A Salesforce Admin, or Salesforce Administrator, is a professional responsible for managing and configuring the Salesforce platform for an organization. Salesforce admin is responsible for improving business operations by keeping track of sales data and customer interactions. They use Salesforce, a customer relationship management CRM software, to manage leads, contacts, and sales. Salesforce admins do not require knowledge of coding. An average salesforce developer earns $80,000 per annum.
Machine Learning Engineer
Machine learning engineer is an IT professional researching, designing, and building artificial intelligence systems. A machine learning engineer aims to build accurate AI systems.
AI is a rapidly developing aspect of tech, making machine learning engineering a profitable tech role. Machine learning engineers learn different languages, such as Python, C++, and Java. Their average salary is $115,000 per year.
IT Support Professionals
IT Support Professionals are individuals responsible for assisting users with hardware and software problems, ensuring the smooth operation of computer systems within an organization. They are acquainted with a particular software and help customers solve problems. IT support professionals have good interpersonal and communication skills. An average tech support professional earns $40,000 in a year.
How to Match Your Interests and Skills with Tech Careers?
Matching your interest and skills with a tech role is a precursor to achieving a successful tech career.  Aligning your interests with a role is also an excellent booster when you need help knowing where to start in tech. The best career paths in tech for you should be the ones you enjoy and are passionate about. Here are 7 steps to help you find the right tech career that fits your passions and abilities:
1. Assess Your Skills
Assessing your skills, both technical and soft, is essential for shaping your tech career. Reflect, seek feedback, and gauge your proficiency to align your abilities with your aspirations. Continual self-assessment is key for success in the dynamic tech industry.
2. Research Different Tech Careers 
Explore different career options based on your interests. For example, you can pursue a career as an IT support professional if you love to assist people and possess excellent communication skills. 
3. Know The Educational Requirements
Know the educational requirements for the role you want. Some tech roles require a college degree, while others require an online course or boot camps.  
4. Take Online Courses 
Enroll for online courses organized by experienced IT professionals in your chosen career. Online courses will enhance your skills and equip you with practical knowledge about your career. 
5. Mentorship
Find an experienced professional to mentor you. Mentors will guide you as go through your tech journey by providing interview tips, contributing to your growth, etc.   
6. Gain Practical Knowledge Through Internships
Internship is one way to gain practical knowledge and experience in any career. In addition, look for freelance or volunteer roles to get practical experience in your chosen tech career. 
7. Stay Updated
With tech, you never stop learning. Tech is an ever-evolving industry. Stay up-to-date with the latest trends and news in your field.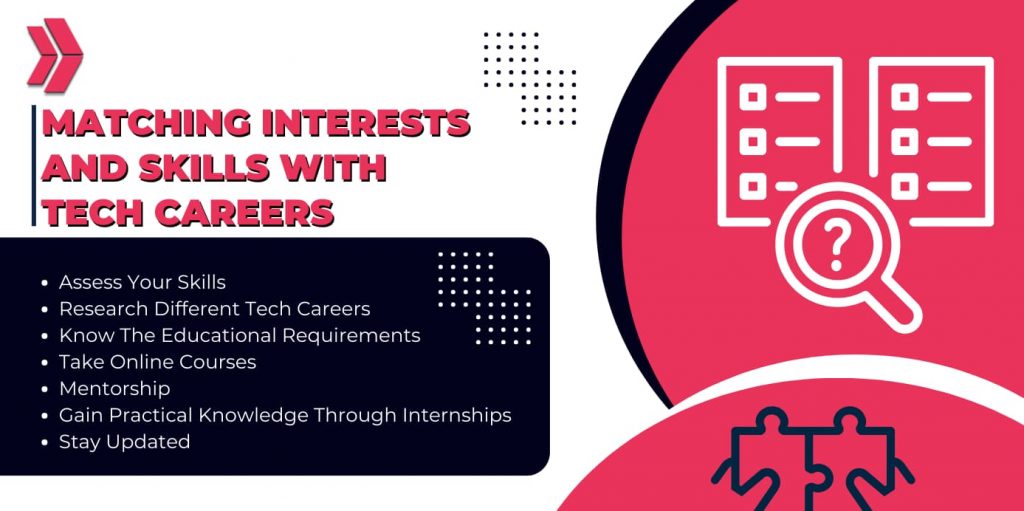 What Are The Job Opportunities In Tech?
The tech industry offers a wide range of job opportunities, including Software Developer/Engineer, Web developer, Data Scientist, Cybersecurity Analyst, DevOps Engineer, and more, spanning various specialties, skill levels, and areas of expertise. The growth of technology has created millions of job opportunities in the world. In the US, tech field jobs are among the high-earning careers. Presently, IT jobs account for over 6% of America's total workforce. Furthermore, the tech industry is expected to grow by at least 4% every year.
The industry is always evolving and creating job opportunities every day. Web3 developers and DevOps engineers are good examples of tech careers in demand. These jobs were not popular a few years ago.
How To Start An IT Career Path?
Starting an IT career path requires a combination of education, skills acquisition, networking, and practical experience. Tech jobs provide an opportunity for growth in your chosen career path. The salary compensation and the flexible work environment available in the tech space is good reason for you to start an IT career path. Nonetheless, the best information technology jobs require experience, constant learning, and excellent problem-solving skills.
Final Thoughts
In a nutshell, choosing the right tech career should be a blend of your interests, skills, and personality. That said, proper tutorship and mentorship are important criteria for a successful career.
Clarusway offers you an opportunity to easily transition into tech by attending its intensive boot camps. At Clarusway, you can gain experience by solving real-life problems. Enjoy proper guidance and mentorship from experienced tutors. We do not stop at just training you; we ensure you also land a job.
Last Updated on October 8, 2023