Consultants with expertise in installing and advising on the Salesforce Experiences apps in a client-facing capacity are ideal candidates for the Salesforce Experience Cloud Consultant program. In addition, candidates for the Salesforce Experience Cloud Consultant certification aim to prove their proficiency with the platform's declarative customization features by passing an exam that tests their knowledge of and ability to apply these features when developing, configuring, and deploying Salesforce Experience applications.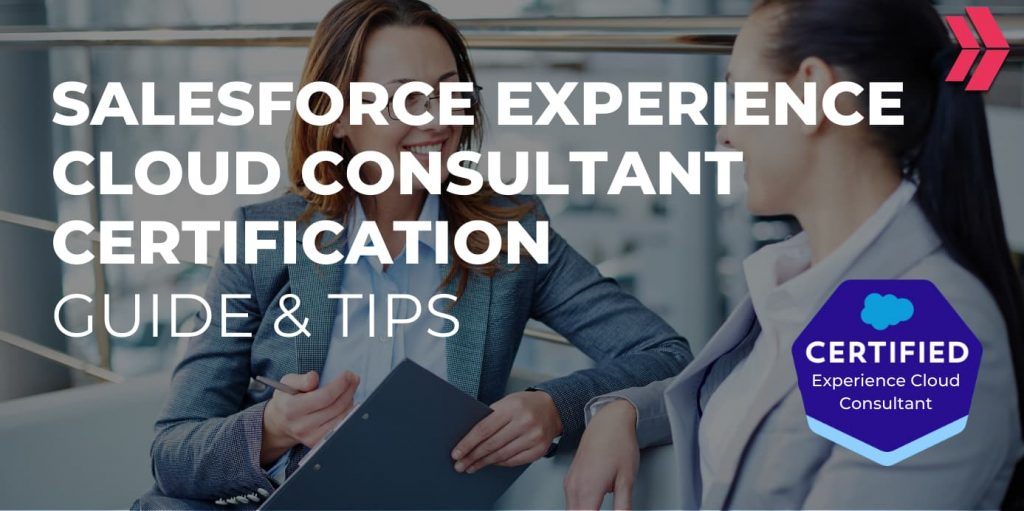 Success for the client over the long run is ensured thanks to the Salesforce Experience Cloud Consultant's ability to provide scalable and sustainable solutions. Anyone who wants to show that they're proficient with Experience Cloud may benefit from earning this certificate, which includes customers, partners, workers, and anyone else who interacts with the platform. To be eligible for the Salesforce Experience Cloud Consultant test, one must first become a Salesforce Certified Administrator.
What are the Key Topics?
Examinees' prowess in the following areas will be judged on the Salesforce Experience Cloud Consultant certification exam. Candidates should have worked with the Experience Cloud app and be able to show their level of expertise in the following areas.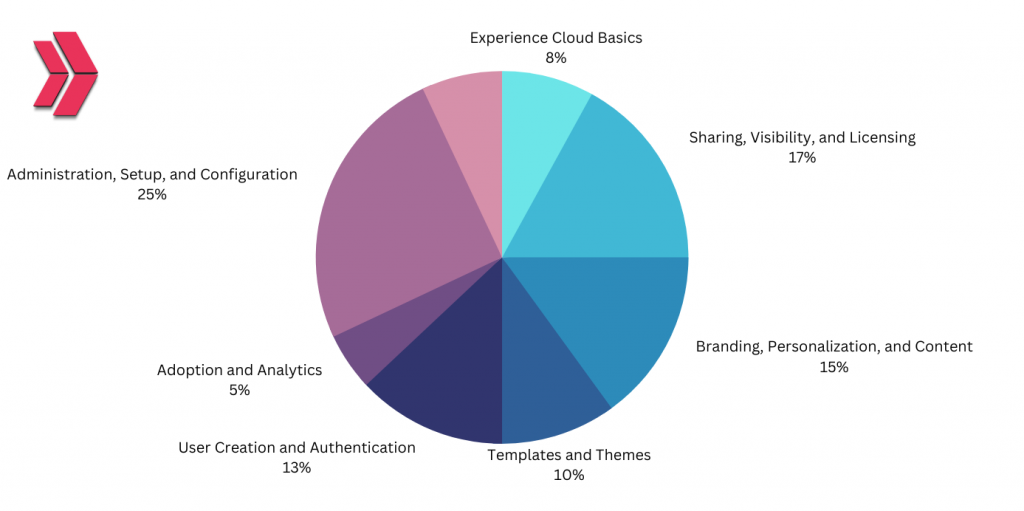 Experience Cloud Basics: 8%
Explain why a particular use case necessitates developing or adopting an Experience (Given a scenario).
Create a list of the Experience Cloud's most frequent personas (Given a scenario).
Analyze the different kinds of external accounts that are used in an Experience and the functions they serve.
Establish external account relations for an Experience (Given a scenario).
Sharing, Visibility, and Licensing: 17%
Position a user's visibility appropriately in an Experience (Given a scenario).
Position an object's visibility appropriately in an Experience (Given a scenario).
Provide suggestions for how a Declarative Sharing model might be used to enhance an Experience.
Establish a connection between an Experience and external accounts (Given a scenario).
Consider the various external license options (Given a set of requirements).
Establish a safety configuration by analyzing an Experience use case (Given a scenario).
Identify roles for external users.
Branding, Personalization, and Content: 15%
Change a specific experience using the Experience Builder.
Describe how you can use Search while in an Experience and its features.
Make use of the Salesforce CMS into an Experience.
Increase the visibility or accessibility of articles in an Experience (Given a scenario).
Templates and Themes: 10%
Determine a suitable subject matter for an Experience (Given a scenario).
Find the appropriate Experience Template (Given a scenario).
Make use of template packaging, exporting, and importing.
Evaluate the usage of lightning in Experiences.
User Creation and Authentication: 13%
Give an overview of the various user creation options, such as JIT provisioning, self-registration, and data loaders.
Ascertain how to best prepare a user for an Experience (Given a scenario).
Define the various Single Sign-On options.
Implement the processes for enabling partner and customer Experience users.
Determine how to give users access to an Experience.
Adoption and Analytics: 5%
Follow the procedures to establish Experience dashboards and insights.
Apply what you've learned about Experience Moderation features.
Use standard, effective methods to increase adoption and participation.
Administration, Setup, and Configuration: 25%
Follow the procedures for establishing a Channel Sales Partner Relationship Management (PRM).
Specify the features of various Experience deployments and migrations.
Specify the steps necessary to activate and enable an Experience.
Suggest and carry out Delegated External User Administration (Given a scenario).
Figure out what needs to be done to make a public Experience.
Decide configuration and setup steps for Topics.
Use Ticketing and Service Cloud functionality for Experience Cloud.
Customization Considerations and Limitations: 7%
Demonstrate constraints between all Experiences.
Experience Cloud Consultant Exam Tips
The following are not skills or knowledge that a candidate is expected to have:
Detailed SEO knowledge
Implementation of Knowledge
Expertise in Service Cloud
Develop HTML and CSS
Visual or interaction design
Training of users
Organizational change management
How to Study Experience Cloud Consultant?
The easiest way to be ready for the certification test is to follow the instructions below.
Experience Cloud Consultant certification requires a certain set of skills and expertise, which you may like to investigate more. For more information you can visit the Clarusway website.
You should study two documents in detail: Salesforce Certifications Guide and Salesforce's official Trailhead Exam Guide. These will provide a fantastic overview of the major test-prep subjects.
The applicant is qualified due to their extensive background in, and mastery of, the necessary skills, knowledge, and abilities to:
Activate Digital Experiences.
Determine the proper template for a particular use case.
Choose the appropriate external user license.
Use Experience Builder to implement branding and design pages.
Customize the Experience for various audiences.
Generate and administer Topics.
Allocate Articles of Knowledge to Subjects (including via Data Category)
Configure the proper User Visibility for a specific use case.
Recognize declarative sharing options.
Build sharing sets.
Generate and assign external users.
Setup self-registration.
Setup Social Sign-On.
Explain best practices for the Experience role.
Establish external accounts and account relationships.
Establish channel sales (PRM).
Integrate Salesforce Content Management System (CMS) content into an Experience.
Establish reputation ranks and gamification.
Assess the adoption and participation of Experience users.
Examine usage (page views, etc.).
Make reports and dashboards accessible in Experience.
Configure Experience Builder components.
Configure Workspaces.
Describe how to create a public site.
Understand migration of Experiences between environments.
Describe Article Channels.
Knowledge of support and ticketing capabilities in Experiences.
Understanding the out of the box capabilities and limitations and when to customize.
These are the kinds of things that a test taker could require some assistance with:
Configuring Single Sign-on in Experiences.
Describing the capabilities and limitations of custom domains.
Employing Change Management best practices for an Experience.
Configuring SEO.
Setting up Person accounts.
Describing design decisions for Single vs. Multiple Experiences.
Who's the Ideal Candidate for Salesforce Experience Cloud Consultant Certification?
In other words, the Salesforce Certified Experience Cloud Consultant has worked with Salesforce Experience before. The Salesforce Certified Experience Cloud Consultant may also investigate and repair any problems with the platform.
Salesforce recommends that the Salesforce Certified Expertise Cloud Consultant have at least 6 months of experience with either administering or creating on the Salesforce Experience Cloud platform. Consultants who have earned the Salesforce Certified Experience Cloud badge are technical facilitation and consultation experts.
You need zero expertise to get started in this area of IT. Clarusway provides intensive, fast-track Salesforce training for people looking to start a new career quickly. Earning credentials like "Experience Cloud Consultant" requires a combination of field experience and a series of progressively more advanced courses. Try believing in yourself for once! So, check out the Clarusway Salesforce Admin and Developer Course.
Last Updated on September 24, 2023