In recent years, the query "Salesforce training" has been increasingly typed into web browsers due to Salesforce's constant product expansion and market-driven adaptation. To satisfy your curiosity, we've looked at salesforce training from different points of view and given you information about it under separate headings in this article. Let's go on.
What is Salesforce Training?
Salesforce, Inc. is a well-known cloud-based software firm in the United States specializing in customer relationship management (CRM) services. Salesforce is a renowned customer relationship management (CRM) solution that is widely used by support, sales, and marketing teams all around the world.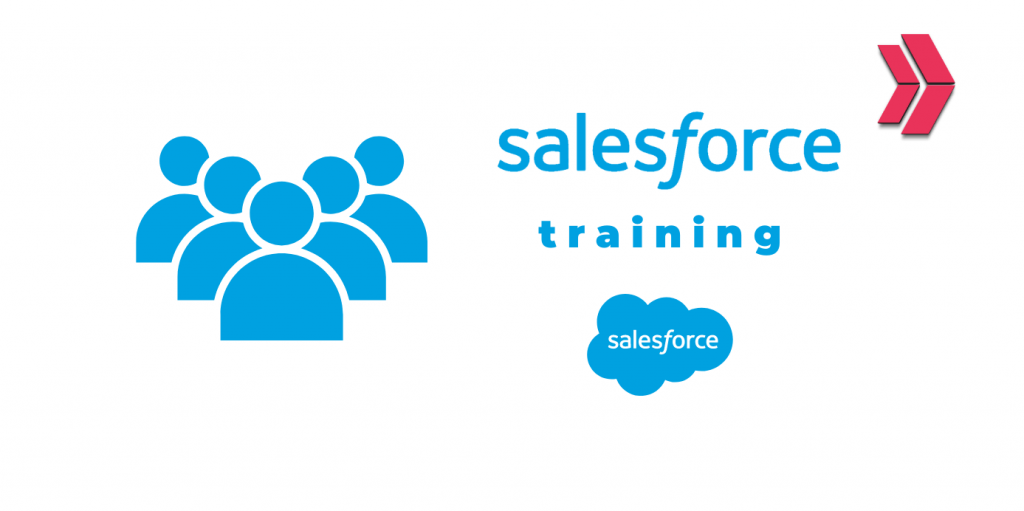 Salesforce can provide customer care and support based on its architecture, allowing it to offer various services and apps. As a consequence of this, training plans are based on the following roles across all services, in a nutshell:
• Salesforce implementation, configuration, customization,
• Business Consulting,
• Development of Customized Software Applications,
• System Integration and Migration,
• Support and Maintenance constantly,
• Data management.
Salesforce training often starts with the administrator and developer role tracks and then goes on to advanced flow courses if there is demand for them.
Is Salesforce Worth Learning?
Salesforce is the most popular customer relationship management system (CRM) in the world. Millions of businesses of all types and sizes are always looking for Salesforce employees to fill open positions in their organizations.
Let's discuss numbers before going on to the inferences we can draw from them.
As of May 2016, Salesforce had more than 150,000 customers worldwide. With a market share of 19.7%, it is the undisputed leader in the CRM industry. Its nearest rivals, SAP (12.1%), Oracle (9.1%), and Microsoft (6.2%), are a long way behind.
There are approximately 2,700 applications available on the Salesforce AppExchange, which have resulted in a combined total of over 3 million installations. Furthermore, more than 70 percent of Salesforce customers use applications listed on the AppExchange.
On the market today, a great number of businesses are either migrating to the Salesforce platform or developing their apps on it. As a result, there is currently a greater demand for Salesforce administrators and developers.
In Addition, Salesforce's estimations outperform that forecast. The company's management predicted at the investor day presentation in December that the organization will earn more than $50 billion in yearly sales in fiscal 2026. That would indicate a compound annual growth rate (CAGR) of 19% between fiscal 2021 and fiscal 2026.
In a nutshell, we can say that Salesforce represents the future of customer relationship management (CRM), and it will create many chances for a wide range of IT experts. As a result, we may begin right now and start preparing ourselves for this beautiful chance.
A Salesforce professional's salary increases directly to the depth and breadth of their training.
What Are the Best Ways to Learn Salesforce?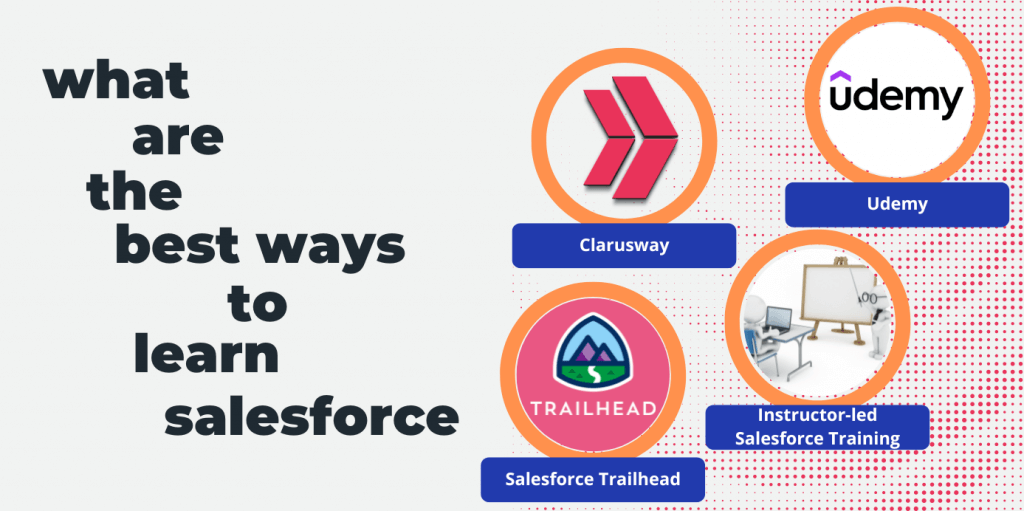 Live Instructor-led Salesforce Training
Learning Salesforce in this manner is, by a wide margin, the most productive and successful approach. You have the option to enroll in Salesforce training that an instructor guides. The encouraging news is that in addition to being held in person, these training programs are now also offered online. You could want to look into platforms such as Clarusway, which provide high-quality online courses covering a variety of profound professions such as Salesforce administrator and Salesforce developer.
The organization provides you with an exciting and interactive training experience, which gets you ready to face the demands of a professional career in a very pleasant manner. It provides assistance by way of its real-time expert-taught training module, with the goal of preparing you for the approved Salesforce certifications and work roles. Therefore, this is something you should take into consideration; at the very least, sign up for their free demonstration class.
Salesforce Trailhead
Trailhead is the method that the majority of Salesforce specialists would recommend using as the beginning step in learning Salesforce and also to refresh your expertise. This is a Salesforce learning tool that Salesforce developed specifically for the use of the Salesforce community in its entirety. It is accurate as well as comprehensive. This advantage is not the same as the ones that were listed above because it is entirely independently coordinated, and the arrangement itself is not a video.
Trailhead walks you through the many Salesforce processes specific to the various jobs, developments, and features of the various stages. The best thing is that you get the opportunity to work on your performance right on the scene. The modules will walk you through a certain area, and then there will be a hands-on test at a point that is somewhat close to the conclusion. Some achievements are slightly analogous to Salesforce Trailhead Badges for the majority of the trails that you finish. As an introduction to Salesforce, or if you are capable of planning to improve your comprehension, it is not difficult to take on the responsibility of doing so.
Members of Trailhead are promoted to full membership in the Trailblazer community without further action. Meetups, events, and online forums are available to Trailblazers so that they may discuss and learn how to master the difficult and always-changing Salesforce suite.
Udemy
Large, globally dispersed, rapidly expanding option that is both self-paced and asynchronous, like Udemy's training courses, can be a feasible solution. Because they do not necessitate the presence of a teacher, these classes are frequently more flexible and reasonably priced than the various other options for training.
Training sessions for individual team members can be initiated, terminated, or paused according to the obligations they now have.
Udemy provides a diverse selection of Salesforce courses suitable for users with varying degrees of prior knowledge, in addition to specialist training for business administrators, software engineers, and other Salesforce-related professionals.
How Long Does Salesforce Training Last?
Training is highly dependent on the amount of time that you devote to it on a daily basis, as well as the abilities that you currently possess. Skills like Salesforce Admin and Developer could be learned in as little as three to six months with the right amount of devotion and training courses, while learning advanced flow could take as long as six months or longer.
That is the bare minimum required, and many positions, even entry-level ones, would require significantly more expertise with Salesforce. On the other hand, you view your training in Salesforce as a path of continuing education so that you can remain fully conversant with all of the most recent advancements in the field.
In addition, the technologist is ultimately responsible for the training, and it is up to them to decide how far they want to go with the platform. The administrative fundamentals course could take a total of several hours to complete. After that, you can continue to advance, entering the developer trailheads, concentrating on particular apps or technologies, delving deeply into data, and much more. It really is what you make of it, and there are a ton of different employment choices open to you depending on your abilities and whether or not you have an interest in doing so.
Clarusway Salesforce training is based on two main paths; each lasts six months, and the advanced flow, an additional one month.
How Much Does Salesforce Training Cost?
The Trailhead training is offered at no cost. Creating an account is the only thing that's required of you. There is a paid plan that gives you the ability to publish your training, obtain certificates that are recognized by the industry, and establish an atmosphere for corporate training for your staff members.
MyTrailhead is the name of this version, and each user is charged $25 per month. Customers and partners can access your unique training content and the rest of the Trailhead learning environment if you enable MyTrailhead for them and charge them an additional $2 per login or $5 per member. This option is available through the Trailhead website.
The price of instructor-led trainings can vary greatly depending on the learning path and the courses taken. Clarusway gives you a choice between four different methods of payment, which are as follows:
Up Front Tuition: Paying the total tuition upfront results in a discount.
Installment Plan: Payment can be made in manageable installments.
Student Loan: Payment is due once the course has been completed.
Income Share: That requires payment at the time of employment.
Udemy provides courses usually not free, especially the bestsellers. Occasionally, no-cost methods may be made available.
Clarusway Salesforce Training
Salesforce Admin and Developer Course
This course is a comprehensive online training course for Salesforce that lasts for a full 24 weeks. This training will provide you with the knowledge and expertise you need to manage the Salesforce Platform successfully in the future. Job titles such as Salesforce Administrator and Salesforce Developer have highly sought after. After completing this Salesforce course, you will be prepared to take the Salesforce certification examinations, such as Salesforce Administrator, Salesforce App Builder, Salesforce Advanced Admin, and Salesforce Platform Developer I certification exams.
Salesforce Admin and Consultant Course
This 24-week long rigorous online training program for Salesforce is the course that you will take. You will acquire the knowledge and abilities necessary to successfully administer the Salesforce Platform in the future and will be prepared for career titles such as Salesforce Consultant and Administrator. After completing the training, you will be ready to take the Salesforce certification exams, such as Tableau CRM & Einstein Discovery Consultant, Salesforce Sales Cloud Consultant, Salesforce App Builder, Salesforce Advanced Admin, and Salesforce Administrator.
Salesforce Advanced Flow Course
Clarusway introduces the "Advanced Flow Course", which will turn you into a Salesforce Flow Specialist. Salesforce Flow is the most effective expressive automation tool. It enables you to create complicated business solutions by gathering data and carrying out various activities on salesforce.org or an external platform.
The Salesforce Bootcamp is designed for individuals with little to no previous experience using Salesforce. There is no prerequisite knowledge required for IT. You won't ever be in a position where we won't help you make the portfolio, from when you're a beginner until you're ready to start working. Your previous experiences, as well as the material covered in this course, will be incorporated into the portfolio that we will help you create. Consequently, in a relatively short amount of time, you will be prepared to start your new career!
Now is the time to enroll in Salesforce courses that offer flexible payment options. Clarusway will help you run through your dreams!
Last Updated on July 9, 2023