As technology develops, everything becomes more interconnected and more vulnerable to cyber threats. Due to this, cybersecurity is becoming increasingly important. In addition to protecting sensitive data and valuable assets, cybersecurity analysts also ensure the organization's reputation is protected, which is essential to a successful business plan.
According to the Boardroom Cybersecurity 2022 Report, published by Cybersecurity Ventures in 2022, the global cost of cybercrimes is estimated to reach 7 trillion US Dollars in the last year.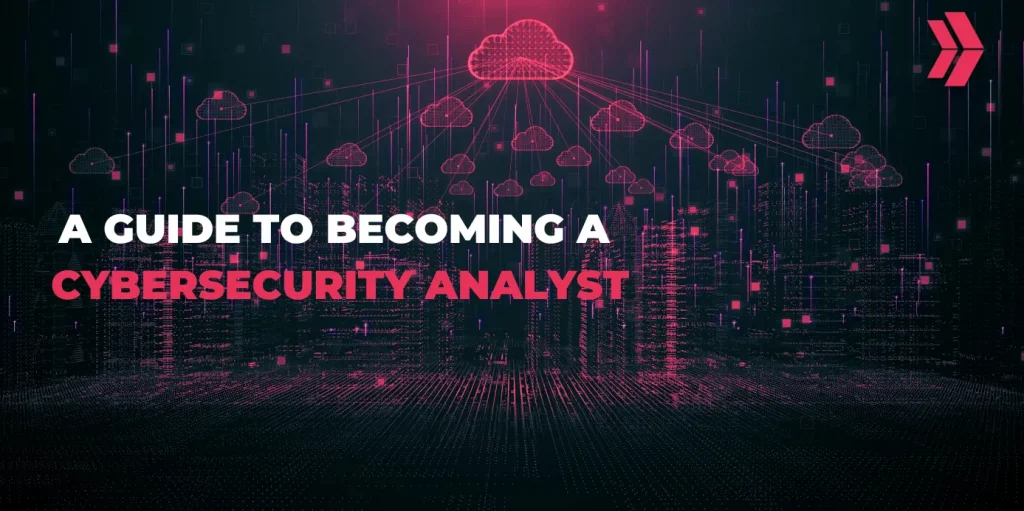 Companies and organizations pay more attention to cybersecurity and invest in it to eliminate financial losses. As a result, global spending on cybersecurity in 2023 is forecasted to reach $188.3 billion, according to a report published by Gartner in 2022. Compared to the previous year, this equals 11.3% growth in spending.
The 2022 Cyberthreat Defense Report published by Cyberedge Group states that 85% of the organizations that participated in the survey were victimized by at least one successful cyber attack the previous year, which reveals the gravity of cybersecurity.
Cybersecurity analysts are the first line of defense in cyberspace and play a vital role in the fight against cyber crimes. From understanding cyber threats to building a cybersecurity career, this guide covers everything you need to know. So, are you ready to become a cybersecurity analyst and help secure the digital world? Let's dive in!
What is a Cybersecurity Analyst?
A cybersecurity analyst is a professional who ensures an organization's safety and protects systems, networks, and data against cyber threats. Analysts develop security postures to defend against cyber intrusions and strive proactively to prevent data loss or theft.
Although used interchangeably, information security and cybersecurity are different from each other. Information security protects any form of information-physical, digital, or intellectual. On the other hand, cybersecurity is a sub-category of information systems security that focuses on protecting information in digital space.
A cybersecurity analyst puts all efforts into reducing the attack surface, handling emerging threats, and mitigating cyber attacks.
What Does a Cybersecurity Analyst Do?
Cybersecurity Analyst does the following :
A cybersecurity analyst is primarily responsible for data security. The main focus is on preempting and preventing possible cyber attacks.
A cybersecurity analyst continuously monitors systems or networks and evaluates and identifies the indicators of cyber threats.
A cybersecurity analyst takes necessary security measures of system hardening to reduce security risks and to protect against unauthorized access to computers and information technologies.
Cybersecurity analyst threat detection is a proactive effort to identify possible threats.
Cybersecurity analyst incident response is of utmost importance. When an attack occurs, an analyst investigates the security breach, responds accordingly, and prepares a report on the security incident.
A cybersecurity analyst regularly conducts vulnerability assessments to expose weaknesses and mitigate future security breaches.
The devoted analysts keep themselves up to date on the latest security issues and vulnerabilities.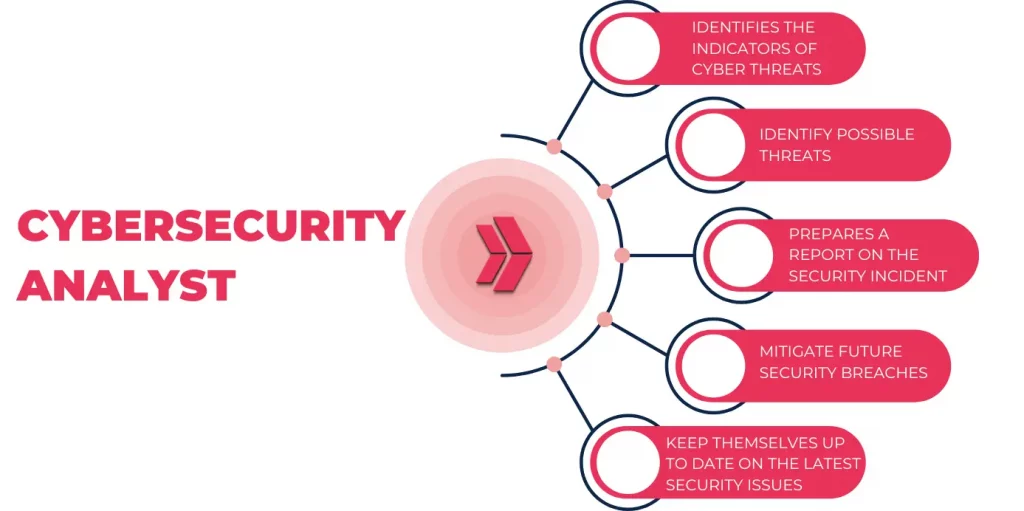 How to Become a Cybersecurity Analyst?
Becoming a cybersecurity analyst requires a combination of education, practical experience, and ongoing professional development. First, ensure that cybersecurity is the right field for you. Then, you can start your journey to become a cybersecurity analyst even if you have no background.
To become a Cyber Security Analyst, do the following :
Step-1: Choose a career path you want to excel in.
Step-2: Learn the fundamentals and get the necessary knowledge.
Step-3: Get hands-on experience and be familiar with cybersecurity analyst tools.
Step-4: Focus on getting cybersecurity analyst certifications.
Step-5: Prepare yourself or get professional help for job-hunting efforts.
Why Become a Cybersecurity Analyst?
There are 8 reasons to consider a career as a cybersecurity analyst. As the U.S. Bureau of Labor Statistics emphasized, cybersecurity is among the top 20 fastest-growing occupations and offers brilliant career opportunities. It is a good option for people who are tired of the day-to-day routine of life. We will discuss some main reasons to become a cybersecurity analyst:
Promising career
A career in cybersecurity is considered highly promising. Cybersecurity jobs are not just limited to IT and offer many opportunities in different industries like finance, education, and healthcare. There are many job roles available at different levels.
A high-paying job
A career in cybersecurity can offer high-paying job opportunities. The average cybersecurity analyst's salary is $109,537. Cyber Seek produced this data from online job openings in 2022.
High satisfaction rate
According to a study conducted by Payscale, the satisfaction rate of a cybersecurity analyst is 80%. As a cybersecurity analyst, you have a direct effect on daily life. As a result, you can contribute positively and make a change for the better.
Workforce gap
There were 194,000 job openings throughout 2022 and 53,000 cybersecurity analyst roles are still vacant, as mentioned in the Cyber Seek report. Cybersecurity analyst job openings are rapidly increasing.
Start from scratch
You can start your cybersecurity career even if you have no prior knowledge about IT. Although a cybersecurity analyst degree is a plus and can make you more competitive in the market, having cybersecurity certifications are an excellent alternative to having a bachelor's degree.
Flexible work hours
Flexible work hours are becoming increasingly common in the field of cybersecurity. In a study by Gartner, 2021 Digital Worker Experience Survey, employers were asked for the key driver for productivity. Again, flexible work hours are the leading response with 43%.
Remote working
Remote working has become increasingly prevalent in the field of cybersecurity. The 2021 Digital Worker Experience Survey also discourse that employees believe that not spending time commuting increases productivity.
Similarly, another research by Zippia published in 2022 shows that 75% of employees think remote working establishes a better work-life balance. In addition, you can work from the comfort of your home.
Economic crisis-proof industry
The cybersecurity industry is often considered to be relatively crisis-proof, particularly in economic downturns or periods of instability. No industry is entirely economic crisis-proof, but cybersecurity is relatively more resistant to recessions, as mentioned in an article published by Fortune in 2022.
What Technical and Soft Skills Do You Need to Succeed as a Cybersecurity Analyst?
Cybersecurity analyst skills are a combination of technical and soft skills, called hybrid skills, that employers seek in candidates. Having the right set of skills makes you eligible for the recruitment process or later in your career.
Cybersecurity Analyst Technical Skills
Cybersecurity Analyst Technical Skills are the following :
Networking
Cybersecurity analyst frameworks
Intrusion detection
Incident response
Scripting
Cybersecurity Analyst Analytical Skills
Cybersecurity Analyst Analytical Skills are the following :
Problem-solving
Critical thinking
Creativity
Data analysis
Research
Cybersecurity Analyst Soft Skills
Cybersecurity Analyst Soft Skills are the following :
Ability to work in teams
Explain technical concepts to non-technical people
Active listening
Written and verbal communication
Respect for others' opinions
Other important skills
Cybersecurity Analyst other important skills are the following :
Time management
Attention to detail
Risk management
Adaptability
Collaboration
Cybersecurity Analyst Qualifications
As a cybersecurity analyst, you should have the basic qualifications mentioned below:
Computer systems
Network fundamentals
Windows
Linux
Log analysis and detection
Malware analysis
Web application security
Social engineering
Cybersecurity Analyst Education and Certification
Some cybersecurity analyst jobs require a bachelor's degree in computer science or related fields. Although having a degree helps you stand out from other candidates, technical knowledge outweighs the recruitment process.
An analyst should know the cybersecurity fundamentals and tools to identify threats and mitigate cyber-attacks. Also should be familiar with basics like network protocols and encryption programs.
Experience is another factor that puts you one step ahead of your competitors. But do not worry. Even without experience, you can get a job with proper training.
Therefore, having training via a cybersecurity bootcamp is a good alternative for a four-year degree. They offer a focused and concentrated curriculum that includes hands-on learning to get a job quickly.
Both free and paid certifications may boost your career for all levels, from entry-level to executive positions. In addition, organizations look for cybersecurity certifications in the hiring process. According to a survey by GIAC, %82 of employers choose candidates with certification over others.
Responsibilities of a Cybersecurity Analyst
A cybersecurity analyst is mainly responsible for ensuring the organization's safety and defending networks and systems against cyber attacks. However, there will be additional duties that could be different in every company or organization. Now, we will describe some duties and responsibilities of a cybersecurity analyst:
Monitors network traffic with SIEM and EDR tools to identify potential threats.
As a Tier 1 analyst, using ticketing systems, triaging data, and escalating necessary events for solutions.
Sets up security software programs/patches and takes other necessary measures to keep networked systems secure and updated.
Investigates security incidents in-depth and respond quickly.
Prepares reports on incidents.
Makes contributions to improve and update the playbook to mitigate future attacks.
Conducts risk and vulnerability assessments regularly.
How Much Do Cybersecurity Analysts Make?
The salary of a cybersecurity analyst varies based on factors such as experience, education, location, industry, and the organization's size. According to The U.S. Bureau of Labor Statistics, the median weekly wage for an American worker is $1,085, which equals $54,132 annually. However, according to Cyber Seek, the annual average cybersecurity analyst salary is $109,537, which doubles that amount.
Cybersecurity Analyst Career Path
The career path for a cybersecurity analyst typically involves progressive growth and development as you gain experience. There are many different cybersecurity career paths you may pursue as a cybersecurity analyst. As mentioned by the University of Tulsa, employers are desperate for cybersecurity analysts in the market, and this demand will keep rising.
According to Forbes, entry-level employees generally spend three to five years to have sufficient experience for higher roles.
Cybersecurity analysts may find jobs in Security Operations Centers (SOC). The basic entry-level role is Tier 1. Level 1 SOC analyst is a fundamental role in cybersecurity. The position that can be promoted later is level 2 and, in some companies, Level 3 analyst.
Similarly, cybersecurity analysts can work as cybersecurity consultants. Consultants offer advice on security issues in the field they are specialized in. Additionally, cybersecurity analysts can switch to other branches like systems analyst specialists, business systems analysts, and database analysts.
When cybersecurity analysts have sufficient experience, they may work in senior roles as cybersecurity managers, engineers, or architects later in their careers.
Cybersecurity Analyst Interview Tips
Preparing for a cybersecurity analyst interview requires demonstrating your technical knowledge, problem-solving abilities, and understanding of cybersecurity principles. You can have your interview either online or face-to-face. Here are some tips to be successful:
First, do your research on the company.
Have a robust resume, but do not exaggerate or lie about a skill that you do not have.
Be positive and confident during the interview, and show your desire for the job.
Do your final rehearsal with mock interviews before the actual ones.
Ask a question if you are allowed to show your interest.
Career Growth Opportunities for Cybersecurity Analysts
Cybersecurity analysts have numerous career growth opportunities within the field. The U.S. Bureau of Labor Statistics indicates that the average growth rate for all occupations is estimated at a 5% increase between 2021 and 2031. However, demand for security professionals is projected to increase by 35% for the same period.
Cybersecurity Analyst jobs offer satisfactory salaries that are above the average income. Moreover, total revenue in this field is promising, and according to statistics reflecting 2023 data by Statista, the compound annual growth rate is estimated to be 10.90% by 2027.
There is a considerable need for more skilled professionals in the cybersecurity field. According to Cybersecurity Workforce Study, published by ISC2 in 2022, it was estimated that 4.7 million workers were employed globally, and 3.4 million more people needed to fill the workforce gap.
Conclusion
To sum up, cybersecurity plays an indispensable role in preventing cyber attacks, and its value is recognized increasingly every day.
Cybersecurity analysts protect data confidentiality, integrity, and availability in this context by preventing security breaches.
The cybersecurity analyst career path offers various job opportunities in different roles with a high satisfaction rate.
There are many benefits of a career in this field, and the future of cybersecurity is auspicious.
You can start your new cyber security career from scratch with the help of professional bootcamps and gain the necessary skills to break into this field.
Clarusway offers a beginner-friendly, high-quality Cybersecurity Analyst Course with career management services support. We are an authorized partner with CompTIA, and our curriculum includes Security+ certification, which is recognized globally. Our industry-expert instructors and lab-focused hands-on learning will prepare you with the skills to land a job quickly.
Here is your chance to start your brilliant career as a cybersecurity analyst with Clarusway.
Last Updated on August 14, 2023