The Salesforce Certified User Experience (UX) Designer certification is for aspiring or established designers interested in designing solutions for the Salesforce Platform. Any prospective Salesforce Certified UX Designers should be well-versed in UX problem-solving and design principles, as well as the fundamentals of the Salesforce Platform. Candidates should also have experience using human-centered design methodologies to gather customer requirements and specifications.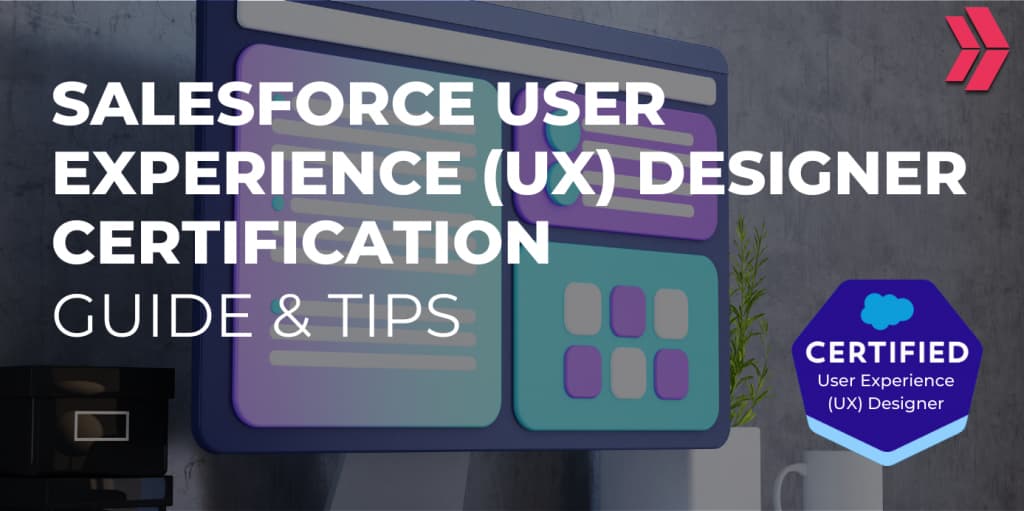 What are the Key Topics?
The goals of the exam that leads to the Salesforce Certified User Experience Designer credential are as follows.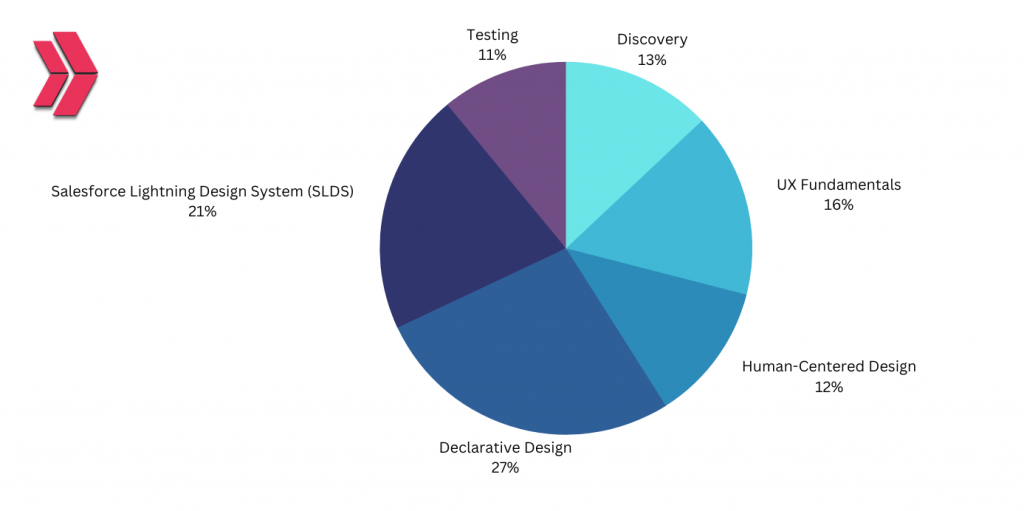 Discovery: 13%
Choose the best research approach and tools before beginning solution development (Provided with a set of business requirements).
Illustrate how to conduct needs assessments and develop strategies in light of existing user data. (Given a scenario).
Specify the typical actions taken by your most important Salesforce UX personas.
Expound on the benefits that using Salesforce can bring to end-user interactions. (Given a scenario).
UX Fundamentals: 16%
Locate the best UX approach to define a user experience (Given a scenario).
Explain how corporate branding and design have influenced your business.
Specify the fundamental design principles and primary methods that define a user-friendly and interesting interface.
Detail the foundations of mobile UX design.
Human-Centered Design: 12%
Find out how to make a customer solution more human-centered (Given a scenario).
Defend the need for an explanation of the inclusive design.
Declarative Design: 27%
Describe the purpose and impact of the standard Salesforce objects, when to use them, and how to personalize them for the best user experience (Given a scenario).
Provide examples of declarative features that enhance the organization, hierarchy, and structure of otherwise unchanging user experiences (Given a scenario).
Detail the declarative features that increase user productivity in a multi-step process (Given a scenario).
Find out what the best Salesforce global configuration is for streamlined user access. (Given a scenario).
Explain how branding can be used in a particular setting (Given a scenario).
Testing: 11%
Prepare end-user validation and testing procedures (Given a scenario).
Detail the testing procedures that must be carried out for the best user experience.
Assess and coordinate design alterations (Given a scenario).
Salesforce Lightning Design System (SLDS): 21%
Explain what SLDS is and how it works.
Learn how to set up your app out of the box so that it has the same design and layout as Lightning Experience (Given a scenario).
Use SLDS to develop unique features for your components. (Given a scenario).
How to Study User Experience (UX) Designer?
The main steps listed below are the best way to prepare for the certification exam.
Suppose you're interested in becoming a certified Salesforce Designer. In that case, it's a good idea to familiarize yourself with the certification's prerequisites, such as the skills and knowledge you'll need to demonstrate competency. Consequently, we advise you to first review Clarusway Salesforce Course before contacting a consultant.
You should start with the trailmix of resources meant for independent study.
There are two items you should read: Salesforce Certifications Guide and the official Salesforce Trailhead Exam Guide.
Who's the Ideal Candidate for Salesforce Certified UX Designer?
Candidates for Salesforce Certified UX Designer should have a minimum of six months of experience in user experience design, engineering, administration, stakeholder management, facilitation, or research.
Furthermore, prospective Salesforce Certified UX Designer candidates should have experience working with UX design concepts on the Salesforce Platform, preferably with at least three months of experience under their belts.
Candidates for the Salesforce Certified UX Designer exam should have experience and a firm grasp of the following topics:
Needs assessment in business and design.
Contributing to a content and user scope-based design strategy.
User profiles in Salesforce and the procedures they perform.
Principles and frameworks of design are essential.
Mobile UX design.
Integration of user experience design into product development for the end user's benefit.
Accessibility and inclusion standards and user interface design principles.
Salesforce's declarative functions and their potential effects on the user experience.
Organizing and facilitating testing and validation to ensure the design meets its intended purposes.
Architecture for Managing Change.
Out-of-the-box Solutions in Salesforce's Lightning Design System (SLDS) vs. bespoke development.
The use of SLDS to develop specialized features for existing components.
User Experience (UX) Designer Exam Tips
Please take into account the scenarios and flashcards on Trailhead for independent study.
Knowledge of IT is not required to get started. If you're looking to switch careers quickly, Clarusway provides intensive, time-efficient Salesforce training. This is a field where you can start from scratch and work your way up to earning credentials like "User Experience (UX) Designer" after completing a series of courses at varying levels of difficulty. Put your faith in yourself. So, check out the Clarusway Salesforce Admin and Developer Course.
Last Updated on July 21, 2023