Cybercrime is rising as technology evolves and offenders have expanded their sphere of influence. Therefore, cybersecurity has gained more importance in protecting against emerging attacks.
With cybersecurity, valuable assets are protected from cyber threats by reducing the risks of cyber attacks. As a result, cybersecurity jobs are one of the most suitable areas for new jobs or careers.
We have collected the top 10 cybersecurity professions that help land a job even if you have no college degree.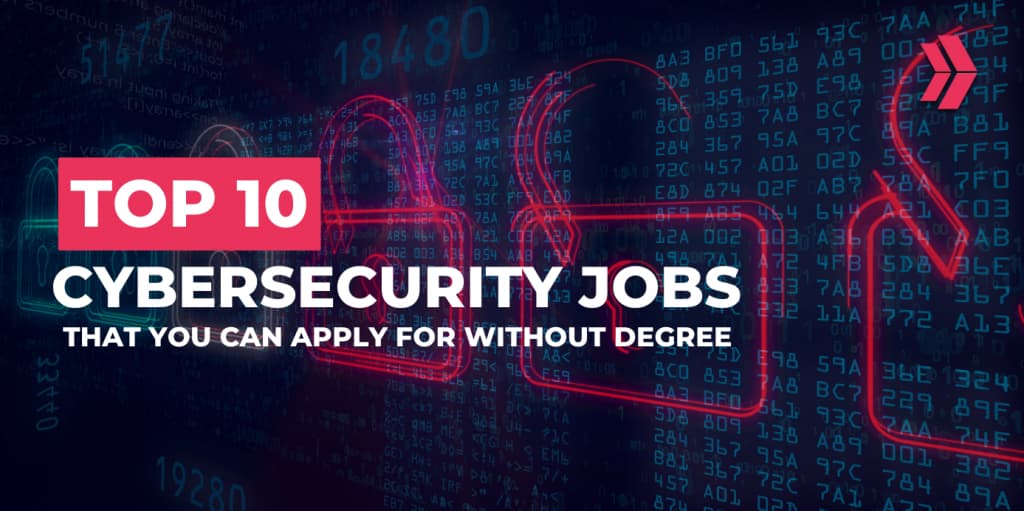 Why Choose a Career in Cyber Security ?
There are many reasons to consider a cybersecurity career:
Wide Job Opportunities
Cybersecurity is in a high-demand due to economically damaging security breaches. You may find various jobs, from entry-level cybersecurity specialists to senior-level Chief Information Security Officer (CISO) positions. Many career pathways are available in different sectors, including finance, healthcare, and trade.
Flexible Working Hours
Cybersecurity is a dynamic phenomenon that constantly changes. Therefore, some roles should maintain a 24/7 shift schedule. Also, working hours may be adjusted to meet customer needs.
Remote Working Options
Organizations can choose to work on location or remotely. Nowadays, remote cybersecurity jobs are trending, and more companies prefer remote options daily. You will save time and money by doing so.
High-paid Salary
Before applying for a job, a critical question may come to your mind: how much does a cybersecurity professional make? Of course, this is a fair question.
Cybersecurity jobs salary are satisfying, and this field is open to career development. According to ZipRecruiter, the average cybersecurity salary is $110,823 annually, as of Mar 14, 2023.
As you may see, the average annual pay of a cybersecurity professional is more than twice the average worker's salary.
Demand for Skilled Professionals
Although the employment rate is increasing, the demand for a skilled workforce is growing faster. According to a study conducted by ISC2 in 2022, the qualified cybersecurity professionals gap increased by 26.2% compared to the previous year.
No Degree or IT Background Required
You can start your professional career in cybersecurity even if you have no prior knowledge. Also, having a degree is not a prerequisite in the cybersecurity field.
You may study independently or get professional help from bootcamps for a successful career. Bootcamps offer career support services that also prepare you for cybersecurity interview questions.
High Satisfaction Rate
Cybersecurity has a positive contribution to everyday life by preventing cyber attacks. In addition, helping others to stay secure provides high satisfaction. According to Enterprise Strategy Group's 'The Life and Times of Cybersecurity Professionals' Research Report, 79% of cybersecurity participants were happy working in the cybersecurity industry.
Recession-proof Industry
The cybersecurity industry is not affected by the economic crisis. By its very nature, the cybersecurity sector has to provide 24/7 service. Therefore, it is an evergreen industry with no unemployment risk, even during a financial crisis.
Top 10 Cybersecurity Jobs that You Can Get
Cybersecurity offers many job opportunities in various industries. You can find a role that suits your level of knowledge and experience. Here, we will talk about some positions in cybersecurity.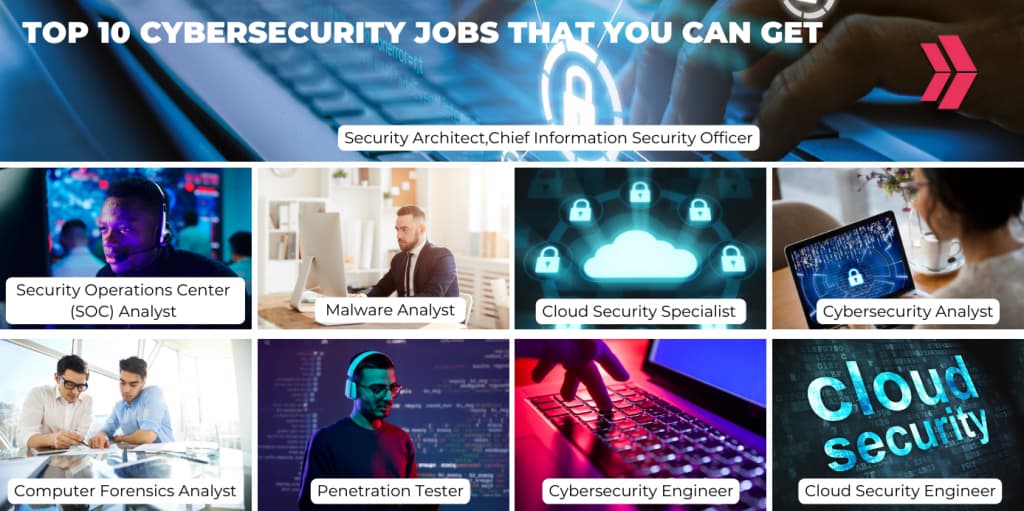 1- Security Operations Center (SOC) Analyst
A SOC center is responsible for the centralized efforts to ensure security in an organization. Team members may be located in-house or remotely distributed. Although the initial setup cost of a SOC could be high, it is totally profitable in the long run.
A SOC analyst works as a part of the SOC team and is mainly responsible for the security of systems or networks by proactively monitoring, analyzing, and responding to cybersecurity incidents. They are the first line of defense against cyber attacks.
Log management is one of the most vital functions of SOC analysts. Professionals use Security Incident and Event Management (SIEM) tools that collect logs and correlate rules for detailed analyses.
The entry-level SOC analyst is called L1, and the following role is L2. Also, the L3 position is available in bigger companies.
ZipRecruiter estimates that an SOC analyst's salary is about $78,966 annually, in 2023.
Certifications: CompTIA Security+, GIAC Security Essentials Certification (GSEC), Certified Ethical Hacker (CEH).
2. Malware Analyst
Malware analysis helps understand how cyber threats like viruses, worms, and trojans function and assess their possible impacts.
A malware analyst analyzes, examines, and investigates malware to understand the nature of cyber attacks.
Analysts face complex and well-structured malware hidden in image, audio, or document files. Also, fileless malware, rootkits, and bots are prevalent for infiltration that is really hard to detect.
A malware analyst requires expertise to conduct reverse-engineering techniques by using special tools. They help build defense lines to prevent cyber threats and improve system hardening.
The average wage of a malware analyst is $88,600 according to ZipRecruiter in 2023.
Certifications: Certified Information Systems Security Professional (CISSP), GIAC Reverse Engineering Malware (GREM), Certified Ethical Hacker (CEH).
3. Cloud Security Specialist
Cloud security is a discipline that protects cloud-based assets from cyber attacks.
Cloud security specialists have extensive knowledge and experience in cloud framework and incident response in a cloud environment. They are also responsible for securing cloud computing resources and infrastructure.
They have a more specific security concept focusing on network activities, backup devices, storage, and servers.
Generally, entry level cybersecurity jobs do not require an IT background; however, having a degree in information security, computer science, or other related fields is a plus to maintaining cloud systems.
The average salary of a cloud security specialist is estimated to be $98,702 annually. ZipRecruiter produce this information from job postings and third party data sources.
Certifications: CompTIA Cloud+, Certified Cloud Security Professional (CCSP), GIAC Cloud Security Automation (GCSA).
4. Cybersecurity Analyst
A cybersecurity analyst is mainly responsible for preventing and preempting data breaches on systems and networks. This role requires continuous monitoring, analyzing, and responding to cyber threats.
They have sufficient knowledge about security fundamentals and networking. They are also familiar with database management and how operating systems work.
Cybersecurity analysts are on the front line of defense in combatting cyber crimes.
Entry-level analysts are responsible for the triage of cases. They escalate only real and important events to lighten the burden of higher-level analysts.
For higher-level analysts, root-cause analysis is vital to determine and prevent possible threats. Therefore, they put all efforts into ensuring the organization's security and mitigating cyber attacks.
Analysts make system hardening to ensure that assets are secure and work diligently to alleviate possible harm caused by cyber-attacks.
ZipRecruiter estimates the average salary of a cybersecurity analyst is $99,401 in 2023.
Certifications: CompTIA Security+, Certified Information Systems Security Professional (CISSP), GIAC Security Essentials Certification (GSEC)
5. Computer Forensics Analyst
Computer forensics is an investigation and interpretation of digital data gathered as evidence. It involves identifying, preserving, analyzing, and documenting collected data.
Computer forensics analysts are experts at gathering and analyzing digital information about cyber attacks.
They recover deleted or damaged information. During the process, they follow the chain of custody to maintain the evidence's admissibility.
In general terms, cybersecurity focuses on preventing cybercrimes before happening. On the contrary, digital forensics starts after a breach takes place. It answers where, when, and how an attack happened and helps identify the offender.
Also, they recommend mitigating future vulnerabilities by showing how a breach occurred.
The average wage of a computer forensics analyst is $109,790 annually according to ZipRecruiter salary estimates.
Certifications: GIAC Certified Forensic Examiner (GCFE), Certified Forensic Computer Examiner (CFCE) Certified Digital Forensics Examiner (CDFE)
6. Penetration Tester
Penetration testing or pen-testing evaluates the overall security and readiness for cyber attacks.
Penetration testers use ethical hacking tools and methodologies to discover vulnerabilities. They try to determine whether the defense system is strong enough for cyber attacks.
Pentesters limit their attacks for targeted purposes, while red team members launch attacks by any means to reach the goals.
As a result, pen-testers generate a report showing exploitable vulnerabilities. Detailed tester reports ensure companies assess the overall security, detect weaknesses, and get suggestions for mitigating future attacks.
The average annual salary of a penetration tester is $118,287 according to ZipRecruiter.
Certifications: Certified Ethical Hacker (CEH), GIAC Penetration Tester (GPEN), CompTIA PenTest+
7. Cybersecurity Engineer
Cybersecurity engineering describes protecting and managing data, systems, and networks against possible threats. Responding to security breaches is also of utmost importance.
A cybersecurity engineer designs and implements security needs. An engineer continuously monitors, protects, and oversees the system to provide a secure environment.
This advanced cybersecurity role requires being proactive. Anticipating potential threats is significant in preempting and preventing possible attacks.
Moreover, improving overall security is a critical cybersecurity job description. Cyber engineers write advisory reports due to periodically testing and identifying vulnerabilities.
They also propose solutions for system hardening.
A cybersecurity engineer earns $122,233 annually as mentioned in ZipRecruiter database.
Certifications: Certified Information Systems Security Professional(CISSP), Certified Information Security Manager (CISM), CompTIA Advanced Security Practitioner (CASP)
8. Cloud Security Engineer
Cloud security is a combination of security measures to protect cloud-based platforms. Zero-trust security framework ensures a reliable access control policy.
A cloud security engineer is primarily responsible for building, maintaining, and enhancing the cybersecurity protection of cloud-based data, applications, and infrastructure.
Cloud security engineers enhance security by configuring network security defenses in line with security needs.
Cloud computing engineers develop security strategies and check the suitability of new designs.
Consequently, engineers offer support to build incident response plans and recommend how to respond to and mitigate Cloud-based attacks.
The annual wage of a cloud security engineer is $140,632 according to ZipRecruiter salary estimate.
Certifications: Certified Cloud Security Professional (CCSP), Certificate of Cloud Security Knowledge (CCSK), GIAC Cloud Security Automation (GCSA)
9. Security Architect
Cybersecurity architecture is the core of overall security to protect from cyber-attacks.
A cybersecurity architect, a senior-level job role, is responsible for taking offensive and defensive network security measures—extensive knowledge about different areas is required to succeed.
Architects design, maintain and implement needed policies and improvements. They assess vulnerabilities and prepare reports accordingly. They recommend corrective actions to mitigate the risks identified due to audit work.
There are some differences between security architects and engineers. Firstly, a security architect has a senior role than an engineer. Secondly, architects create the vision for cybersecurity measures while engineers implement them. Architects focus on the bigger picture; engineers make it applicable by dividing it into small parts.
The average salary of a security architect is $152,308 according to ZipRecruiter data of 2023
Certifications: GIAC Defensible Security Architecture (GDSA), Certified Information Systems Security Professional – Architecture (CISSP-ISSAP), CREST Registered Technical Security Architecture (CRTSA)
10. Chief Information Security Officer – CISO
A chief information security officer oversees overall security processes and procedures. CISO manages issues and requirements.
This senior-level executive role is the ultimate data protection expert, and they define the security posture of an entire organization for detailed policies and procedures.
A CISO works harmoniously and coordinates with other organization members, including IT managers, business managers, and company officers, to ensure and maintain security.
They are responsible for the organization's policy development, risk management, and strategic planning.
The annual average wage of a CISO is $162,150.
Certifications: Certified Information Security Manager (CISM), Certified Information Systems Security Professional (CISSP), Certified Information Systems Auditor (CISA).
What are Future Cybersecurity Job Projections ?
Cyber crimes are economically damaging, and for the last year, the estimated cost is $8.4 trillion, according to research by Statista in 2022. In addition, according to Check Point Research published in 2022, cyberattack trends increased by 38% compared to the previous year.
The cybersecurity field has been rapidly growing, and according to a study published in February 2023 by Statista Research Department, there were 755,743 cybersecurity jobs available in the United States at the beginning of this year.
Revenue is the thing that attracts people to this field. As a result, according to a study by Statista in 2023, an annual 10.90% growth rate (CAGR) is expected by 2027. However, not everyone has the skills and knowledge required to keep themselves or their business safe from cyber-attacks. This is where cybersecurity bootcamps come into play.
So, what exactly are cybersecurity bootcamps? Are cybersecurity bootcamps really worth it? In short, they are intensive training programs that teach individuals the necessary skills to protect themselves and their businesses from cyber-attacks. These bootcamps are designed to provide hands-on experience, practical knowledge, and industry-recognized certifications that can help individuals jumpstart their cybersecurity careers.
If you're interested in pursuing a career in cybersecurity or simply want to enhance your cybersecurity skills, then cybersecurity bootcamps can be an excellent option for you.
How to Learn Cybersecurity to Get Job Without IT Background?
Getting a job in cybersecurity requires a mix of education, practical experience, and professional certification. Learning cybersecurity without an IT background is entirely possible with a cyber security course which is specifically designed with this in mind.
How is Clarusway's Approach to Get You for a Cybersecurity Job?
Here's how Clarusway approaches cybersecurity education for those without an IT background:
Foundational Knowledge: We begin with the fundamentals, introducing concepts in a simple and understandable way. You will learn about computer networks, operating systems, and essential cybersecurity principles right from the basics.
Practical Learning: Our course is designed to provide hands-on experience wherever possible. We leverage platforms that offer practical scenarios for you to learn and apply your knowledge.
Resource Accessibility: We offer extensive resources for self-study and revision. This includes reading materials, practice exercises, and access to online platforms for continuous learning and skill improvement.
Expert Guidance: Our team of expert instructors are experienced professionals in the field of cybersecurity. They will guide you, answer your queries, and provide you with insights drawn from their real-world experience.
Certification Preparation: Our course curriculum aligns with popular cybersecurity certifications like CompTIA Security+, Certified Ethical Hacker (CEH), and Certified Information Systems Security Professional (CISSP), preparing you to successfully earn these certifications.
Career Support: We provide robust career support services, including resume building, interview preparation, and connections with our network of industry partners. This assistance can be extremely helpful in securing your first job in the field.
Our focus is on making cybersecurity education accessible to everyone, regardless of their prior knowledge or background. So, even if you don't have an IT background, our course is designed to equip you with the knowledge and skills necessary to launch a successful career in cybersecurity. Whether you're looking to protect digital assets, prevent cyber threats, or step into a thrilling career that's in high demand, we're here to help you achieve your goals.
Last Updated on August 5, 2023