The Salesforce Administrator certification is regarded as the minimum required qualification for any Administrator. Passing this test demonstrates your understanding of Salesforce features and configuration best practices.
It is recognized as fundamental for any Salesforce professional. Continue reading this piece to gain additional knowledge regarding the Salesforce administrator capabilities and certification survey.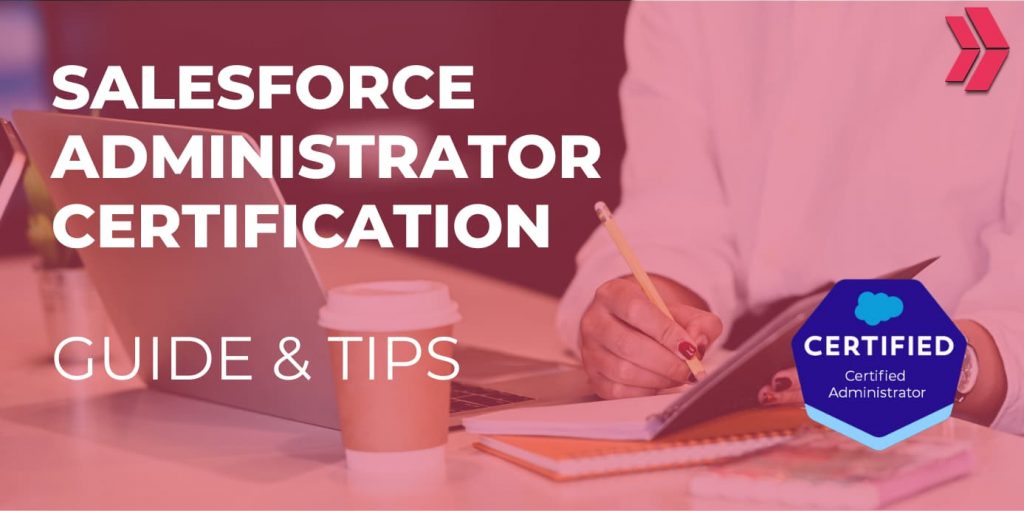 What are the Key Topics for Salesforce Administrator Certification?
The Administrator Certification exam consists of seven different topics.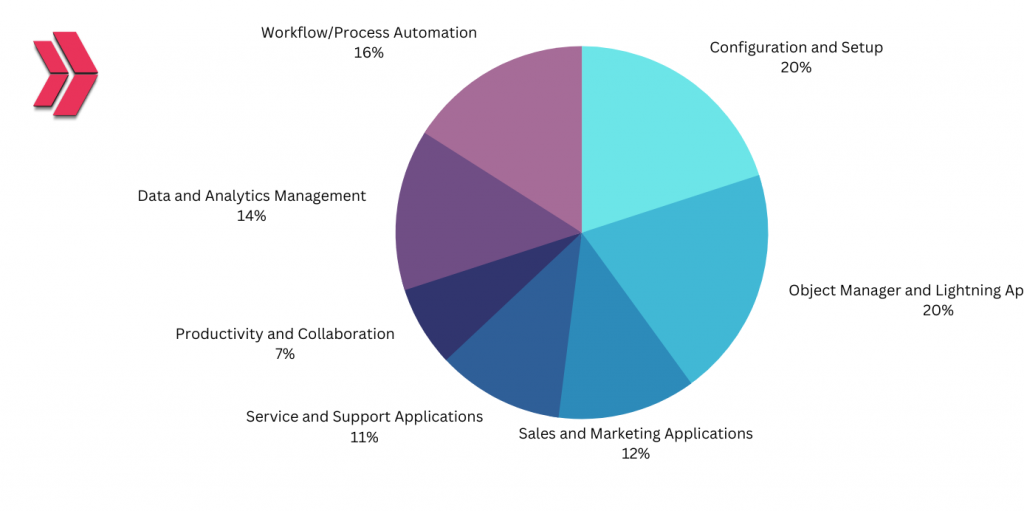 Configuration and Setup: 20%
Outline the data taken in the company's configurations (company settings fiscal year, working hours, monetary management, default settings, etc.).
Distinguish and comprehend the control of declarative User Interface setup. (such as UI settings, app menu, list views, global actions, and the Lightning App Builder)
Display the proper configuration and maintenance of users (Given a scenario).
Describe the various Security Controls within the organization. (such as Configure Audit Trail, Login Hours, and Session Settings)
Implement the relevant security controls based on the capabilities and characteristics of the Salesforce sharing model. (such as public groups, organization-wide default, sharing: roles, subordinates, hierarchy, and report and dashboard folders) (Given a user request scenario).
Using the varied profile settings and permissions, determine the proper application of a custom profile or permission set (Given a scenario).
Object Manager and Lightning App Builder: 20%
Outline the structure and relationship model for standard objects. (Standard object, master-detail/lookup/junction, parent/child relationships, and record types.)
Describe how to generate, remove, and create custom fields/page layouts on standard/custom objects, and be aware of the consequences of deleting fields.
Decide how to design and allocate page layouts, record types, and business processes for custom and standard objects (Given a scenario).
Sales and Marketing Applications: 12%
Determine the sales process's capabilities and effects. (e.g., sales process, opportunity, journey, and predicted impact) (Given a scenario).
Examine opportunity tools and implement the relevant sales effectiveness elements. (Dashboards, lead scoring, Einstein opportunity scoring, the home page assistant, etc.) (Given a scenario).
Explain the abilities of lead automation and campaign management. (Leads, lead conversion, lead assignment rules, campaigns, and campaign members)
Service and Support Applications: 11%
Explain case management's capabilities. (Case, case assignment rules, queues, etc.)
Determine methods for automating case management. (Support procedure, case auto-response rules, case escalation, etc.) (Given a scenario).
Productivity and Collaboration: 7%
The functionalities of activity management.
Chatter's features.
The functionalities of the Salesforce Mobile App.
Define use cases for the AppExchange application.
Data and Analytics Management: 14%
Describe,
The factors to be considered during data import, update, transfer, export, and backup.
The features and consequences of data validation tools.
The various options for producing or personalizing a report or report type.
The effect the model of sharing has on reports.
The choices are available for dashboard creation and modification (dashboard components, data sources, chart types, Subscribing, running user).
Workflow/Process Automation: 16%
Determine the right automation solution based on the tool's capabilities (Given a scenario).
Describe the capabilities and use cases for Flow and Approval process.
Administrator Certification Exam Tips
Bookmark the Clarusway Salesforce Certifications Guide or the official Salesforce Trailhead exam guide use this as your master revision list.
Ensure not only reading about the features and concepts but also testing them out in a Developer Org or a Trailhead Playground. That helps you cover all functionalities and detailed questions.
Check the modules, projects, links, and tasks in the Administrator Trailmix on Trailhead, and go over if you feel uncomfortable about the topics.
Note the following super badge patterns as the study materials (Recommended for the additional self-check):
Lightning Experience Reports & Dashboards Specialist
Business Administration Specialist
How to Study Administrator Certification?
The best way to study for the certification is by following the main steps below as a plan.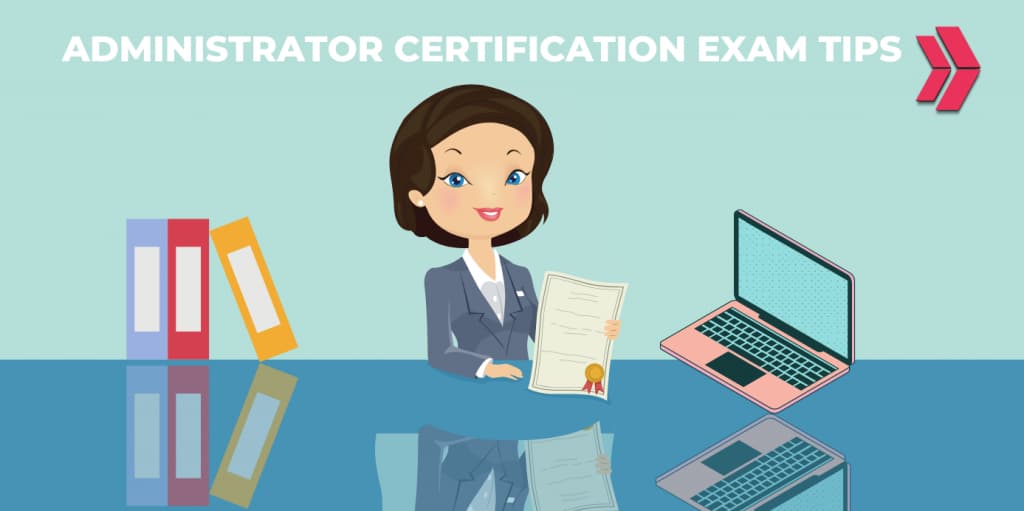 You should have enough hands-on experience to have the knowledge and skills you need to start studying for the test. If you do not have hands-on experience in a business environment yet, you can meet this need thanks to Salesforce training platforms such as Clarusway. In the Bootcamp, you can not only take the first step in your Salesforce career but also increase your experience with real-life projects through special hands-on practices.
Before beginning, you should familiarize yourself with the Salesforce Certifications Guide and the official Salesforce Trailhead Exam Guide. These give you a great overview of the different ideas you need to know before taking the test. That can serve as your revision schedule; simply print it out, post it on your wall, and check off each section as you master each concept.
You had better check the modules in the Administrator Interactive Study Tools on Trailhead, and use scenarios and interactive flashcards.
You should test these capabilities on the Administrator Practice Test page on https://developer.salesforce.com/, which also has feedback about your answers presented section-by-section percentage meltdowns and an as a whole test grade.
Who's the Ideal Candidate for Salesforce Administrator Certification?
Candidates for the Salesforce Certified Administrator role ought to be familiar with the operability that is made available to end users, as well as the configuration options that are made available to a Salesforce Administrator. Candidates must be able to sustain a Salesforce org, react to common business needs, and conduct administrative tasks using Salesforce's existing features.
In addition, candidates must ideally have at least six months of experience as a Salesforce Administrator and must be able to complete the activities listed in the exam requirements section of this document.
You can become a Salesforce Certified Administrator by completing the Salesforce Admin and Developer course.
Last Updated on August 9, 2023