The Salesforce Advanced Administrator certification is the second certification in the administrator program. The first certification is the Salesforce Certified Administrator certification. Its main focus is on the features and functions that are needed to keep a Salesforce operation running smoothly.
This credential is intended for the Salesforce Certified Administrator who has perfected Salesforce configuration upkeep, can possess knowledge of administration best-practice, and can apply advanced capabilities and features to fix a wide range of company concerns.
Continue reading this post to gain additional knowledge regarding the Salesforce advanced administrator program and certification exam.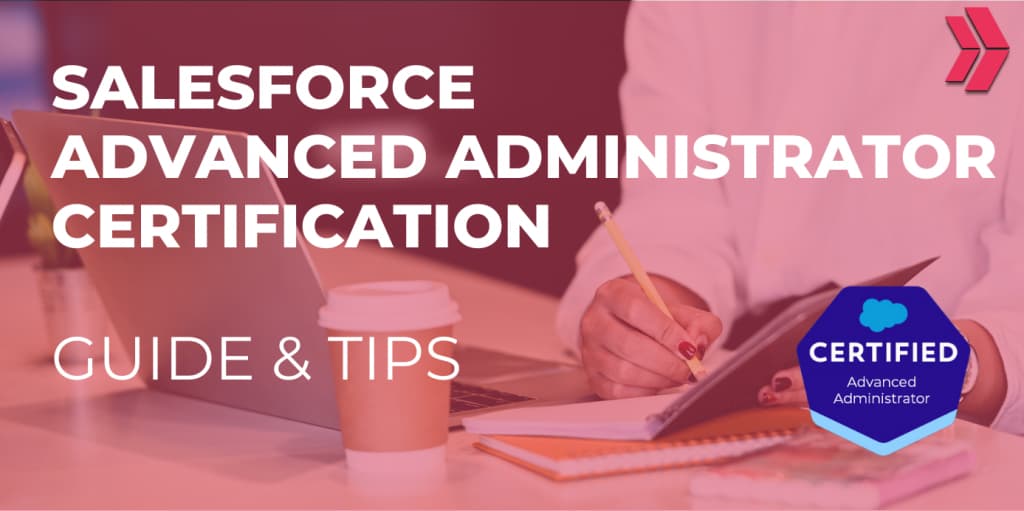 What are the Key Topics for Salesforce Advanced Administrator Certification?
The Advanced Administrator Certification exam consists of seven different topics.
Security and Access: 20%
Find out the repercussions for record and field data access (Sharing model, grant access by hierarchies, dashboard and report folders access, controlled by parent, Territory Management, email folder access,) (Given a scenario).
Analyze the capabilities of delegated administration, custom profiles, and permission sets, and compare and contrast their differences.
Figure out the repercussions of user authentication (Given a scenario).
Analyze the capabilities of a complex business model by comparing and contrasting them. (Contacts, Accounts, Person Accounts, and Contact to Multiple Accounts.)
Objects and Applications: 19%
Determine the appropriate solution to enhance or extend (Given a scenario)
Objects (master-detail, related list, junction object, record type, schema builder, lookup, and object creator.)
The UI/UX with applications (Standard lightning page components, lightning app builder, app manager, console, dynamic forms, and lightning page analyze button.)
Auditing and Monitoring: 10%
Specify which tools are most suitable for monitoring and diagnosing problems with system activity (debug log, set up audit trail).
Describe how to,
Set up production and sandbox environments so sensitive data can support business, legal, and compliance use cases.
Conduct a security settings audit and troubleshooting, including any pending updates that might affect the system's accessibility.
Cloud Applications: 11%
Describe the features of Salesforce which
Give users in the Sales department the ability to carry out the sale process, which includes products, price books, schedules, orders, and quotes.
Facilitate communication between customer service representatives and end users (Chat, Case Feed, Service Cloud Console, Experience Cloud sites, Omni-Channel).
Learn to differentiate between forecasting and territory management and gain an understanding of the implications and capabilities of each.
Describe the process of creating and maintaining,
Salesforce Knowledge (article record types, data categories).
Service entitlements and entitlement processes.
Familiarize yourself with the standard Salesforce suite of products that can be used to extend the core platform (Given a scenario).
Data and Analytics Management: 13%
Describe the methods, applications, and best practices for evaluating, enhancing, and expanding the quality of data. (data types, validation, archiving, managing duplicates, enriching),
Determine which analytical tools are most appropriate to meet the demanding reporting requirements (custom report types, reporting snapshots, complex charting, custom summary formulas, bucketing, joined reports, cross filters, dynamic dashboards, dashboard filters) (Given a scenario).
Gain an understanding of the different methods that can be used to connect to, access, backup/restore, or archive data that is stored off of the Salesforce platform. (big objects, data warehouse, external objects, data lakes, third-party solutions, and Salesforce Connect).
Determine the appropriate software and processes for importing data into Salesforce and use those. (data import wizard, data loader, and external ID) (Given a scenario).
Environment Management and Deployment: 7%
Describe,
The various methods that can be used to move metadata between different environments (change sets, sandboxes, and managed and unmanaged AppExchange).
The capabilities of using change sets to move metadata between environments, as well as the best practices for doing so.
Process Automation: 20%
Ascertain the solution by using the tool or combination of tools that is the most effective in solving the business problem. (Given a complex scenario).
Identify the best method or tool to use in order to fix problems with declarative automation. (Given a scenario).
Describe both the capabilities and the restrictions imposed by each declarative automation tool. (Given a scenario).
Comprehend the effects of the execution order when working with automation tools.
Advanced Administrator Certification Exam Tips
Bookmark the Clarusway Salesforce Certifications Guide or the official Salesforce Trailhead exam guide use this as your master revision list.
Check the modules, projects, links, and tasks in the Advanced Administrator Trailmix on Trailhead, and go over if you feel uncomfortable about the topics.
Note the following super badge patterns as the study materials (Recommended for the additional self-check):
Process Automation Specialist
Lightning Experience Reports & Dashboards Specialist
Business Administration Specialist
How to Study Advanced Administrator Certification?
The best way to study for the certification is by following the main steps below as a plan.
You should have enough hands-on experience to have the knowledge and skills you need to start studying for the test. If you do not have hands-on experience in a business environment yet, you can meet this need thanks to training platforms such as Clarusway. In the bootcamp, you can not only take the first step in your Salesforce career but also increase your experience with real-life projects with special hands-on practices.
As a first step, you had better review the Administrator Interactive Study Tools on Trailhead and retest yourself on the Administrator Practice Test page on https://developer.salesforce.com/.
You should familiarize yourself with the Salesforce Certifications Guide and the official Salesforce Trailhead Exam Guide. These provide an excellent overview of the various concepts you must understand prior to taking the exam.
You should apply the skills and concepts noted in the key topic above. Hands-on practices must be in priority during the implementation of the topics to understand comprehensively.
Who's the Ideal Candidate for Salesforce Advanced Administrator Certification?
Candidates for Salesforce Certified Advanced Administrator ought to have a comprehensive understanding of the full application capabilities, including the features and functions accessible to end users, as well as the configuration and management options that are open to administrators across the Salesforce platform. The candidate needs to demonstrate that they can perform administration tasks at an expert level, using the complete set of Salesforce features as outlined in the exam outline.
Additionally, to maximize and broaden an organization's use of Salesforce, the candidate should be able to make configuration recommendations and suggestions for best practices. The prospective employee actively seeks out new functionality as it becomes available and is able to evaluate the potential benefits that new features may have for an organization.
Last Updated on July 12, 2023