Are you looking to learn, understand, and prepare yourself for the world of Salesforce products? Salesforce has become a cornerstone in the realm of customer relationship management (CRM), offering a diverse range of products to meet various business needs. Briefly, Salesforce offers an array of products designed to meet diverse needs.
In this comprehensive guide, we will explore the 9 most utilized Salesforce products, dive into their definitions and functionalities, and provide insights on how to choose the best product for your business needs.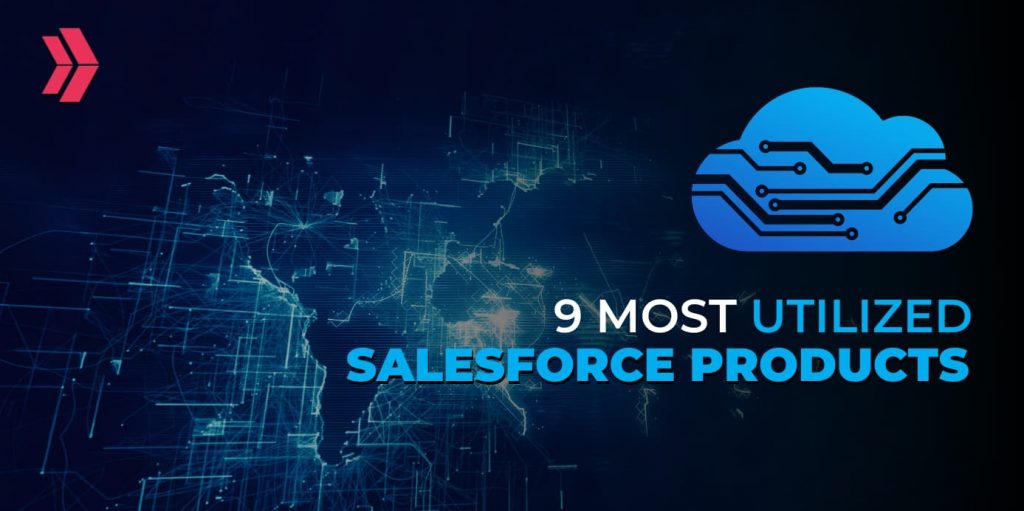 What are the 9 Most Used Salesforce Products?
Here are the 9 most popular Salesforce products:
Sales Cloud,
Service Cloud,
Marketing Cloud,
Commerce Cloud,
Einstein Analytics,
Community Cloud,
Pardot,
Financial Services Cloud,
Nonprofit Cloud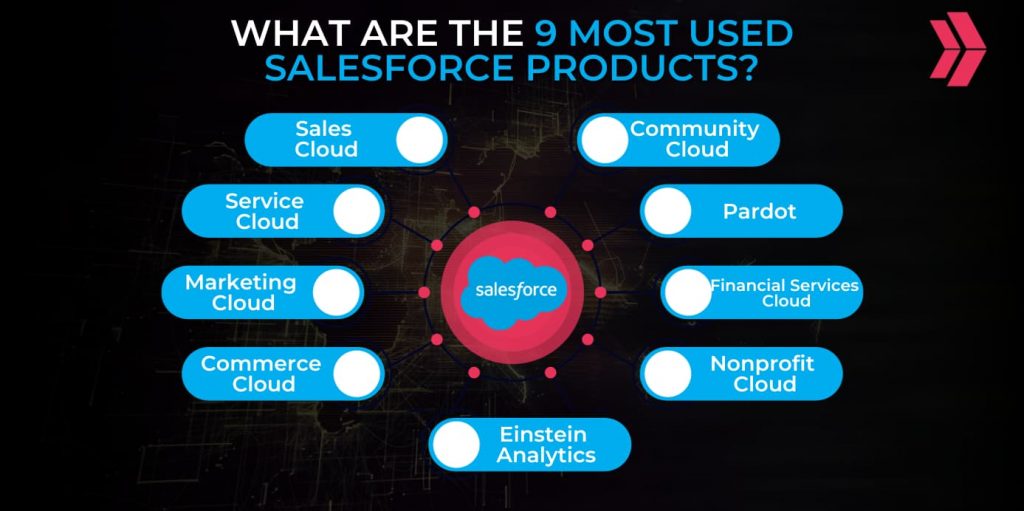 Each of these Salesforce products offers unique functionalities that cater to specific business needs. Now, let's delve into the specifics of each product.
Sales Cloud
Salesforce Sales Cloud is a robust CRM solution that enhances the sales process.
Sales Cloud provides tools to manage leads, contacts, accounts, opportunities, and more. With Sales Cloud, businesses can track the entire sales pipeline, automate tasks, and gain valuable insights into sales performance. This product empowers sales teams to close deals more efficiently and build stronger customer relationships.
Service Cloud
Salesforce Service Cloud is a cloud-based customer service and support platform offered by Salesforce, aimed at assisting businesses in providing outstanding customer service experiences by centralizing and simplifying customer interactions, case and inquiry management, and support staff access to a single, comprehensive customer record.
Service Cloud revolutionizes customer support by providing a comprehensive platform for issue resolution and customer engagement. It enables agents to manage cases, track customer inquiries, and deliver personalized support. Service Cloud's integration with various communication channels ensures that customers can connect through their preferred means, fostering satisfaction and loyalty.
Marketing Cloud
Salesforce Marketing Cloud is a marketing automation platform that the company built in the cloud that aids businesses in creating, managing, and optimizing marketing campaigns while also engaging customers through digital channels like advertising, social media, and email.
With Marketing Cloud, businesses can understand customer preferences, deliver relevant content, and measure the effectiveness of their marketing efforts.
Commerce Cloud
Salesforce Commerce Cloud is a cloud-based e-commerce platform that aids companies in setting up and running their own online stores, managing their digital commerce operations, and providing customers with individualized shopping experiences across desktop, tablet, and mobile devices.
Commerce Cloud transforms the way businesses operate online stores. It offers features for managing product catalogs, processing orders, and providing seamless shopping experiences. By optimizing e-commerce operations, Commerce Cloud helps businesses attract and retain customers in the competitive online marketplace.
Einstein Analytics
Einstein Analytics is an AI-powered platform that provides data insights, visualizations, and predictive analytics to help businesses and individuals make more informed decisions.
Formerly known as Analytics Cloud, Einstein Analytics brings AI-powered insights to the forefront. It allows users to explore data, create visualizations, and uncover patterns. Einstein Analytics enhances decision-making by providing actionable insights and predictive analytics, enabling businesses to make informed choices based on data-driven evidence.
Community Cloud
Community Cloud is a platform that facilitates the creation of online communities for the purpose of fostering communication and collaboration among a company's clients, partners, and staff.
Salesforce Community Cloud facilitates the creation of branded online communities. It connects customers, partners, and employees in a collaborative digital environment. The Community Cloud enhances engagement, knowledge sharing, and self-service capabilities, strengthening relationships and fostering a sense of belonging.
Pardot
Pardot is a business-to-business (B2B) marketing automation tool that speeds up the sales funnel's lead generation, nurturing, and scoring stages.
Pardot enables marketers to create personalized campaigns, score leads, and track engagement. Pardot's integration with Sales Cloud ensures seamless collaboration between marketing and sales teams.
Financial Services Cloud
The Financial Services Cloud is a platform tailored specifically to the needs of the financial services industry, with features like relationship management, budgeting, and regulatory compliance monitoring.
The Financial Services Cloud assists financial advisors in delivering personalized advice and solutions to clients while maintaining regulatory compliance.
Nonprofit Cloud
Nonprofit Cloud is an online service that helps nonprofit organizations better manage their finances, volunteers, and programs.
Nonprofit Cloud addresses the unique needs of nonprofit organizations by offering tools for fundraising, donor management, and program effectiveness tracking. It empowers nonprofits to engage supporters, manage donations, and efficiently advance their missions.
How to Choose the Best Product for Salesforce?
6 factors come into play when selecting the right Salesforce product for your business. Integration options, budget considerations, and alignment with your business goals are crucial aspects to consider. Generally, those factors are listed below:
Customization Functions
Integration – Data Migration
Support and Maintenance
Scalability and Expandability
References – Testimonials
Pricing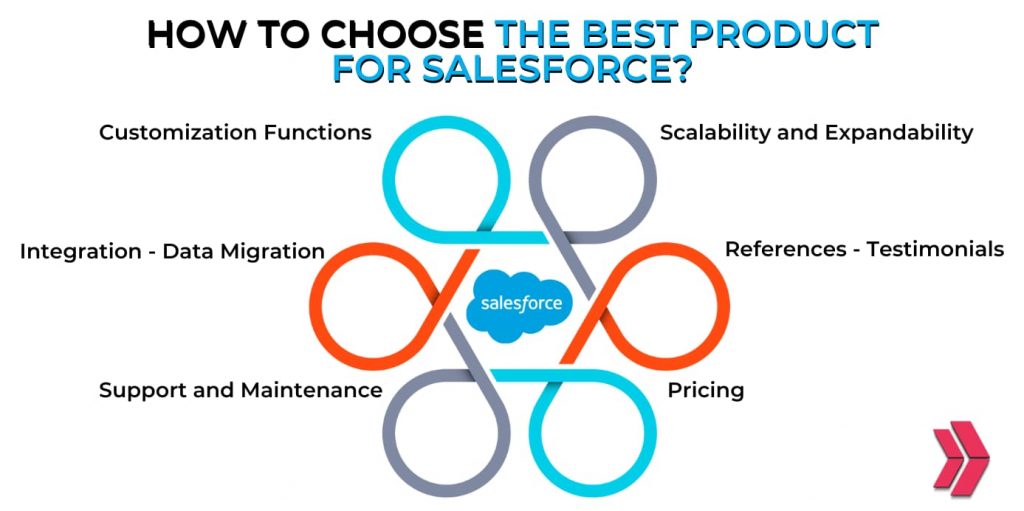 To learn more about the offerings and how they can benefit your organization, check out the "What is Salesforce?" article.
How Does Salesforce Customer 360 Integrate the Features of Salesforce Top Products?
Salesforce Customer 360 unifies customer data from different sources, providing a holistic view of customer interactions and behaviors to integrate the features of Salesforce top products.
With Customer 360, businesses can deliver personalized experiences by leveraging insights across Sales Cloud, Service Cloud, and Marketing Cloud. To understand how Salesforce Customer 360 works, explore its capabilities and benefits.
How to Learn Salesforce?
You can join online courses to learn Salesforce. For a comprehensive and structured approach to learning Salesforce, consider enrolling in the Salesforce Admin and Developer Course. This course equips you with the skills needed to manage and develop solutions using Salesforce products effectively and offers structured learning paths, hands-on practice, and expert guidance. Whether you're an aspiring Salesforce administrator or developer, this course will set you on the path to success.
How to Learn to Use Salesforce Products?
A comprehensive Salesforce training program is essential to learn to use Salesforce Products. Also, learning to use Salesforce products is a valuable investment in your career and business success. Salesforce Training Guide provides insights into getting started and advancing your proficiency with Salesforce tools.
Which Certificates are Required to Use Salesforce Products?
Acquiring certifications such as Salesforce Administrator, Salesforce Developer, and specialized product certifications demonstrates your proficiency in using these tools.
Check out detailed Salesforce Certifications Guide to learn more about Salesforce certifications and their benefits.
In conclusion, Salesforce offers a suite of products designed to cater to diverse business needs, from sales and service to marketing and analytics. Whether you're a sales professional, marketer, service representative, or nonprofit leader, Salesforce's suite of products has something to offer. Understanding these products' capabilities and their potential impact on your business can lead to improved operational efficiency and customer satisfaction. To navigate the world of Salesforce products effectively, explore certifications and training resources that empower you to leverage them.
Last Updated on September 26, 2023