Almost everybody has the same idea that a big decision-making factor for the business world in 2020 was Covid-19. Covid caused various business branches to lose their benefits. Millions of people became unemployed, but apart from those, the IT Sector followed a different route in these stressful months. According to a report from 2020, the unemployment rate for IT jobs was lower than the national average, and in fact, many companies were searching to fill more IT roles.
The IT career path has turned the crisis to advantage and expanded its strength through the digital transformation years led by the impact of Covid.
What the business environments noticed is that they must exist in the digital world. Therefore, many organizations focused on digital platforms, specifically on three critical subareas: Digital Marketing, Cloud environment, and CyberSecurity. All these subareas complete each other.
Transition Phase of IT Jobs
The existence of the companies in this new world depends on how fast they react and get accustomed to new conditions. Firms are in the transition phase, moving their physical stores into e-Commerce platforms. They have a CyberSecurity branch and the physical security team where they deploy their digital goods into cloud data centers. Also, their IT departments are managed by an IT director and require more IT jobs and positions than ever.
While a huge amount of money is being invested in IT Jobs, nobody gets the tolerance to lose very sensitive data or have it misused by third-party intruders. So keeping data and systems private, safe, and secure constituted a crucial part of IT jobs as the digital transformation develops.
Covid Effects on Remote IT Jobs
In pandemic conditions, the most accepted implementations are work-from-home and the usage of cloud-based applications for companies and various organizations.
Besides that, some more work from home IT job roles have been becoming increasingly valuable. IT careers like Data Scientists and Python developers faced an increase in demand in late 2021. According to Dice's report considering 2023, "Fastest Growing Salaries By Occupation" is published as follows.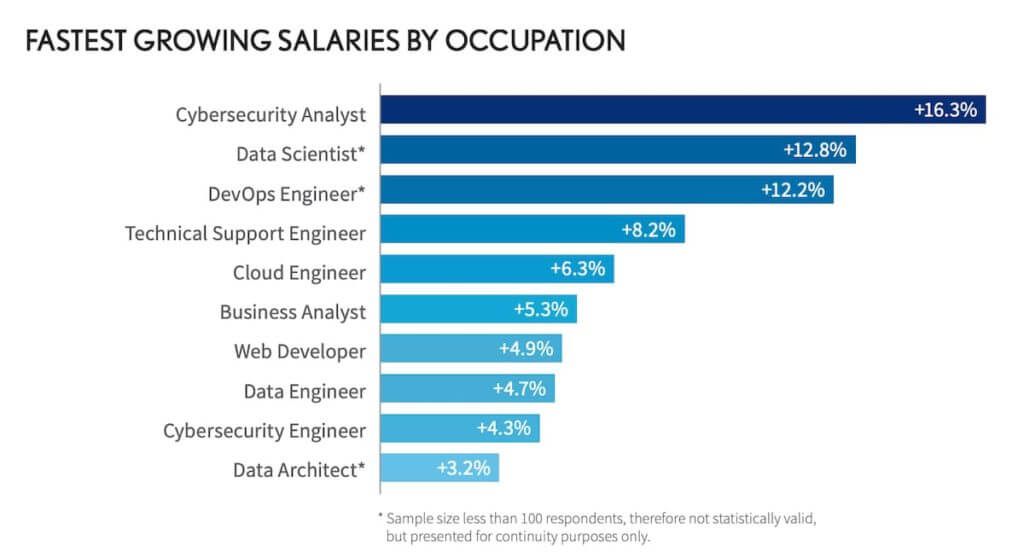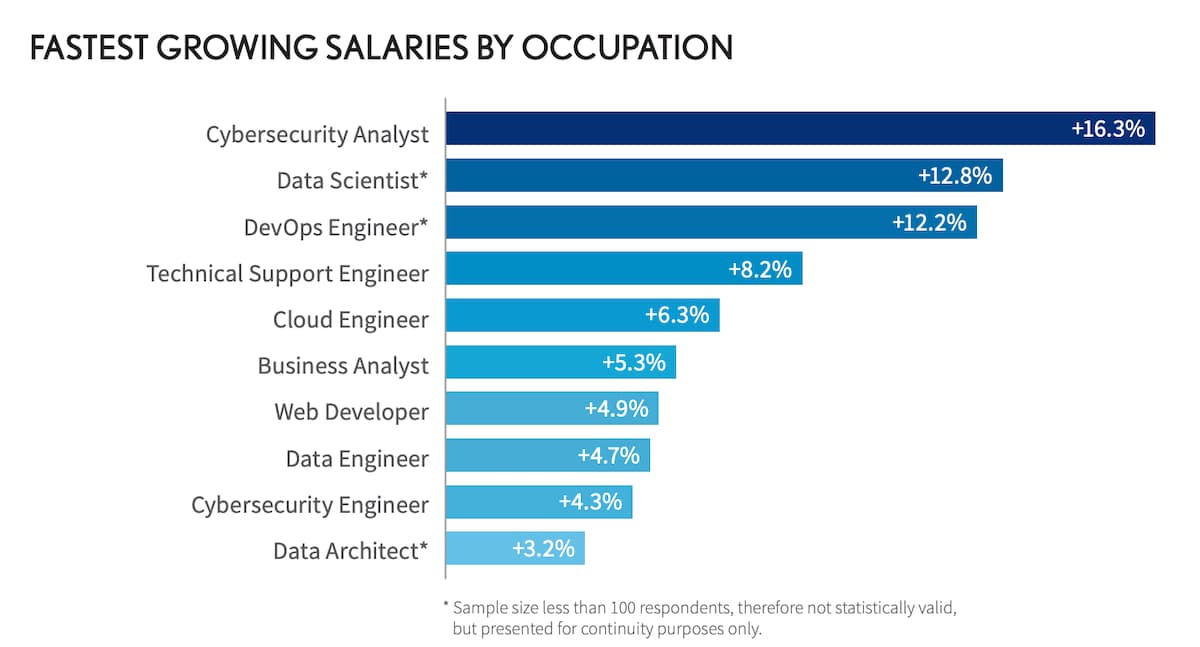 Forbes magazine also published a report named "Glassdoor's 50 Best Jobs In America For 2023 Dominated By Tech Careers". According to that report, 8 of the 10 best jobs for 2023 are in IT-related work. 22 of the top 50 best jobs for 2023 are in IT-related career areas, spanning AI, Cybersecurity, Data Science, DevOps, Data Engineering, Software Development.
What Are Most In-Demand IT Jobs in 2023?
The IT industry continues to evolve rapidly, and several in-demand IT jobs are shaping the IT career path. According to the views of many industry experts on IT Jobs analysis, the following 7 IT jobs are predicted to stand out and be most in-demand in 2023.
Artificial Intelligence Programmer (AI)/Machine Learning Engineer (ML) :
AI ensures computers produce decisions. Artificial intelligence consists of Machine Learning, and ML is one of the key branches that involves building computer systems.
AI and ML engineers make path-breaking programming and software developments for the industry. They produce cars without drivers, assist systems in treating diseases, and program robots in a quality never before. AI and ML machines can do more work more accurately than humans have been doing.
It's hard to find a sector that AI/ML will not impact. These IT jobs consist of robotic engineers, software developers, ML engineers, design engineers, and more.
The demand for these IT JOBS is incredible. The demand rating reached as high as %1400 in 2021.
Software Developers
These IT jobs are also in high demand because the companies need developers to produce, develop, implement, test, fix, advise software programs. So these people must have the ability to code in different programming, making it a multi-team job. Software developer jobs include programmers, coders, and software architects. Projections from many sources are that this branch will expand from 21-25% over the next decade. It is foreseen to be a high demand, much greater than the average job market.
Data Scientists
Data scientists use statistics, programming, and business essentials to solve large quantities of data. They bring options to assist companies in deciding what to make depending on real data and models. Many companies increase their intelligent automation systems with data science and data mining skills.
These IT jobs include data engineers, data analysts, data architects, statisticians, operations analysts, data miners, and more. There seem to be many variants in the workday, which is huge momentum for many people.
This area currently experiences a significant lack of skill that is foreseen to continue to grow. Those who want to work in remote IT jobs have enjoyed the biggest growth recently.
The US Bureau of Labor Statistics expects a 27% increase in jobs in this field by 2026.
Cybersecurity
IT Jobs related to the cybersecurity field have huge open positions all over the world in 2023. That's over 700,000 positions in the US alone. This means no unemployment for this job field is expected.
This job title includes information security specialists, security systems administrators, senior IT security consultants, chief information security officers, and others.
Hackers, criminals, and even states trying to make mayhem online are not completing these positions fast enough. They need online solid security teams for many sectors, states, and organizations in healthcare, business, finance, and other sectors.
According to the US Bureau of Labor Statistics, "As organizations and institutions across a huge range of industries go on to integrate applications and other digital tools into their services and operations, they will be required to invest in the cybersecurity field to prevent data misuses. According to one estimate, the global cybersecurity market is projected to grow 86 percent from around $145 billion in 2018 to $270 billion by 2026."
Cloud Architects
The fast change to the work-from-home model makes many organizations adopt additional cloud services and their related applications. A Cloud Architect's primary responsibility is to convert the technical necessities of a project into the architecture that will guide the final product. These IT jobs build connections between business technical requirements and cloud solutions. The technical team includes DevOps engineers, cloud engineers, and developers who work with the Cloud Architect to ensure that the right solutions are being produced.
Cloud Architects IT Jobs require;
Good knowledge of at least one Operating System: Unix, Linux, Solaris, Ubuntu, Windows. Linux operating system is more preferable among the others.
Knowledge of networking is a must
Coding/Programming: A minimal understanding of a programming or scripting language is required in a way. This is not a must, but it will be a helpful skill.
Security: Security in the cloud is crucial; therefore, good knowledge about security principles is an obligation for a Cloud Architect. Some basic security concepts, such as firewalls, are necessary.
These IT jobs are in high demand, with exponential growth forecasted in the coming years.
Web Developer
This IT Job consists of writing, developing, and debugging software systems for websites. They are responsible for all technical issues of the site, leading in a group of determining how the web page seems and its functionality and rating. These people have to be proficient in programming coding to make websites and manage e-commerce and the database. They may produce content for the site. Developers designate what applications are required on the web pages, and they monitor web traffic, being familiar with web server systems.
Jobs include front-end, back-end developers, UI designers, UX designers, full-stack developers, and more.
This kind of IT job is expected to grow by %14.9 by 2026.
Market Analyst
The e-commerce marketplace is quickly growing. As companies try to reach and engage their customers, market analysts ensure how business decisions must be. They serve as a market intelligence analyst principally telling these businesses what products they want in the market and how much they are willing to pay for them. Marketing analysts have a duty to investigate market conditions to evaluate the sales of goods and services. Their duties consist of foreseeing and following sales rates, gathering consumers' and competitor's data, making a report for management.
In a wide window of this career, these people study market conditions for a specific product or service. So, these IT job people require a very determined skill set, including Search Engine Optimization, Digital Marketing, Content Marketing, Mobile Marketing, Web Analytics, Critical Thinking, Statistic knowledge, Data collecting, and Data Analyzing.
These IT jobs are forecasted to grow by %18 by 2029.
To Sum Up
By witnessing the historical transformation in the employment area, it is obvious that IT is beyond a choice. It is an obligation. It's possible to add more to these IT jobs above. All over the world, organizations seek IT Directors and employees at every level. Many IT job experts share the same point of view that there is a high demand and huge gap in the aforementioned IT Jobs. Therefore to close this big gap, entry-level IT Job training entities have also been growing. These educational firms achieve a great job. They play a critical role between the IT sector and human resources by educating a job-ready person for IT jobs depending on their curriculum. Clarusway is a Virginia-based IT Bootcamp that differs from similar ones with a comprehensive Career Management Service (CMS).
Last Updated on September 2, 2023