Salesforce Service Cloud is a powerful tool that helps you to stay ahead of customer expectations for success. Salesforce Service Cloud helps companies reduce customer support costs by up to 27%, according to a study based on 3,706 customer interviews across 10 countries in the 2022 Salesforce Success Metrics Global Highlights. By understanding and preparing to implement this solution, businesses can unlock enhanced customer service capabilities, streamline operations, and deliver a seamless support experience.
In this detailed guide, we'll explore Salesforce Service Cloud from every angle, revealing useful information and offering actionable advice along the way.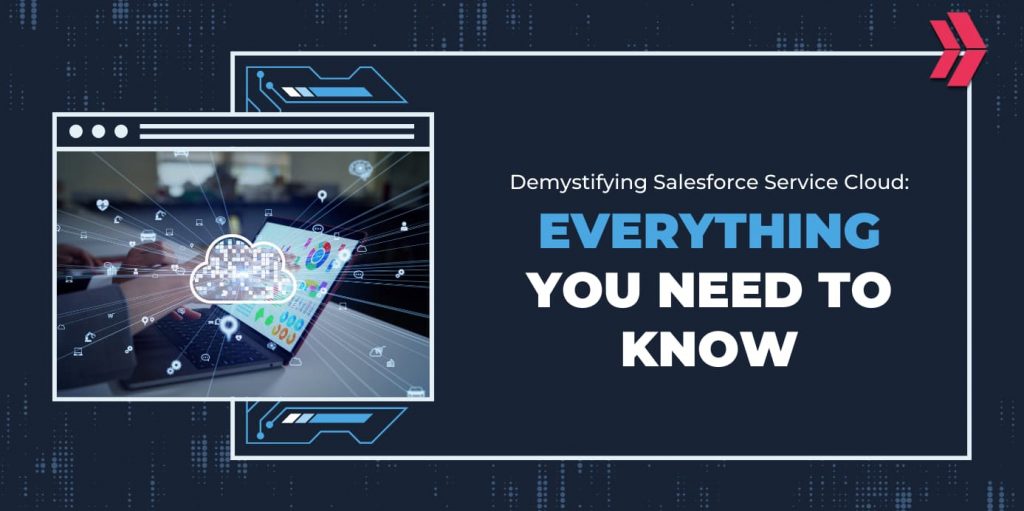 What is Salesforce Service Cloud?
Salesforce Service Cloud is a game-changing customer service management-revolutionizing platform. With it, companies can revolutionize how they interact with their customers. Furthermore, by combining traditional communication methods like phone calls and emails with newer ones like live chats and social media, it provides a comprehensive solution for dealing with customers.
Service Cloud empowers customer support agents to swiftly respond to customer needs, creating a seamless experience that enhances customer satisfaction. Additionally, features like Salesforce Service Cloud Voice enable agents to handle calls directly from the platform, further streamlining communication, and like omnichannel support, intelligent case management, and automation. All in all, Salesforce Service Cloud enables organizations to deliver exceptional service experiences across various communication channels.
What are the Features of Salesforce Service Cloud?
Here are the 9 features of Salesforce Service Cloud:
Custom Reports and Dashboards
Salesforce Lightning Service Console
Salesforce Service Cloud Case Management
Knowledge Base and Self-Service
Omnichannel Routing
AI-Powered Insights
Community Portals
Service Automation
Service Analytics
These Salesforce Service Cloud features collectively empower businesses to provide superior customer service, nurturing brand loyalty and a favorable image.
Custom Reports and Dashboards
Custom Reports and Dashboards are the Salesforce Service Cloud feature that generates insightful reports and dashboards to track and analyze support metrics, enabling data-driven decisions. These features empower businesses with actionable insights. Insightful decisions and steady service enhancements are made possible with the help of these visualizations of assistance metrics and customer interactions. You can discover patterns, identify areas for improvement, and ensure your support staff is performing optimally by using data.
Salesforce Lightning Service Console
Salesforce Lightning Service Console is an easy-to-use interface that consolidates all customer communication into one place, saving time and effort for agents. The Lightning Service Console offers a user-friendly interface that streamlines the support process. It centralizes customer interactions, making it easy for agents to view, manage, and resolve cases efficiently.
Agents can provide more tailored and timely assistance to customers by having access to detailed information about their accounts. This console's intuitive design enhances agent productivity and guarantees an effortless interface for each customer and agent.
Salesforce Service Cloud Case Management
Salesforce Service Cloud Case Management is a comprehensive case management system that handles customer issues seamlessly from start to finish. It effectively handles and prioritizes customer cases, automates routing and escalation processes, and ensures timely resolutions for increased customer satisfaction.
Service Cloud Case Management ensures companies track, prioritize, and resolve customer issues effectively. From the moment a case is created to its resolution, agents have access to all the necessary information, communication history, and resources needed to provide a satisfactory solution. This end-to-end visibility empowers agents to deliver consistent and high-quality support, contributing to overall customer satisfaction.
Knowledge Base and Self-Service
Knowledge Base is a repository of articles, how-tos, and frequently asked questions (FAQs) designed to aid customers in solving their own issues before contacting support. The Self-Service refers to a customer's ability to identify details and settle issues independently using the knowledge base's content. Therefore, Knowledge Base and Self-Service decreases the number of support tickets.
Omnichannel Routing
Omnichannel Routing is a strategy that involves directing customer inquiries and interactions across various communication channels (such as email, phone, chat, social media, etc.) to the most appropriate customer service agent or team based on their expertise and availability. The objective is to serve customers with an uninterrupted and effortless experience, irrespective of the channel they use to reach out. Omnichannel Routing distributes customer inquiries to the most suitable agent based on skill set and availability, ensuring efficient problem resolution.
AI-Powered Insights
AI-Powered Insights is an AI technology that utilizes artificial intelligence to analyze customer interactions, offering insights to improve support strategies. It provides instant responses and support, enhancing customer experiences while optimizing agent workflows.
AI-powered insights involve using machine learning algorithms and artificial intelligence to evaluate customer data, interactions, and behaviors. This analysis generates actionable insights that help businesses understand customer preferences, identify trends, predict customer needs, and make informed decisions to improve their services and engagement strategies.
Community Portals
Community Portals are online platforms or forums where customers, users, or enthusiasts of a product, service, or brand can gather to ask questions, share experiences, provide advice, and engage in discussions. These portals foster a sense of community among users and often provide valuable information and support.
Service Automation
Service Automation is a feature that automates routine tasks and processes to save agents' capacity to tackle more complex issues. Service automation involves using technology like chatbots, AI-driven workflows, and process automation tools to streamline and enhance customer service processes. Automation can perform routine tasks, answer basic queries, and facilitate self-service, allowing human agents to concentrate on deeper or particular problems.
Service Analytics
Service Analytics is collecting and analyzing data related to customer service interactions, performance metrics, and outcomes. Businesses can gain insights into customer satisfaction levels, agent performance, resolution times, and other key metrics by analyzing this data. These insights can drive improvements in customer support strategies and overall service quality.
What are the Benefits of Salesforce Service Cloud?
The benefits of Salesforce Service Cloud include improved customer satisfaction, increased agent productivity, and enhanced operational efficiency. The benefits of Service Cloud extend beyond streamlined customer support. With features like self-service options, businesses can encourage customers to discover their own answers by themselves, decreasing the load on support agents.
Customers can access assistance conveniently, while businesses gain insights that drive strategic improvements in service delivery. This improves customer experiences and enables assistance personnel to concentrate on more intricate and critical issues.
How much is Salesforce Service Cloud?
Salesforce Service Cloud offers four pricing editions, ranging from $25 to $330. The pricing for Salesforce Service Cloud varies depending on your business's specific needs and scale. Salesforce offers several pricing tiers to accommodate different requirements, with options for businesses of all sizes. For current and accurate price data tailored to your organization's needs, contact Salesforce's sales staff or visit their official website.
FAQ about Salesforce Service Cloud?
Do you have questions about Salesforce Service Cloud? We've got you covered. Learn more about this effective customer service method by reading the frequently asked questions we've compiled.
What's the difference between Salesforce Service Cloud and Sales Cloud?
Salesforce Service Cloud and Sales Cloud are two distinct but interconnected platforms within the Salesforce ecosystem. While Sales Cloud focuses on sales automation, lead management, and customer relationship management, Service Cloud delivers exceptional customer support. Service Cloud's features, such as case management and knowledge bases, are specifically designed to enhance customer interactions and issue resolution. Salesforce Service Cloud and Sales Cloud, as integral salesforce products, share the same underlying technology while serving different facets of a business's operations.
Can Salesforce Service Cloud and Salesforce Sales Cloud be used together?
Absolutely! Salesforce Service Cloud and Salesforce Sales Cloud can be integrated seamlessly to create a comprehensive customer experience solution. By combining the capabilities of both platforms, businesses can ensure a smooth handoff between sales and support teams, providing a holistic view of each customer's journey. Collaboration and communication between teams is facilitated by this integration, resulting in more personalized and efficient customer interactions. To explore more about Salesforce's capabilities, check out the Salesforce course offered by Clarusway.
What is Salesforce Service Cloud Certification and Expertise?
Salesforce Service Cloud Certification validates an individual's expertise in implementing and utilizing Salesforce Service Cloud to enhance customer support strategies and their full potential. Becoming a certified service cloud consultant demonstrates your proficiency in configuring and customizing the platform to enhance customer service.
In other words, if you want to be taken seriously as an expert in your field, you need to prove that you are dedicated to providing exceptional service to your customers by earning this certification. To embark on a journey towards Salesforce certifications, explore the resources provided by Clarusway's Salesforce Certification Guide.
Final Thoughts
In today's customer-centric landscape, Salesforce Service Cloud stands as a cornerstone for businesses aiming to excel in customer support. Incorporating Salesforce Service Cloud into your business operations can revolutionize the way you deliver customer service. Its advanced functionalities, perfect integrations, and automated features open the path for better customer interactions. Organizations can elevate customer satisfaction, streamline support processes, and drive overall growth by implementing its robust features and leveraging its capabilities. To delve even deeper into Salesforce's offerings, consider exploring the Salesforce admin and developer courses Clarusway offers, paving the way for enhanced expertise and strategic implementation.
Last Updated on October 13, 2023