The Salesforce Marketing Cloud is a game-changer in the world of marketing and customer service. In today's fast-changing digital market, businesses continuously seek new ways to interact with their consumers, increase income, and remain relevant.
According to the 2022 Salesforce Success Metrics Global Highlights, based on 3,706 customer interviews in the United States, Canada, the United Kingdom, Germany, France, Australia, India, Singapore, Japan, and Brazil, customer acquisition costs have decreased by 27% with Salesforce Marketing Cloud.
An investment in Salesforce certification and training is a smart move that can help you climb the ladder of success in your IT career and unlock doors to exciting opportunities related to Salesforce.
This comprehensive guide will help you learn, understand, and prepare to exploit every aspect of Salesforce Marketing Cloud. Whether you're a seasoned marketer, a business owner, or just curious about what it would be like to work in the exciting marketing technology field, this resource will give you the information you need to make the most of this revolutionary tool.
To begin understanding the Salesforce Marketing Cloud, let's start by answering the fundamental question: What is Salesforce Marketing Cloud?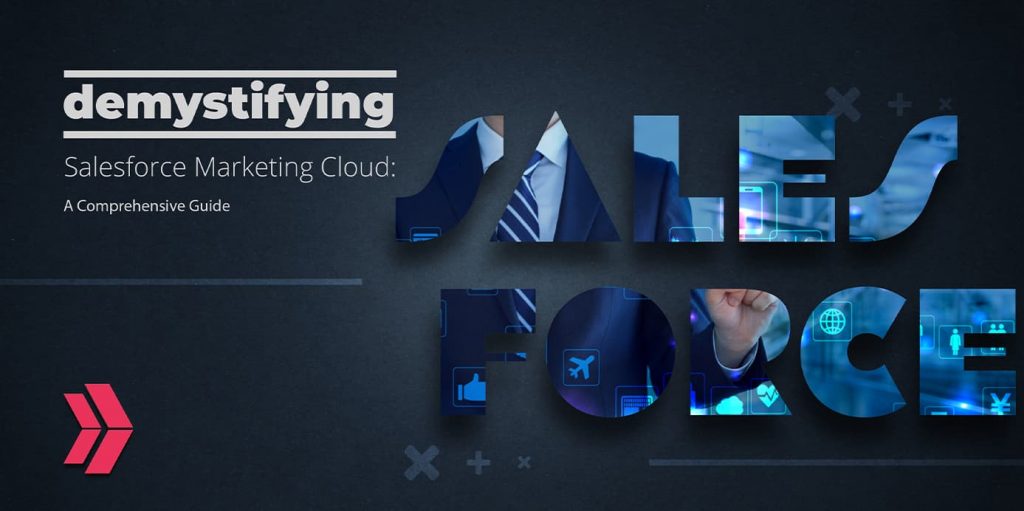 What is Salesforce Marketing Cloud?
Salesforce Marketing Cloud is a powerful extension of the Salesforce platform, tailored specifically for marketing and customer engagement.
Salesforce Marketing Cloud empowers organizations to deliver personalized customer experiences through various marketing channels, including social media, mobile, email, advertising, and the web. It combines data analytics, automation, and personalized content to produce effective advertising campaigns. Whether you're a B2B or B2C business, Marketing Cloud Salesforce offers a versatile set of tools to drive engagement and revenue.
To learn more about the Salesforce platform, read the article ''What is Salesforce?''
What are the Key Components of Salesforce Marketing Cloud?
Salesforce Marketing Cloud comprises 6 key components that work harmoniously to deliver exceptional marketing capabilities.
Journey Builder
Email Studio
Social Studio
Advertising Studio
Interaction Studio
Content Builder
Let's explore these components and their defining features:
Journey Builder:
Salesforce Marketing Cloud Journey Builder is a component that enables marketers to personalize interactions across these phases based on consumer requirements, wants, and preferences, as well as their demographics and real-time behavior data.
Journey Builder allows marketers to create customer journeys with personalized touchpoints, enabling businesses to engage with customers at the right time and with the right content. This component responds to consumers or potential customers based on event-driven triggers.
Email Studio:
Salesforce Marketing Cloud Email Studio is a robust email marketing tool that simplifies email campaign creation, delivery, and tracking, ensuring high deliverability rates and engagement. These Salesforce marketing cloud email specialists are certified experts who are recognized as leaders in their field.
Email Studio is well-suited for both transactional and personalized communication automation. It also enables timely triggered messages to be sent on any digital channel to coincide with key points in the customer journey. Without having to learn how to code, Email Studio allows you to segment and target your audience, create compelling emails, and distribute them with confidence.
Social Studio:
Salesforce Marketing Cloud Social Studio is a platform for organizing, scheduling, and monitoring your social media activity across all of your preferred channels.
Social Studio, commonly known as Salesforce marketing cloud social media, allows you to manage your paid and organic social media marketing campaigns with ease. Social Studio allows you to share content on various social media platforms. This tool was also designed with social media monitoring in mind. Tracking conversations and keeping tabs on keywords and hashtags across all of your social media channels is now a breeze.
Advertising Studio:
Salesforce Marketing Cloud Advertising Studio, a component of Salesforce Marketing Cloud, is a device for optimizing the utilization of customer relationship management data. Targeting customers and potential new customers across social, mobile, and display ad networks is enabled by data gleaned from mobile push interactions, site conversions, and email campaigns.
Interaction Studio:
Interaction Studio, a part of Salesforce Marketing Cloud, is a tool for managing and customizing customer interactions in real-time. Interaction Studio adds to Marketing Cloud's effectiveness by allowing for greater real-time customization.
Businesses use Interaction Studio to personalize their interactions with clients and leads in an effort to increase sales, engagement, and customer loyalty. Interaction Studio is an extension of Marketing Cloud's already powerful client information, segmentation of audiences, and engagement system, thanks to its real-time cross-channel individualization and machine learning skills.
Content Builder:
Salesforce Marketing Cloud Content Builder is a cross-channel content management application that enables the centralization of images, documents, and content.
Marketers may utilize Content Builder to generate static and customizable content for usage in various areas of Marketing Cloud. Dynamic content blocks are an important aspect of the content builder. Using these Dynamic Content Blocks, a marketer can change the content that a user sees based on predefined criteria. Data Extensions allow these rules to utilize the list and segment data mentioned previously.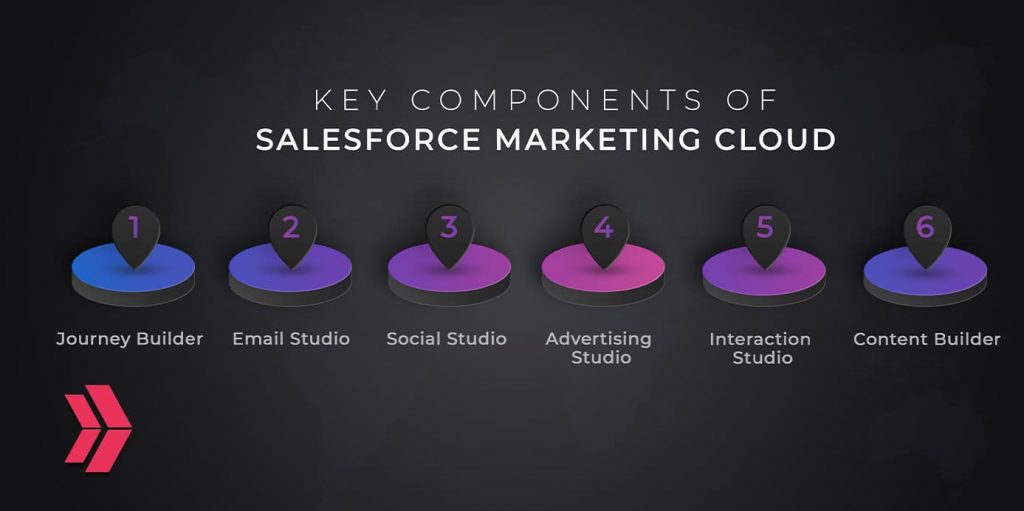 What are the Benefits of Salesforce Marketing Cloud?
The benefits of Salesforce Marketing Cloud are numerous and impactful. Here are 6 key advantages:
1. Personalization: 
Salesforce Marketing Cloud allows businesses to create highly personalized marketing campaigns, increasing client engagement and sales.
2. Multi-Channel Marketing: 
It enables businesses to reach their customers through various channels, ensuring a consistent brand experience.
3. Data-Driven Insights: 
With robust analytics and reporting tools, Businesses may gain a lot about their customers' habits and the efficacy of their marketing campaigns.
4. Automation: 
Marketing automation reduces manual tasks, saves time, and ensures that marketing efforts are executed flawlessly.
5. Scalability: 
Salesforce Marketing Cloud can grow with your business and is suitable for both start-ups and multinational corporations.
6. Customer Journey Mapping: 
Marketers can visualize and optimize customer journeys, ensuring that customers receive the right messages at the right time.
These benefits make Salesforce Marketing Cloud a powerful tool for companies seeking to remain on par in the current data-driven marketing landscape.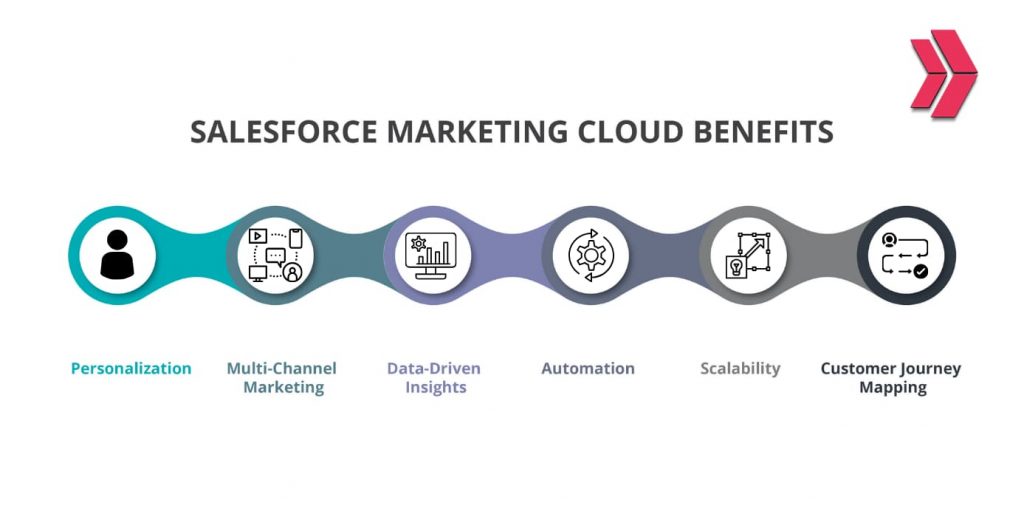 What is Salesforce Marketing Cloud Pricing?
Salesforce Marketing Cloud costs $400 per month for the Basic plan and is billed annually. The Pro plan costs $1,250 per month, while the Corporate plan starts at $3,750 monthly. The Enterprise plan requires a custom quote.
While the advantages of Salesforce Marketing Cloud are clear, it's essential to consider pricing, especially for businesses with budget constraints. Salesforce Marketing Cloud pricing varies depending on factors like the number of users, features required, and scale of your marketing operations. To get accurate pricing information, it's advisable to visit Salesforce's official website or consult with a Salesforce representative.
Is Marketing Salesforce Cloud a Good Career?
Yes, a career in Salesforce Cloud marketing can be rewarding. With the increasing demand for digital marketing expertise, Salesforce Marketing Cloud offers promising career opportunities. Professionals with skills in Salesforce Marketing Cloud are highly sought after by businesses looking to leverage the platform's capabilities. To learn more about suitable IT career options, you can explore our guide to IT careers.
What is the Salary of a Salesforce Marketing Cloud Support Engineer?
The salesforce marketing cloud salary in the marketing cloud support engineer role may differ depending on place, background, and credentials. According to Glasdoor, the average annual salary in the US for a Support Engineer at Salesforce is calculated to be $123,962.
For detailed information on Salesforce career roles and salaries, you can visit our Salesforce Roles and Responsibilities page.
Is Salesforce Marketing Cloud in Demand?
Yes, Salesforce Marketing Cloud professionals are in high demand as businesses recognize the value of data-driven marketing. As companies increasingly prioritize customer engagement and personalized experiences, the demand for experts in Salesforce Marketing Cloud is expected to continue growing.
Is Coding Required for Marketing Cloud?
Salesforce Marketing Cloud can be used on a basic level, with no prior knowledge of programming required. Salesforce Marketing Cloud is designed to be user-friendly and does not call for extensive coding skills. While basic HTML and scripting knowledge can be beneficial, most tasks can be accomplished through the platform's user-friendly interface, making it accessible to marketers without extensive coding experience.
FAQ about Salesforce Marketing Cloud
What is the difference between Salesforce Sales Cloud and Marketing Cloud?
Salesforce Sales Cloud and Marketing Cloud have distinct functions within the Salesforce system. Sales Cloud manages sales processes, customer accounts, and leads, while Marketing Cloud is designed for marketing and customer engagement. Integrating both clouds can create a seamless flow from lead generation to conversion.
Is Salesforce Marketing Cloud B2B or B2C?
Salesforce Marketing Cloud serves both B2B and B2C businesses. Its versatility allows organizations to tailor their marketing strategies to their specific target audience, whether they are other businesses or individual consumers.
Can I Use Salesforce Sales Cloud and Salesforce Marketing Cloud Together?
Yes, Salesforce Sales Cloud and Marketing Cloud can be integrated to create a unified CRM and marketing solution. This integration assists businesses in streamlining their sales and marketing processes, thereby enhancing their ability to engage and convert customers.
What Are the Advantages of Obtaining a Salesforce Marketing Cloud Certification?
Obtaining a Salesforce Marketing Cloud certification demonstrates your expertise in using the platform, making you a valuable asset to employers. It can provide access to better-paying positions and career advancement in the field of marketing technology. In order to pass the exam, you'll need to have proper Salesforce marketing cloud training under your belt.
To learn more about Salesforce certifications, you can explore our Salesforce Certifications Guide.
How difficult is the Salesforce Marketing Cloud Certification Exam?
On average, there are 60 questions with multiple choices on exams. The time is limited to 90–120 minutes. To pass the exam, candidates must score between 60 and 65 percent. Proper preparation, including studying the platform and taking practice tests, can greatly improve your probability of achievement.
How to Learn to Use Salesforce Sales Cloud?
Use official Salesforce training materials, such as Salesforce Marketing Cloud Trailhead, as a starting point for learning the Sales Cloud. To gain practical experience with Salesforce, sign up for a Developer Edition account. Work through the Trailhead modules made specifically for Salesforce marketing cloud jobs, whether your goal is to become a Salesforce marketing cloud consultant, Salesforce marketing cloud developer, or power user of the platform. You can also benefit from your learning journey by participating in the Salesforce community and forums. The Clarusway Salesforce training guide provides valuable insights and resources to kickstart your journey in Salesforce Marketing Cloud.
In conclusion, Salesforce Marketing Cloud is a dynamic and influential platform that can revolutionize your advertising, boost your clients' involvement, and propel your company forward. Whether you're interested in a career in marketing technology or looking to optimize your organization's marketing efforts, Salesforce Marketing Cloud is a valuable asset worth exploring. With the right knowledge and training, you can unlock its full potential and stay ahead in the ever-evolving marketing world.
Last Updated on October 20, 2023